At the start of the 2016-17 OHL season, the Owen Sound Attack were considered a middle-of-the-pack team in the Western Conference. Now, they're right in the thick of the title hunt.
Just before the midway point of the season, at the 30-game mark, Owen Sound had a respectable 16-13-1-0 record. They were ahead of the rebuilding teams but behind the contenders in a strong conference. Something changed, though, and it's giving the people of Owen Sound some hope.
After back-to-back losses at home to a contending Erie Otters club on Dec. 3-4, the Attack has strung together 14 straight wins. A record of 16-13-1-0 has turned into 30-13-1-0. While they are still fifth in the Western Conference, they are just four points back of the Windsor Spitfires and six points back of the conference-leading London Knights.
Over that streak, their record looks like this:
8-1 W v. Guelph
2-1 W v. Kingston
6-1 W v. Barrie
6-2 W v. Sudbury
3-0 W v. North Bay
3-0 W v. Kitchener
5-1 W v. Barrie
6-1 W v. SSM
5-1 W v. Windsor
5-2 W v. Kitchener
8-2 W v. Guelph
7-3 W v. Guelph
6-2 W v. Sarnia
6-2 W v. Barrie
When you add all of this up, it's 76 goals for vs. just 19 against, which translates to an average of 5.42 goals per game and 1.36 goals against per game.
Total Team Effort
While teams like London, Kitchener, Erie and Windsor have their offensive stars, Owen Sound has relied on a scoring-by-committee approach. Youngster Nick Suzuki (pictured, right) has had a sophomore season to remember with 56 points in 43 games, blowing away his totals from last season. Third-year forward Petrus Palmu has become an offensive leader on the club with 51 points in 37 games. Even third-year forward Kevin Hancock, who had 28 points last year, has exploded for 50 points in 43 games this year.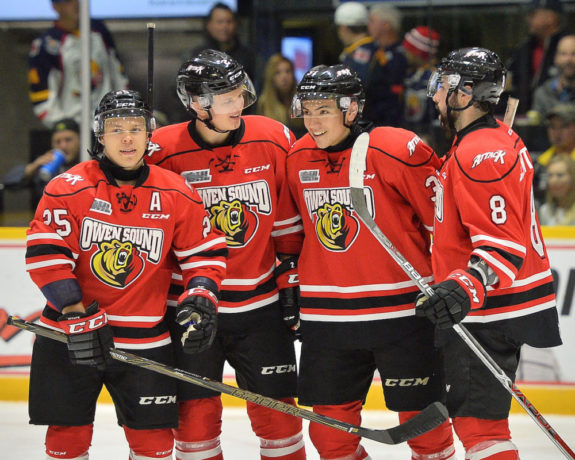 There are no Debrincats, Cirellis, Speers or Braccos on the roster, rather the team is a group of guys who are out to win it as a collective unit. They've been able to roll four lines consistently and get production. Special teams have also been a big help as they sit fifth in the league with over 22 percent efficiency on the power play. They're third in the league with an 85 percent success rate on the penalty kill, just behind Sault Ste Marie and Windsor.
Maybe the biggest factor has been the play of goaltender Michael McNiven. He was invited to try out for Team Canada at the 2017 World Junior Hockey Championships in Toronto. Unfortunately for Canada, he didn't make the roster. It was good news for the Attack, as he has now won 11-straight starts. His goals-against-average is a mere 2.10 and his save percentage is among the lead leaders at .923.
Here is a video from earlier this month where forward Jonah Gadjovich scores three at home against Windsor:
Ready to Show They're the Real Deal
The 14-game winning streak is approaching some elite company.  The OHL record for longest winning streak belongs to Kitchener during the 1983-84 season when they won 25-straight. Only a handful of teams in league history have won at least 15-straight.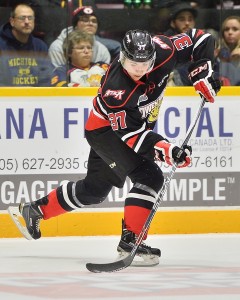 Owen Sound has a chance to continue the streak with a three-game weekend from Jan 26-29. They face Barrie in a make-up game from December and then play London and Kitchener at home on back-to-back days.
While they sit fifth in the conference, there is little doubt they are a serious contender. Not only in the Western Conference but in the OHL. With McNiven in net and a tight-knit cast around him, the Attack could be a very scary team to face in the playoffs. Beating them once has proven tough, let alone four times. Erie, London, Sault Ste Marie and Windsor might get the publicity but the Attack seem to be happy with quietly racking up the wins and showing they're not going away anytime soon.