Boston Bruins forward Brad Marchand is set for a hearing with the NHL's Department of Player Safety on Thursday.
Boston's Brad Marchand will have a hearing tomorrow for a dangerous trip on Detroit's Niklas Kronwall.

— NHL Player Safety (@NHLPlayerSafety) January 25, 2017
The questionable play occurred during the first period of the Bruins' 4-3 overtime win over the Detroit Red Wings on Tuesday. As the Red Wings entered the offensive zone, Marchand trailed the play and skated up from behind Niklas Kronwall at the blue line before appearing to intentionally stick his left leg out and knock the Swedish defenseman's right leg out from under him. Kronwall fell to the ice and there was no penalty on the play, although it's something the league has certainly noticed.
Marchand is no stranger to supplemental discipline by the league and this could be another instance where he's facing a suspension.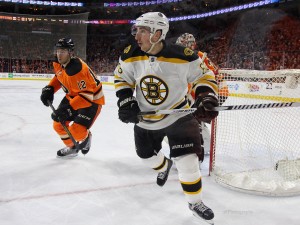 He's been suspended two games for elbowing (Mar. 15, 2011), fined $2,500 for slew-footing Matt Niskanen (Dec. 5, 2011), suspended five games for clipping Sami Salo (Jan. 7, 2012) and two games for slew-footing Derick Brassard (Jan. 15, 2015).
More recently, Marchand has been fined $5,000 for roughing (Nov. 12, 2015) and suspended three games for clipping (Dec. 29, 2015).
In the past season and a half, Marchand has emerged as an offensive force for the Bruins and was the team's leading goal scorer with 37 in 2015-16. He received international spotlight when he tallied a shorthanded game-winning goal for Team Canada against Team Europe to capture the 2016 World Cup of Hockey title. He's pacing the Bruins with 47 points in 51 games this season.
Marchand will participate in a phone hearing and the play against Kronwall is not considered a 'slew-foot' because he "did not place his arm on Kronwall as he took out his leg," according to a report by TSN.
Malkin to Miss Next Game, All-Star Weekend
The Pittsburgh Penguins will be without Evgeni Malkin for at least one regular season game and he will not take part in the NHL All-Star Game with a lower-body injury, according to head coach Mike Sullivan on Wednesday.
Coach: "Geno is out for tomorrow's game and the All-Star Game with a lower-body injury. Patric is day-to-day with a lower-body injury."

— Pittsburgh Penguins (@penguins) January 25, 2017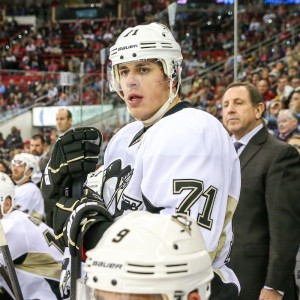 The Penguins take on the Boston Bruins on Thursday in their last game before the league's all-star break. While the severity of Malkin's injury is not yet known, he's a big piece of the Penguins' offense and he will certainly be missed. He's tied with Sidney Crosby for the team-lead in points with 54 and his 22 goals are second on the Penguins to Crosby, who has 28 on the year.
The Penguins have won four of their past five contests and are third in the Metropolitan Division with a 30-12-5 record and 65 points.
Odds and Ends
— Carolina Hurricanes defenseman Bryan Bickell completed his third full practice with the team and is eyeing a return to the lineup for the fist time since skating with the team in a game on Oct. 30, 2016. The 30-year-old, two-time Stanley Cup champion was diagnosed with Multiple Sclerosis in October 2016 and has been away from the team as him and his family focus on his health as he begins to battle this unpredictable disease of the central nervous system.
— Bell Canada's Let's Talk Day took place Wednesday across social media platforms — an effort designed to raise awareness and funding for mental health initiatives. Social media platforms were abound with the entire hockey world, from fans, players and their families to media personalities, hockey teams at all levels and many more, participating in the effort by using the #BellLetsTalk. According to Bell, "For every text, call, tweet and Instagram post, Facebook video view and use of Snapchat geofilter, Bell will contribute 5 ¢ more to mental health initiatives. So let's work together to create a stigma-free Canada!"
Another 9 million #BellLetsTalk We will break 100 in the next hour. 8 hours to go. pic.twitter.com/1fGBVQ2Yjc

— William Shatner (@WilliamShatner) January 26, 2017
— Colorado Avalanche head coach Jared Bednar has announced that his team will have optional morning skates on game days in an effort to keep his players fresh in the face of a demanding schedule in the second half of the regular season.
Steven is a lawyer and writer with a passion for the game of hockey. He's the Lead Writer covering the Tampa Bay Lightning with THW. He's also been press credentialed through the Lightning since 2016. His work has been published at The Fourth Period, LightningInsider.com, Bolt Prospects, The Sports Daily Network, U.S. College Hockey Online and College Hockey News. He's had radio appearances on TSN 690 in Montreal, Lightning Power Play Live and multiple podcasts to give insight and analysis on the team. He can be reached on Twitter @StevenDiOssi and by email at sdiossi@gmail.com.