For the first time in a long while, the Canucks appear to have long awaited stability in their goaltending situation. Eddie Lack is the clear starter in most fans eyes, and at the moment Jacob Markstrom, will back him up when the season begins in September.
But there are still those out there who feel someone with experience will be brought in to not only provide better support in the backup role, but to possibly mentor Lack as well.
There are several names being thrown around, and some make more sense than others, so we'll look at the more popular names that are coming up in conversation through trade or free agency and see what, if anything, makes them a fit in Vancouver.
These Backups Would Have To Be Starters
Ryan Miller-UFA
Here's a guy who's name surfaces because of his connection to Vancouver's new GM, Jim Benning. Benning drafted Miller in Buffalo so they have a relationship going back several years.
And there's no denying Miller's talent, he's an elite goalie and a Vezina trophy winner who is consistently among the league leaders in wins. True, he didn't win a Cup in St.Louis this year as many expected would happen, but his availability this Summer is welcome news to most of the league.
But as far as the Canucks go, it doesn't seem like a good fit.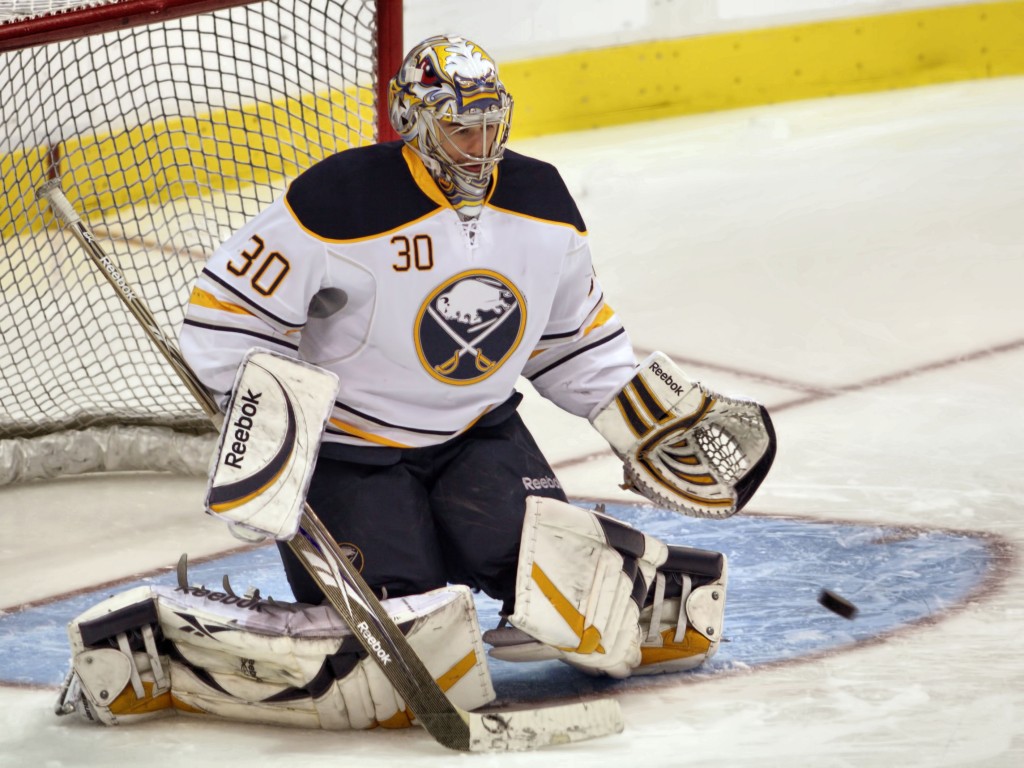 For one thing, Miller will clearly want to be a starter on whatever team he ends up on, so backing up Lack or anyone else would be a complete fantasy.
Then there is the issue of money. Miller will be looking for the type of money elite goalies make, and it wouldn't make sense for the Canucks to spend a large chunk of money at a position where they don't need a lot of help. They have far greater needs up front, and another piece on defence wouldn't hurt either.
Add these points to the fact that Miller seems to be looking to find a team that is ready to win right now, as opposed to the Canucks who may need a couple years to re-establish themselves as a top contender, and it seems heavily unlikely that he will find himself in Vancouver.
James Reimer-RFA
He's clearly had enough in Toronto, when he plays terrific he gets criticized and when he struggles he gets criticized. That kind of scenario will play havoc with your confidence. And with the arrival of Bernier to the Leafs, Reimer is looking to start over someplace else. He's an RFA but it's highly unlikely Toronto would match an offer, preferring instead to go with Bernier.
I think he has a lot of talent and will benefit enormously from a change of scenery, but would he fit in Vancouver?

He certainly has the right kind of character, as a person Reimer is by all accounts as decent a human being as you could hope to meet, and that certainly carries a lot of weight.
And though Canuck fans tend to dislike Leaf players simply for existing, I do think Reimer is a good goalie who can get the job done in the net.
But Reimer also wants to be a starter, he feels that he's earned that title with his performance thus far in the league, so coming to the Canucks even to split games isn't going to appeal to either him or Lack. It's far more likely he will try to seek a team with more clear needs in goal.
Jonas Hiller-UFA
An All-Star goalie in his own right and the starter for the last 6 years, Anaheim will not be offering him a contract this season, opting instead to go with Frederik Andersen and John Gibson. It's interesting because Anaheim is considered an elite team and clearly has the talent to run at the Cup, and are operating under the theory that you need a great team and good goaltending. This is essentially what Vancouver seems to believe as well.
Anaheim's desire to go with 2 relatively unproven goalies will undoubtedly benefit another team, but it's doubtful it will be the Canucks.

Hiller is more likely than the previous 2 candidates, due to the fact that he is anxious to prove he has a lot left and can still be a starter in the league. Therefore it may be theoretically possible that he would take a lesser role temporarily to show he's still got it.
However it's a thin theory, as there are a few teams out there that could use a starter and are likely to be interested in the Swiss goalkeeper, who has been at or near 30 wins yearly throughout his career. Plus, his salary may not be in the Miller range, but it is going to surpass what the Canucks would want to pay a backup.
The Better Choices To Back Up Eddie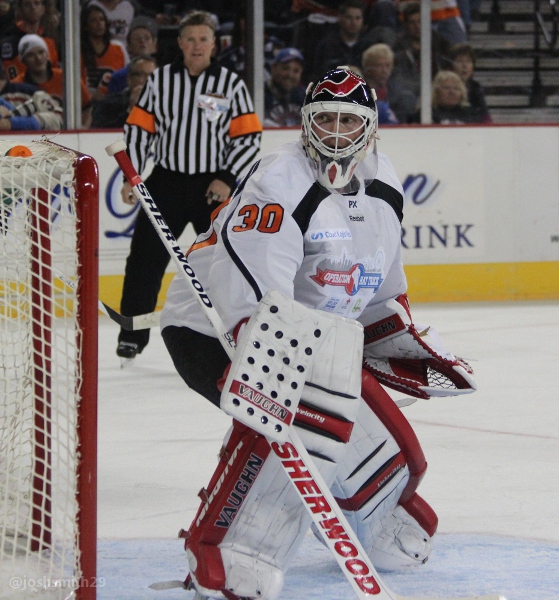 Martin Brodeur-UFA
Now this would be an interesting choice. The perennial All-Star, Stanley Cup winner, Olympic Gold Medal winner would be perfect as a mentor to Lack, having an endless amount of experience to impart to the Canuck netminder. Not to mention the clear ability to step in and give the Canucks a chance to win in his 30 odd starts.
Brodeur definitely wants to continue playing, and in a scenario like the one in Vancouver he might even be good for a couple seasons in this role.
It's an ideal way to end a stellar career, guide another goalie along the path to greatness while still making a significant contribution. The only problem is, he doesn't seem to want to be on a competitive team, he wants to finish his playing days on a Cup contender.

More often than not that doesn't work out, but I guess when you accomplish what he has you get to pick your spots. And with family on the East coast a move out West seems less likely. Although I would be interested to see what would happen if San Jose called him.
Chad Johnson-UFA
Here is a relatively underrated choice in the UFA market. He played 27 games for the Bruins last year, going 17-4-3 with a 2.10 Goals Against Average and a .910 Save Percentage. Pretty good numbers for his first year as a full time NHL'er.
He's played roughly the same amount of NHL games as Markstrom but has a much better record, though Johnson played on the Bruins and Markstrom on a much worse Florida Panther team. And he made $600,000 last year so salary wise he should have no problem fitting in, as he would probably sign in the neighborhood of $1 million or so.
There's a lot of potential there, and while he isn't getting the attention of the other goalies available, he looks like he'll be a steal for whomever signs him.
Jacob Markstrom
The current backup doesn't have a large body of work to evaluate from. He went 2-8-3 between Florida and Vancouver last year, 1W and 2L specifically for the Canucks in 4 games played.
And that is exactly what has people wondering about the backup role and whether or not Markstrom, despite having the moves like Jagger, is the guy to play 25-30 games behind Lack.

The Canucks don't have anyone in their farm system that seems quite ready to come up, so that option is out, Markstrom has more experience than any of the Canuck goalie prospects.
He does have the benefit of being acquainted with Lack, as the two of them played together on Byrnas of the Swedish Elite League, where it was actually Lack backing up Markstrom.
"I feel like I get better every day. Eddie has shown he can win games this year and you've got to respect that. Right now, I just try to work on all the techniques."
And as far as money, ironically Markstrom earns slightly more than Lack at $1.2 Million, but financially he fits.
The Crease In Its Essence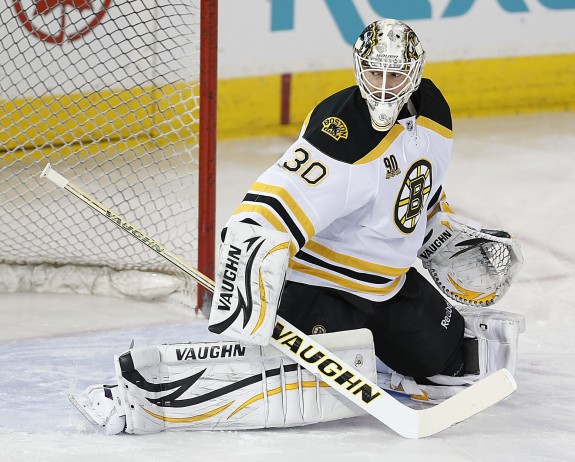 The question in the Canuck net really shouldn't be Lack, he's proven himself as a capable starter and has the potential to approach the elite group.
For that potential to be realized however, a lot will depend on his backup. He will need someone that can play 25 games and keep him from getting overworked, while still giving the team a chance to win, and it's far from certain Markstrom can do that.
If Vancouver is going to upgrade, Johnson makes the most sense from the options discussed here. He has the right combination of experience, ability and likely salary. Yes, he played on a very good Bruin team, but the Canucks aren't as bad as they looked last year either, and he would likely be exactly what they need in the Number 2 role.
And from Johnson's point of view, though Lack is very good, you're more likely to take over from him than Tukka Rask, so a move to the West Coast should be appealing.
Whatever scenario unfolds, I doubt it will drag out over the Summer, so look for it to occur on or before the July 1st free agent signing date.