At last, the Canucks new look is coming into focus. Jim Benning has been named GM of the Canucks and a crucial piece of the puzzle has fallen into place. However, as he moves forward, he should thank Eddie Lack for making his transition easier by doing something previous Canuck goalies could not do. Providing stability.
Previous management must absorb a lot of the blame for creating a goaltending nightmare that could have set the Canucks back years. But because of Lack's strength of character, they've been able to avoid disaster.
Finally, History Isn't Repeating Itself
For the first time in what seems like forever, the Vancouver Canucks will begin the year with a clear number one goaltender, and one that is poised to make giant strides in the league. This is only possible because of the exemplary way Eddie Lack handled himself during a ludicrous period of unrest for the Canucks between the pipes.
Happily, they will start a season without the distraction of a goaltender controversy, wild trade speculation, or any other such negativity that sapped the team's energy before even so much as a pre-season game had been played.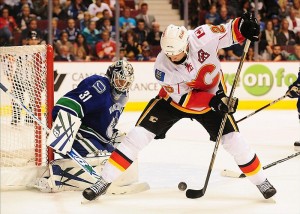 In the past, the Canucks have expended a lot of energy on their goaltending for one reason or another, unable to navigate their way through an embarrassment of riches that included Luongo, Schneider and Lack in their system. And although we've seen 2 very good goalies traded from the team over the last couple of years, fans should be encouraged by the key elements Lack possesses and will utilize as he inherits the franchise goalie title.
Exuding Class Under Pressure
If a goalie is going to have success in the league, the ability to handle pressure is critical, and last season provided great insight into Lack's mental strength and agility.
Originally he was designated as the back-up and was expected to make 20-25 starts behind Roberto Luongo. It was expected he was being groomed to take over as the full time starter down the road, though it was unclear exactly how the torch was going to be passed.
Then came the Winter Classic, regarded as the flagship game of the Canucks regular season and one that Luongo clearly had marked on his calendar. Usually Luongo spoke in typical clichés when referring to upcoming games, but in this case he flat out stated how much he was looking forward to playing in it.
But Lack had played in a few games in a row leading up to the big event, and had played well. Coach Tortorella decided that Lack would give the team the best chance at winning, and since the Canucks badly needed points, Lack was getting the start.
Despite the fact that Eddie is highly regarded among Canuck faithful, this was not a popular decision among Canuck fans, and certainly not with Luongo, and a huge controversy unfolded.
Shortly afterward, in a move foreseen by few and understood by no one, then-GM Mike Gillis traded Luongo to Florida at the trading deadline, long after it appeared this scenario was dead. It is impossible to re-create the feeling of shock and even outrage expressed by frustrated Canuck fans when the trade was announced, but let your imagination run wild.
In the blink of an eye, Eddie Lack had gone from a goalie with exciting potential who had earned a spot on the team as a backup through consistent improvement, to a cornerstone of a team in a massive Canadian market.
Amazingly, Lack handled the circus-like atmosphere left in the wake of the trade with the composure of a seasoned veteran, backing his team while still showing loyalty to his former mentor Luongo. Through it all, he managed to maintain his focus on his team's situation and his new responsibility of trying to lead them into the playoffs.
Though they fell short, he never allowed the events off the ice to distract him from his game. It was impressive, and the Canucks should feel good about the fact that their new #1 goalie has that kind of mental strength.
Lack Is Ready To Be A Starter
The immediate concern most people will likely have is how Lack will play when he is assigned with starting the bulk of the Canuck's games right from training camp. Although he will begin his first season as Vancouver's starter, he's done this before in his career.
He started 52 games for the Manitoba Moose in the 10-11 season, when he was named All-Rookie, and 46 for the Chicago Wolves in the 11-12 season. So it's not like this will be completely foreign territory for him, in fact, one of the reasons the Canucks signed him in the first place was because of his work ethic.
Lack played 41 games last season.  He had a 2.41 Goals Against Average, a .912 Save Percentage, 4 Shutouts, and played a stretch of 19 games in a row at the end of the season.(Video) Those are encouraging numbers considering the circumstances surrounding the Canucks campaign, and the overall un-coordinated play of the team in front of him the whole year.
The 19 game stretch was particularly important in measuring what Lack can give the team down the road. It was a serious workload for a rookie and although he bent a bit, he didn't break and showed that he can shoulder the bulk of the load.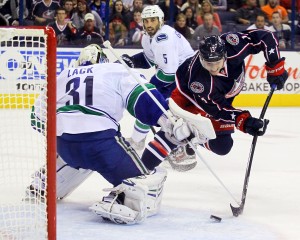 When you look at other goalies in the league who played in the 40+ game range, Lack is on par or better than Schneider, Hutton, Scrivens and Brodeur in the aforementioned key categories. Clearly he has progressed as quickly as the Canucks could have hoped, and there is no reason to doubt he has the ability to develop into a top flight goalie in the NHL.
The Less Obvious Intangibles
Lack has really developed working with Rollie Melanson, the current goaltending coach in Vancouver, and it would seem there is much ahead that this tandem will accomplish. Melanson has a lot of praise for Lack's work ethic and character, which by itself should reassure new management.
Then there is his age and contract status. Lack is 26 years old and has 2 years left on his contract that has a $1.15 million US cap hit attached to it. Afterwards, he will be a UFA. Jim Benning must be thrilled at the idea of having a goalie that could end up with elite status that isn't tied into a contract that is ridiculous in length or dollars. Lack's contract alone gives the team all kinds of options over the next couple of years.
His personality also opens up doors for management. Despite all of his upside, it is likely the Canucks will want to bring in some kind of proven veteran to not only win games as a backup, but also provide support and mentorship to him. Lack's demeanor suggests he will embrace the strategy, as opposed to being threatened by it, and as a result, he will become a better goalie.
Lack brings talent and a whole lot of potential with him as he begins his new career as the Canuck's go-to netminder, but it seems the relative peace of mind he brings with him will be appreciated equally.