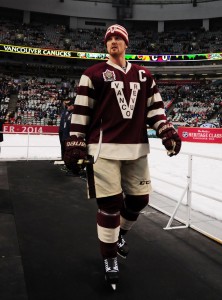 Now that the Vancouver Canucks have begun a new era with a new President, and hopefully, a new focus on what this team needs to be successful in the future, the search begins for the GM, the engine that will drive this team forward.
This person is going to be vital in establishing a culture that lends itself to winning, finding the players that best fit the system that will be designed to get those wins, and in renewing enthusiasm in the fan base. The Canucks have deteriorated in all those areas, and in a few short years have gone from an established power that only needed a couple pieces, to a team in total disarray. And for these reasons, it is critical that they find the right person right now, or risk forever being a fringe team who's only goal is to make the playoffs.
There are many candidates out there, some more suitable than others, but here are a few that are apparently going to get a long look from the upper management group.
Paul Fenton, The Quiet One
Paul Fenton is destined to run a team at some point, and one of the reasons is his work ethic. He played over 400 games in the NHL, primarily as a checker, even scoring 32 for the Jets in 89-90. He retired in '92 and became a scout with the Anaheim Ducks, eventually becoming their head professional scout. Nashville originally hired him as their director of player personnel, and now he is the Predators Assistant GM.

There are a couple of reasons why Paul Fenton is so highly regarded, one being Nashville's ability to draft talent. They continually find players who fit their system, and above all else, make an impact on their roster. Seth Jones, Roman Josi, Anders Lindback, Colin Wilson, Craig Smith, Gabriel Bourque, Cody Franson, Patric Hornquvist, Ryan Suter, Shea Weber, and Kevin Klien are all draft picks. That's a fairly impressive list of players, especially when you factor in that Nashville consistently draft out of the top 10.
And Nashville is one of the best in the league at developing their talent, particularly defencemen. In 2012-13, the Predators used 17 players drafted and developed by the team – which included 10 of the team's top 12 point getters. Few teams can match that output, and that's awfully attractive.
The only possible issue is that he likes to build from the back out, which may contradict the style Linden wants to employ.
Jim Benning, The Former Canuck
Jim Benning has long had ties to the West Coast, having played his junior hockey for the Portland Winter Hawks before being drafted by the Toronto Maple Leafs. His direct connection to the Canucks began when he was traded to them in the 86-87 season and stayed until 1990, spending 2 of those seasons playing with Trevor Linden.
After retiring he became a scout for the Anaheim ducks in 1993 and then joined Buffalo as a scout in 1994, who moved him up the ladder to Director of Amateur Scouting in 1998. Boston acquired his talents in 2006 and made him Assistant GM, and he won a cup with them in 2011.

Benning's strength is his ability to evaluate players at all levels, which was directly responsible for Buffalo's drafting prowess under his command. During the later rounds they managed to find Ryan Miller, Max Afinogenov, Paul Gaustad, Jason Pominville, Andrej Sekera, Derek Roy, Jan Hejda, Dennis Wideman, Henrik Tallinder, and Clarke MacArthur, along with Brian Campbell and Ales Kotalik. It's the late rounds that build a team, and that list shows how good a scouting system he can establish, a key area for the Canucks to improve upon.
There are other upsides, as he's easy going and respected by the league. The downside is he has a reputation of not wanting to suffer coaches who are prone to outbursts at the podium and in the media, which may be an obstacle if the Canucks chose to keep Tortorella.
Ron Hextall, The Wild Card
Ron Hextall's hockey background is well known, from his standout days as a goaltender for the Brandon Wheat Kings to his Calder Cup and Conn Smythe play for the Philadelphia Flyers. And of course, his impact on how goaltenders play the puck today is undisputed and significantly changed how the game is played.

When he retired in 1999 he joined the Flyers as a pro scout, and was promoted to Director of Professional Player Personnel in 2002. In 2006 he left Philly for the Los Angeles Kings and the position of Vice President and Assistant General Manager, under the tutelage of Dean Lombardi.
Hextall is one of the more recent additions to the NHL's list of rising front office talent, increasing his presence on the radar with the Kings cup win in 2012. It appears Hextall can assemble a scouting team and evaluate talent, as there have been some notable picks beyond the 1st round while Hextall has been in L.A., including Jeff Zatkoff, Wayne Simmonds, Oscar Moller, Slava Voynov, Andrei Loktionov, Jordan Nolan and Valentin Zykov.
But his best attribute may be at the developmental level. While Assistant GM for the Kings, he oversaw their AHL farm team in Manchester, and the Monarchs not only made the playoffs every season but also appeared in 2 conference finals.
He is currently with the Flyers as their Assistant GM and Director of Hockey Operations. It was thought he may have joined the Flyers to replace Paul Holmgren, but Paul has not indicated a desire to leave his job as Philly's GM.
Hextall's familiarity with the Western Conference could be an asset if he were to become interested in the Vancouver job. Helping the L.A. franchise win its first ever Stanley Cup certainly looks good on his Resume, and he has family near Vancouver, as his Mom lives in Victoria. The only thing holding him back may be the feeling that he has the quality, but not the quantity in his body of work.
Regardless of how the search goes, one thing is certain. The Canucks hockey club have to get this right, because the franchise is a victim of its own success, and a descent to the realms of the average teams is wholly unacceptable.