The off-season began sooner than the Nashville Predators envisioned entering the 2013-14 season. An amazing 9-1-2 finish in the final twelve games could not amount to a playoff birth as it was too little too late. Nashville does, however, have a lot of things to look forward to entering next year including a new coaching staff, a new system, likely new players, and an incoming stock of prospects looking to secure a spot on the organization's NHL roster in October.  With the draft approaching just a month away, the competition will intensify. The Hockey Writers analyzes the Predators' top five prospects.
1. Filip Forsberg, Forward
Age: 19
Height/Weight: 6'2″/194
Handiness: Right
Acquired: Via trade from the Washington Capitals Apr 3, 2012
2013-14 Statistics: 47 GP, 15 G, 19 A (Milwaukee Admirals/AHL)
The skill level is apparent in Forsberg, but he has yet to put it together in the NHL. A patient David Poile, Predators' general manager, has given Forsberg the options to play in the World Juniors for his native country Sweden and develop his skills in a North American rink with the Milwaukee Admirals in the American Hockey League (AHL). Forsberg put on a scoring display as captain of the Swedish junior team last winter, scoring 12 points (4 goals, 8 assists) in 7 games in his first action on the ice since an upper-body injury that kept him out of 15 games in Nashville. Prior to the injury, he played 13 games in the early portion of the season, amounting a goal and four assists. With a new, offensively-minded head coach in Peter Laviolette, look for Forsberg to feel more comfortable in his game and reach his potential.
Upside: First line winger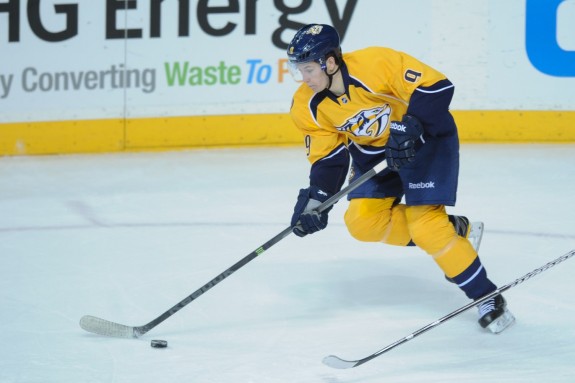 2. Taylor Beck, Forward
Age: 23
Height/Weight: 6'2″/207
Handiness: Right
Acquired: 2009 70th overall (3rd round)
2013-14 Statistics: 65 GP, 17 G, 32 A (Milwaukee Admirals/AHL)
It is unknown of what Beck can accomplish in the League, but in his short stints in Nashville, his potential is high. As a 21-year old, Beck was given his first call-up to the NHL in 2012-13, playing 16 games and totaling 3 goals, 4 assists — a pretty good start in a first stint. The next season, however, did not go as well and was scoreless in his 7 appearances. Beck's opportunity in the Predators' organization is running thin, but a good training camp would assure him a spot on the roster. If Beck is able to his size more effectively, his puck control and offensive talents would surely increase.
Upside: Third line depth right winger
3. Miikka Salomaki, Forward
Age: 21
Height/Weight: 5'11″/198
Handiness: Left
Acquired: 2011 52nd overall (2nd round)
2013-14 Statistics: 75 GP, 20 G, 30 A (Milwaukee Admirals/AHL)
Salomaki will get his opportunity to make a good impression on a new head coach this summer. The Raahe, Finland native plays a two-way game filled with point production and aggressiveness. Team Finland selected Salomaki to play for the Leijonats at the World Championships in Belarus, where he totaled a goal and an assist in 8 games. If Salomaki can continue to play a big man's game at a smaller size, similar to Chris Kunitz, look for him to become a effective player under Laviolette's system in the coming years.
"He's almost my favorite player the way he comes to play every night. He's a wrecking ball." – Paul Fenton on Miikka Salomaki. #Preds

— Cellblock 303 (@Cellblock303) May 7, 2014
Upside: Second line winger
4. Juuse Saros, Goaltender
Age: 19
Height/Weight: 5'10″/181
Handiness: Catches Left
Acquired: 2013 99th overall (4th round)
2013-14 Statistics: 44 GP, 1.76 GAA, .923 SV % (HPK/Sm-Liiga)
Nashville scout Janne Kekalainen may have found the franchise's next goaltender when Pekka Rinne fades away. The top ranked international goaltender, according the NHL Central Scouting Services, surprisingly dropped to 99 , where Saros was selected by the Predators. The pick confused many in Nashville because Saros is undersized at 5'10" and the has been known to working with taller goaltenders like Magnus Hellberg, Anders Lindback and Rinne. Despite the lack of height, he accounts for that in his quick, efficient style of play. Saros led Team Finland to a gold at the 2013 WJC with a 1.57 goals against and .943 save percentage in 6 starts. With goalie coach Mitch Korn (hopefully) teaching Saros, he could become the next big goaltender in a few years. With the ultra competitive goaltending battles currently within the organization, it will be at least a couple seasons before he makes his way to North America.
Upside: Vezina-worthy starter
5. Brendan Leipsic, Forward
Age: 20
Height/Weight: 5'10″/176
Handiness: Left
Acquired: 2012 89th overall (3rd round)
2013-14 Statistics: 60 GP, 39 G, 52 A (Portland Winterhawks/WHL)
Classified as a scorer, fighter, goon and cheap-shot, there is not a more dynamic player in the Canadian junior leagues right now than Leipsic. Sure, everyone hates those type of players, but isn't it great to have them on your team? Nashville finally has that player developing in their system. Despite his success as a gritty scorer in the WHL with the Portland Winterhawks, it is unlikely he will be able to play a similar style in the pros because of his smaller size. Even if Leipsic is not able to play a hard-nosed game, he still possess the scoring touch. In the past two seasons in Portland, Leipsic has 211 points (88 goals, 133 assists) in 128 games. With last season being his final stint in Portland, he will have to play for the Milwaukee Admirals if he is unable to make a spot in Nashville.
Upside: Top line center/winger, compliments a natural scorer.