Although I do love baseball and football, there really is no contest when it comes to the presentation of the championship trophy in hockey. In my opinion, its is the best in all pro sports, giving it to the players first, and understanding the significance of who gets to hoist the Cup next. Maybe in other sports, the emphasis is on the ring more than the trophy itself. Not so in hockey. The Stanley Cup is about as special and precious an award that you could imagine. Players refuse to touch it unless they've won. They don't want to touch any other trophy because they all pale in comparison. The greatest Stanley Cup hand-off in history? That's easy:
The order in which players get to lift the cup and take their victory lap isn't by accident. Often times, when a team has a veteran player who hasn't yet won a Championship, odds are the captain will hand it to him first. Each team has their reasoning, and it's always fun to watch. This season, 16 teams have their sights on winning the last game of the postseason, though only one can. So who will get the Cup second on each team? (Note: This list is simply my opinion.)
Anaheim Ducks: Shawn Horcoff
The Ducks have plenty of veterans on their roster, a few of which came very close to winning it all only to fall short. Ryan Kesler or Kevin Bieksa would be worthy candidates. But Shawn Horcoff has had a difficult year after facing a PED suspension, he's a UFA after this season and at 37 years old, there's no guarantee he'll have another kick at the can. He might not see any action in these playoffs, so it will really be a special send-off.
Chicago Blackhawks: Patrick Kane
The Blackhawks had the lovable old guy in Kimmo Timonen last season, but no such story this time around. Christian Ehrhoff, Tomas Fleischmann or even Andrew Ladd could be possibilities, but don't be surprised if it's Patrick Kane. I suspect his teammates have really rallied around him after a challenging offseason and want to show their support, especially considering the huge offensive year he's had.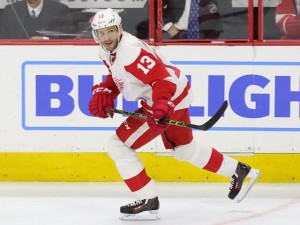 Detroit Red Wings: Pavel Datsyuk
For me this would be a toss-up between Datsyuk and Mike Green. If not for the rumors that Pavel might have played his last season in the NHL, Green would be a stronger contender. But considering the circumstances, I think it has to be Datsyuk getting the hand-off.
Dallas Stars: Jason Spezza
The Stars have plenty of veterans who would be good options, but the obvious choice is Jason Spezza. The 32-year old got close (as in making it to the Final) with the Senators in 2007, and now is his time to savor the moment.
Florida Panthers: Roberto Luongo
Although everyone would probably like to see Jaromir Jagr get the Cup second, I think it has to be Luongo. He was oh so close in 2011, and with his seemingly untradeable contract and resurgence in Florida, it just seems right.
Los Angeles Kings: Vincent Lecavalier
Milan Lucic could be the one to get the hand-off and that would be perfectly understandable, but Lecavalier has revived his career in L.A, and has stated that he'll be retiring after the season, so it seems like the right move to give him the prize.
Minnesota Wild: Jason Pominville
Zach Parise and Ryan Suter are the team's marquee players, but the 33 year-old Pominville just seems like the classic veteran guy to get the Cup after the Captain.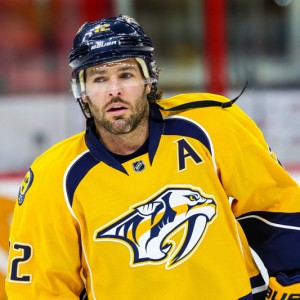 Nashville Predators: Mike Fisher
Pekka Rinne is certainly a possibility to get the hand-off, but Mike Fisher is that consummate pro, going about his business being a good leader on and off the ice. Barret Jackman could be a candidate as well.
New York Islanders: Jaroslav Halak
I was a little torn on this one, but Halak has been solid between the pipes for the Islanders, and he's never come close to a championship so it makes sense for it to be him.
New York Rangers: Henrik Lundqvist
There really isn't any other option than the King, is there? He's a fierce competitor and probably wants to win more than anyone else. He shouldn't have to wait long to finally touch Lord Stanley's mug.
Philadelphia Flyers: Mark Streit
I gave the nod to Streit here because he's the oldest guy on the team. Nick Schultz, RJ Umberger and Sam Gagner are also in the running.
Pittsburgh Penguins: Pascal Dupuis
Matt Cullen is the seasoned veteran who would normally be the guy in this spot, but how amazing would it be to see Pascal Dupuis suit up one last time and take a lap around the ice. If the Pens win it all, let's hope the clincher will be on home ice. Just imagine the crowd when Dupuis makes an appearance.
San Jose Sharks: Joe Thornton
This one is obvious. Patrick Marleau would be a nice as well, but it's got to be jumbo Joe. They both had the "C" striped from their jersey and didn't let it affect their play. Pavelski to Thornton and then Marleau would be great to see.
St. Louis Blues: Alexander Steen
After essentially being a Maple Leaf cast-off, Alex Steen has been a huge part of the Blues offence over the past eight seasons. He's the right candidate in my eyes.
Tampa Bay Lightning: Ryan Callahan
The former Rangers captain was the main part of the Martin St.Louis trade, and he's been a good soldier for the Lightning. Anton Stralman would be worthy as well.
Washington Capitals: Jason Chimera
The 36 year-old has never had a stiff at a Stanley Cup, and he's been a heart and soul guy for the Caps since 2009. It's an easy choice considering veterans like Justin Williams and Mike Richards have already won.
There is no shortage of worthy candidates for all 16 teams, some of them are more my assumption, others are what I would like to see. Have a different idea? Let me know in the comment section below.