When it was announced that the Montreal Canadiens beat out several other NHL teams in the bid to sign European free agent Jiri Sekac, it attracted some intrigue but nothing more than a blip in the grand scheme of things. In recent years, European free agents have been hyped up and signed by NHL teams only to disappoint. But the Czech born Sekac looks like he can buck that trend.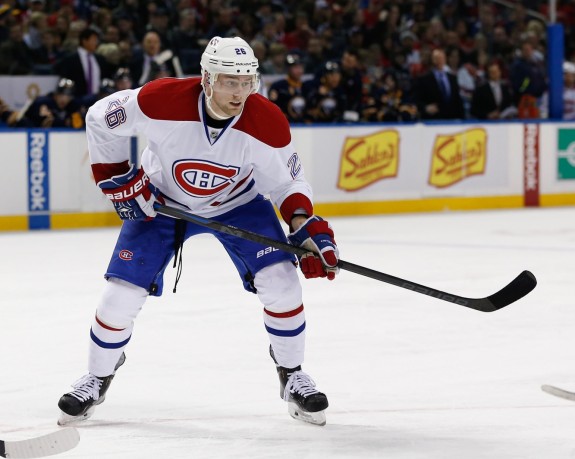 Just getting started
As a teen, Sekac played just eight games in the OHL with the Peterborough Petes before moving on to the Youngstown Phantoms of the USHL. He scored 45 points in 58 games in his second USHL season but it wasn't enough to attract NHL scouts as Sekac was passed over in the 2010 and 2011 drafts.
Sekac would head back to Europe to play pro hockey but still didn't attract NHL attention as he put up very modest offensive numbers. However, Sekac would experience an offensive breakthrough during the 2013-14 season with HC Lev Praha in the KHL. With 28 points in 47 games, NHL teams came calling for Sekac's services where the Habs would finally win out.
European free agents
There have been a fair share of hyped European free agents who have come to North America but fail to deliver. Fabian Brunnstrom was the flavour of the month back in the summer of 2009 as he was courted by several NHL teams before signing with the Dallas Stars. He would score a hat trick in his first game but he never lived up to the hype. He would bounce around in the AHL for the most part before deciding to head back to Sweden in 2012.
Damien Brunner lasted just two seasons before being bought out by the New Jersey Devils. Anton Belov and Roman Cervenka both lasted just one year with the Edmonton Oilers and the Calgary Flames respectively.
Signing free agents is much like drafting in that it is a very inexact science. But the amount of European free agent success stories compared to North American ones is disproportionate. Often Europeans struggle with the smaller ice surface and the culture, which isn't unusual.
Scoring a goal like this suggests Sekac's potential might be higher than first thought.
Sekac's place in Montreal
In the case of Sekac, he has looked pretty comfortable in the NHL. He has size at 6'2″ 195 LBS (according to NHL.com) and has put up a reasonable 15 points in 32 games. He was inexplicably scratched by Michel Therrien for seven consecutive games and it is no coincidence that the Habs struggled with Sekac out.
Adding the 22-year-old Sekac filled a gaping hole in Montreal's lineup. Many of Montreal's younger prospects weren't quite ready for the big time but veterans like Rene Bourque and Travis Moen were black holes on offense for the Habs. Trading Bourque and Moen opened up room for Sekac to showcase himself further. Montreal has struggled in finding talented wingers for their plethora of centres and finding a young winger without using a valuable draft pick is always a win in the eyes of management.
Sekac has used his size and speed to help drive possession for the Habs. He has shown nice chemistry with Lars Eller, who seems to enjoy having the talented Sekac on his line. Sekac hustles hard and has no qualms about battling along the boards or in the corner. But he does possess an underrated offensive skillset. He impressed in training camp with outstanding fitness levels as he outlasted every Hab during the beep test posting an impressive score of 14.5.
Plekanec says Sekac's new nickname is Forrest Gump. "He doesn't stop running", he says, referring to his 14,5 score at the beep-test.

— Marc Antoine Godin (@MAGodin) September 24, 2014
More to give
The most exciting part about Sekac is no one knows how good he can be. This being his rookie season, he has struggled at times but his skills suggest he has more to give and his size helps him create a lot of chances. He was virtually unknown at the beginning of the year amongst even hardcore fans but Sekac is starting to turn some heads. Sekac's story is far from over as it looks like he is just getting started.
I have a Bachelor's Degree in Journalism from Ryerson University. I am a freelance journalist and a Montreal Canadiens writer for The Hockey Writers. I previously wrote for Simcoe.com and Last Word on Sports as well as interned at TSN.