Even though Michal Neuvirith's leg injury is nothing serious, it comes at a very interesting time for the Buffalo Sabres. After starting eight of the first 12 games, Jhonas Enroth appeared to be falling out of favour, with just two starts in the last eight contests.
Entering the 2014-15 campaign, Enroth was finally in the position he had been aiming for as Buffalo's starting goaltender.  During the majority of the previous four seasons, the Stockholm, Sweden native always had to contend with a certain Ryan Miller.
Who Should Start for the Buffalo Sabres?
With Miller now out of the way, the long-term future looked good for Enroth. This position was only reinforced when he opened the season with an impressive outing against the Columbus Blue Jackets, albeit in a losing effort.
However, as the season has progressed, Enroth's performances have put him under the microscope – and not necessarily in a positive sense. As a result, Neuvirth has taken advantage of the situation to make his claim to take over as the Sabre's top man between the pipes.
So, who is better-placed to start in goal for Buffalo? Let's compare the Sabres top two goalies to see if we can come up with the answer.
Background and Experience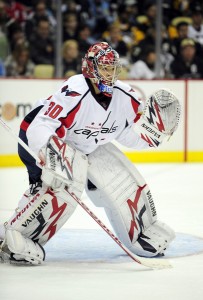 What's interesting about this is that Enroth and Neuvirth have more in common than just the fact they play for the Sabres. For a start, both players are 26-years old. (Neuvirth is three months older.)
Of more significance, both goaltenders were selected in the second round of the 2006 NHL Entry Draft. Neuvirth was picked 34th by the Washington Capitals, 12 places ahead of Enroth, meaning they will be forever linked in some capacity.
In terms of experience, Neuvirth has the edge despite Enroth entering training camp as the de facto number one. Heading into the 2014-15 season, Neuvirth had played in 136 NHL games compared to 81 by Enorth.
However, no matter how much experience you have, it is about what you do on the ice:
Enroth                  Win-loss: 27-43-13.  Save percentage: .911% GAA: 2.86
Neuvirth              Win-loss: 62-48-14. Save percentage: .912% GAA: 2.69
As with the experience factor, Neuvirth comes out on top with a better goals against average, although it should be noted his career save percentage is only .001% better than Enroth's. Of course, the most important statistic for any goaltender is their win-loss record with, once more, the advantage going to Neuvirth.
This Season
A lot of media and fans often refer to the phrase "but what have you done for me lately?" when it comes to professional athletes. In that respect, let's look at the statistics for just this season.
Enroth                  Win-loss: 2-8-1. Save percentage: .900% GAA: 3.63
Neuvirth              Win-loss: 3-5-1. Save percentage: .920% GAA: 2.85
Don't get me wrong, it's not like either line is particularly impressive, but it doesn't change the fact Neuvirth again has the edge. When you consider that the Sabres are (unofficially) tanking this season, his statistics suddenly seem more impressive.
Strength of Opposition and Help From Teammates
Enroth supporters will likely look at the previous section and argue the statistics don't take into account the quality of the opposition. Along those lines Neuvirth has faced eight opponents with a winning record – compared to seven by Enroth – despite playing one game less. (In fairness to Enroth, he has had to face the Pittsburgh Penguins twice.)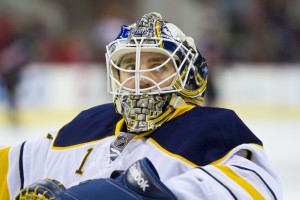 Another major factor to consider is how much help both goalies are getting from their teammates. No matter how good you may be, it helps if the players in front of you are also carrying their weight.
Leaving out the most recent game against the San Jose Sharks, which Enroth and Neuvirth both featured in, let's consider how much help the rest of the Sabres roster are giving them.
Enroth has so far conceded 39 goals, while his teammates have scored 13. By comparison, Neuvirth has giving up 29, while seeing 17 scored at the other end. This makes for game averages of 1-4 and 2-3 respectively.
In effect, while you can argue that Neuvirth is getting better assistance from the rest of the players, he has also conceded less goals. At this point, Enroth supporters should also note he sees the Sabres average 24 shots on goal against the opposition, one more than when Neuvirth is on the ice.
Finally, it is worth noting that both players have faced an average of 37 shots per game. The only difference here is the average number of saves, with Neuvirth averaging 34 per contest, one more than his teammate.
Conclusion
Overall, when you taking all of this into account, the timing of Neuvirth's leg injury could not have come at a more opportune time for Enroth. However much – or little- time he has, it is now up to him to see if he can reclaim his position as the Sabres top goaltender moving forward.
'Armed' with a journalism degree, I have covered numerous NFL, MLB, NHL, MLS, CFL & NLL events for the BBC, TO Sports & Blue Toro, while being fortunate enough to interview various sporting personalities, including Rogers Goodell. Throughout it all, the one message I have for anyone in this industry is to never take it for granted.