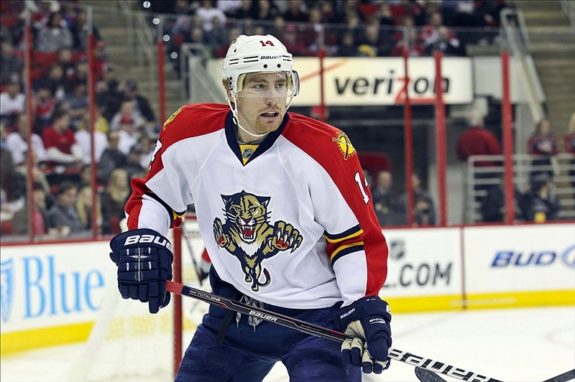 There is a strong belief among Panthers fans that Tomas Fleischmann is no longer the player he once was. If you glanced at his numbers from the 2013-14 season, you might think they're on to something. But how does one simply write-off a player who has led his team in scoring two of the past three years?
Fleischmann, or "Flash" as he is known amongst his peers and fans alike, took a not-so-popular route to get to the NHL. The Czech forward molded his game while skating (as a junior) for HC Vitkovice of the Czech Extraliga. After a couple of strong seasons and a short pro call-up with HC Novy Jicin, he was drafted by the Detroit Red Wings in the 2nd round (63rd overall) of the 2002 NHL Entry Draft. Instead of continuing his career in his home country, Fleischmann chose to cross the pond to North America. Unlike many Europeans who come over to North America and choose the offensively-focused QMJHL, Tomas chose the WHL, and quickly became a valuable offensive weapon for the Moose Jaw Warriors.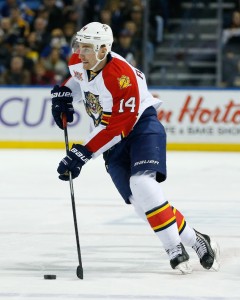 Eventually the talented winger debuted in the NHL during the 2005-06 season with the Washington Capitals. In only his second full season he finished one goal short of the 20-goal plateau and following his next season began establishing himself as one of Washington's more potent offensive threats. Despite developing a blood clot in his leg following a cross Atlantic flight, Fleischmann continued to contribute on the scoreboard with a career-year in 2009-10. Starting the next season, Capitals coach Bruce Boudreau moved him to center where he struggled and was soon after traded to Colorado where his year was cut short only 45 games in when it was revealed that he had a pulmonary emboli.
After a brief stint in Colorado, the Florida Panthers came knocking on the door of the unrestricted free agent, signing him to a 4-year, $18 Million contract. The deal was often criticized both around the NHL and within the Panthers world following Flash's health issues and whether he'd ever be 100% again. He proved all the naysayers wrong, putting up career numbers in 2011-12 with 27 goals, a team-high 61 points and was an integral part of bringing the Cats back to the post-season for the first time in over a decade. He followed this up with an equally successful year during the shortened lockout season.
Now, doesn't this seem like the career of a guy who has taken the hard road, and overcome a lot of adversity to continue his success at the pro level? No, you're not crazy, because it does.
What Went Wrong This Year?
Last year, Fleischmann was a shadow of himself. He fought the puck all-season long, failing to find his groove despite starting the season fairly well (6 points in his first 5 games), and eventually working his way down from first line left wing to playing on the fourth line alongside Krys Barch and Shawn Matthias. His struggles were obvious throughout the season to anyone watching Panthers games. He'd hit posts, often miss wide-open chances, or simply not make the right play when it was required. To put things into perspective, struggling Panthers sophomore Jonathan Huberdeau matched Fleischmann's point totals, and many felt this was a terrible season for the young winger. Huberdeau did so in 11 less games.
So what causes an offensive player with a track record that has consistently trended upwards throughout his entire career, to suddenly drop off in ability? Was it the coaching change? Was it his previous linemates Stephen Weiss and Kris Versteeg departing from the team? It's an age old question within sports, "what went wrong", but Panthers fans shouldn't be worried.
What Can Fans Expect?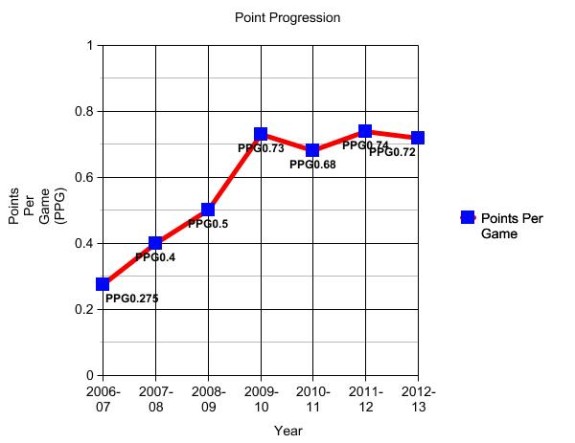 Fleischmann is extremely gifted offensively. Scoring 20 goals in the NHL is no simple task, and he's pulled it off a few times in the big leagues. He's also improved himself almost every year before solidifying his game as a reliable, 55-60 point player. Since 2009-10, Flash has scored at a rate of 0.63 PPG (including his rough year in '13-14), which works out 52 points over an 82-game season. These are not the types of numbers that one can just brush aside. Being a 50-point player in the NHL says something, and it's unfair for anyone to think the winger can't return to form.
Fans have been calling for Flash to be traded since the mid-season point of last year, but why move him now? His value is lower than it's been in years, and all signs point to him turning this around. He's a proven scorer in this league, and with Gerard Gallant joining the Panthers as head coach, the emphasis on offensive will be far greater this season.
Remember, Fleischmann is in a contract year, and although he makes a cool $4.5 Million this season, he's going to need to earn his next deal. We've all seen players perform exceptionally well during contract years.
Why should this proven winger be any different?