The start of NHL training camps are well over a month away but the jockeying for playing time among young players hoping to make NHL rosters is a constant competition.
In San Jose, the race for the last few roster spots is a lot more crowded than what the hockey world was led to believe two months ago after what has been a slow offseason in San Jose. Although the Sharks have a relatively weak prospect pool to pick from, there are near-NHL level ready players at every position.
According to Hockey's future, the top prospect in San Jose, and the only Shark farmhand to make the top-50 is Tomas Hertl who dazzled the league early on in 2013-14 before a knee injury cost him 45 games. After Hertl at No. 5, the list is thin but, then again there aren't many roster spots available come mid-September. Below are the top three prospects looking to claim a final roster spot in San Jose.
D- Mirco Mueller
NHL Experience: None
2013-14 Stats: 60 GP, 5-22-27 points, +1 (Everett Silvertips, WHL)
Age: 19
6'3", 195lbs
The 18th overall pick in 2013 is in prime position to make the Sharks out of training camp and has been the most talked about prospect in the Western Conference this offseason in terms of becoming a breakout player. With the absence of Dan Boyle on defense and slated as the most flexible of the positions on Todd McClellan's squad, Mueller has a better shot than any other budding NHLer in the Sharks organization.
The scenario might become more complicated due to his youth if he doesn't wow the coaching staff. If Mueller makes the team as a fringe starter, he will likely slot into the sixth defenseman role ahead of veteran Scott Hannan but his development could be hindered if he is cornered into a platoon role. As a young player, he needs consistent playing time but cannot start the season with the Sharks' AHL affiliate in Worcester due to eligibility meaning he would start the year back in Everett, Wash as a part of the WHL.
D- Matt Tennyson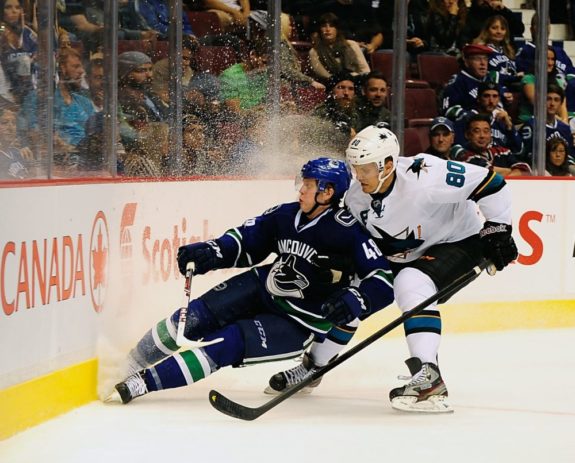 NHL Experience: 4 GP, 0-4=4 points, +2 (2012-13 season)
2013-14 Stats: 54 GP, 7-14=21 points, -25 (Worcester Sharks, AHL)
Age: 24
6'2", 205lbs
If Matt Tennyson is going to make the Sharks roster and stay there, it has to be within the next season or two. He was resigned by the Sharks to a two-way deal and has always been on the cusp of becoming a player who can log 15 minutes per game at the NHL level. He doesn't have the offensive upside Mueller does but is a quality minutes eater.
There are a few things that benefit Tennyson's chances of making the Sharks. First, the Sharks have made it clear youngsters will get an opportunity for playing time this season, benefitting Tennyson and the top Sharks prospects as a whole. Secondly, albeit it's just a cup of coffee with at the NHL level, he is one of a handful of Sharks prospects to have seen time at the NHL level. Lastly, there is little reason to keep a youngster like Mueller on the team just to fill the role of healthy scratch more often than not. So to combat negating valuable playing experience for Mueller, it could give way to Tennyson to move his career to the pros.
C- Chris Tierney
http://youtu.be/brq9Wnv34Bk
NHL Experience: None
2013-14 Stats: 67 GP, 40-49=89 points, +44 (London Knights, OHL)
Age: 20
6'0", 181lbs
On an offensively stacked London Knights team in the OHL, Tierney led the team with 17 points in nine playoff games and in plus/minus during the regular season. If GM Doug Wilson and Coach McClellan want to shake things up in the forward lines from the get-go, Tierney is a guy they should strongly consider at the forefront of the alleged shake up. His speed will make the Sharks a quicker team on the forecheck playing on the bottom two lines and possibly out of position.
Because the Sharks have perhaps the best center depth in the Pacific Division, Tierney will be pushed to the wing and battle free agent acquisition John Scott and newly acquired Tye McGinn for playing time in camp. If Tierney doesn't make the jump from juniors to the big club, he will most likely start the year with the Knights but be promoted to Worcester by seasons end. But in a division loaded with speed and depth scoring, Tierney could gain valuable experience at the pro level regardless of the Sharks win-loss record this season.
Sharks Notable July Moves
Sharks re-sign Jason Demers to a two-year extension worth $3.4M/year.
Sharks re-sign Scott Hannan to a one-year extension worth $1M.
Sharks re-sign James Sheppard to a one-year extension worth $1.3M.