Buffalo has been hoarding top picks over the past two seasons and will have three first rounders in 2015 (considered a very deep draft). It's been rough for Sabres fans who had to endure one of the worst seasons of any team in recent memory. Just about every player from their AHL farm team got a chance to play this year. However, greener pastures are not too far thanks to Buffalo's scouts and top draft picks who seem to be well on their way to making the Sabres a contender instead of a pretender. Here's a look at the Sabres' top five prospects.
Criteria:
Skaters can not have played more than 42 games.
Goalies can not have played more than 25 games.
5. Joel Armia – AHL – Rochester Americans – RW
Armia spent an extra year in Finland playing against older, more mature competition before making the move to the AHL. He's still not fully accustomed to the smaller ice surface, but that will come with time. Armia has put his talents on full display and he can potentially be a scoring threat.
While his skating is not so smooth, his stickhandling for such a big man is fun to watch. He drives the net hard and uses his powerful wrist shot to score the majority of his goals. Armia had a modest point total this season with the Americans, but that should increase given more playing time and getting familiar with the North American rink and style of play.
4. Nikita Zadorov – OHL – London Knights – D
The London Knights have churned out talent at an alarming rate. I don't know what they're feeding their players or what's in their water supply, but Nikita Zadorov looks to be the next big name. With the departure of Olli Maatta this season, Zadorov logged a ton of minutes this season. A monster on skates, the 6'5″ defenseman is a nasty opponent and one the Sabres hope to have on their roster sooner than later.
Zadorov's offensive game is slowly starting to come around, but he's mostly going to be used as a shutdown defenseman. I don't expect the Sabres to rush him into their lineup until they are ready to contend so he'll probably be back with the Knights next season.
3. Mikhail Grigorenko – NHL – Buffalo Sabres – C
It's a shame the Sabres rushed Grigorenko into the NHL lineup as he clearly wasn't ready to play. It didn't help that he played over nine games this season ultimately burning off a year of his entry-level contract. Be that as it may, Grigorenko still has a great deal of potential that needs to be exploited in the next few seasons. The former 12th overall pick will have a chance to build chemistry with some of the younger players in Buffalo this season and get more steady icetime. His skill set is still some of the best of any prospect, it's just a matter of whether he'll be able to gain the confidence needed to contribute successfully.
2. Rasmus Ristolainen – NHL – Buffalo Sabres – D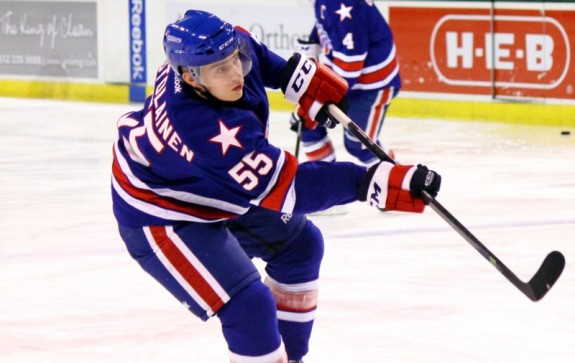 Like many young players on the farm team, Rasmus Ristolainen was thrown to the wolves this season splitting time between the NHL and AHL. The hulking two-way defenseman is still a prized possession in the organization and will have a more pronounced role on the blueline. Ristolainen's offensive game fared better in the AHL, but it shouldn't be long before he starts increasing his offensive production for the Sabres. A tall, smooth-skating defenseman, Ristolainen is very patient with the puck, sees the ice well, and has impeccable positiong. While he shows finesse with the puck, he's also defensively responsible and has the willingness to play a physical style of hockey.
1. Sam Reinhart – WHL – Kootenay Ice – C
Buffalo selected Sam Reinhart 2nd overall in 2014. He was the most physically mature and NHL-ready prospect in the 2014 draft class and might end up being the best forward taken in the draft. Reinhart is a cerebral player that knows where the play is going to be long before it actually gets there. He can find his teammates streaking down the wings or feather passes through a maze of sticks. A playmaker at heart, Reinhart may not necessarily be flashy, but he is a smart and effective player. He doesn't have much else to prove in Canadian Junior, so he will likely be donning the Sabres crest come the beginning of the season.