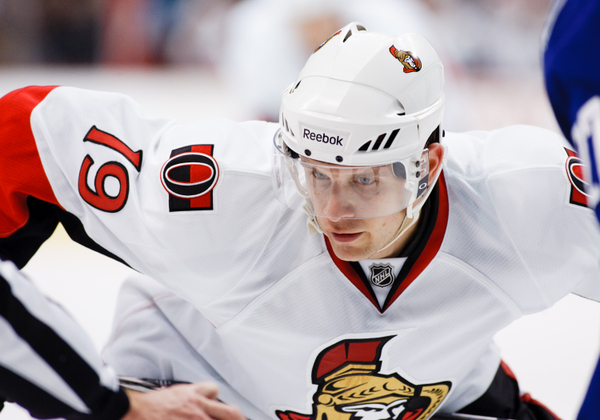 Some say defence wins championships.
Others believe Stanley Cup contenders are built from the crease out.
Yet, general managers in the Western Conference appear convinced that centre depth is currently the key to victory. That became all the more apparent this off-season when an arm's race arose for the best available pivots — both on the trade block and through free agency.
Anaheim acquired Ryan Kesler, Dallas scored Jason Spezza, St. Louis secured Paul Stastny and Chicago signed Brad Richards, while Nashville went with the power-in-numbers approach by inking the trio of Mike Ribeiro, Derek Roy and Olli Jokinen.
San Jose and defending champion Los Angeles were already as deep as anybody down the middle, while Colorado can simply shift Calder-winning Nathan MacKinnon back to his natural position to fill Stastny's void. Minnesota also has an emerging talent in Mikael Granlund to play behind Mikko Koivu, while the rest of the West will be hard-pressed to compete for a playoff berth with the exception of perhaps Vancouver. That leaves Arizona, Winnipeg, Calgary and Edmonton almost assuredly out of the running — barring significant upgrades at centre sooner than later.
If any of those four teams — all of whom failed to qualify for the post-season in 2013-14 — were to crack the top eight in 2014-15 with essentially their current roster, that would defy the odds and go down as surprising, shocking, even astounding. Common sense tells us that shouldn't, couldn't, wouldn't happen without some sort of miraculous overachievement. Fans of those franchises best temper their expectations and take a closer look at the big picture.
On paper, it's entirely possible that the exact same eight teams advance again. From last season's outsiders, only Vancouver and Nashville (in that order) strike me as having a legitimate chance to make the cut. But who would they unseat? I guess the easy target would be the West's new whipping boys in San Jose, which I can't necessarily see, but I am amongst those who consider Colorado a candidate to fall back to the pack. And that's not even based on advanced stats — the reasoning behind that growing theory — as for me, it's more a gut feeling that the Avalanche won't be able to maintain the level of success that saw them go from worst-to-first in a calendar year. Will they plummet all the way out of the playoff scene? That remains to be seen, but if the Canucks can bounce back from an "off-year", the Avs could very well end up on the outside looking in. The Predators would need a lot of factors working in their favour — not to mention stay healthy — in order to make a serious push, but I'd label them a dark horse, albeit as a long shot.
---
Back to the topic at hand, here's how the centres stack up throughout the conference as of Aug. 1: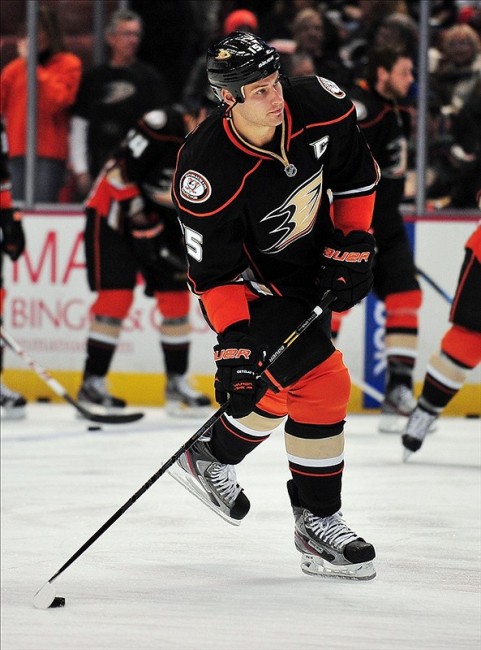 Team: Anaheim Ducks
Depth Chart: Ryan Getzlaf-Ryan Kesler-Andrew Cogliano-Nate Thompson-Rickard Rakell/Louis Leblanc
Analysis: That's a solid group, with Getzlaf and Kesler doing the heavy lifting, but Cogliano proving capable of providing secondary scoring with 42 points, including 22 goals last season. Mathieu Perreault was allowed to leave as a free agent and Saku Koivu wasn't offered a contract to stay, but they added Thompson in a trade with Tampa Bay just in case Rakell isn't ready for full-time duty and as insurance in case of injury.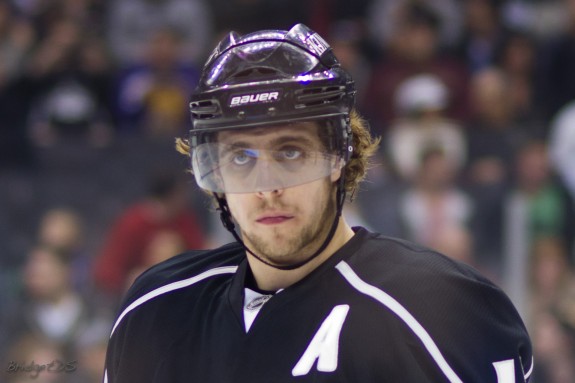 Team: Los Angeles Kings
Depth Chart: Anze Kopitar-Jeff Carter-Mike Richards-Jarret Stoll-Trevor Lewis
Analysis: The reigning Stanley Cup champions will return the exact same forward core and there's no reason to expect a drop-off from that lineup. In fact, there's a better chance that Richards bounces back if he follows through on his off-season training commitments. That foursome is the envy of almost every team in the league and Lewis is no slouch in a bottom-six role if anybody ahead of him gets hurt.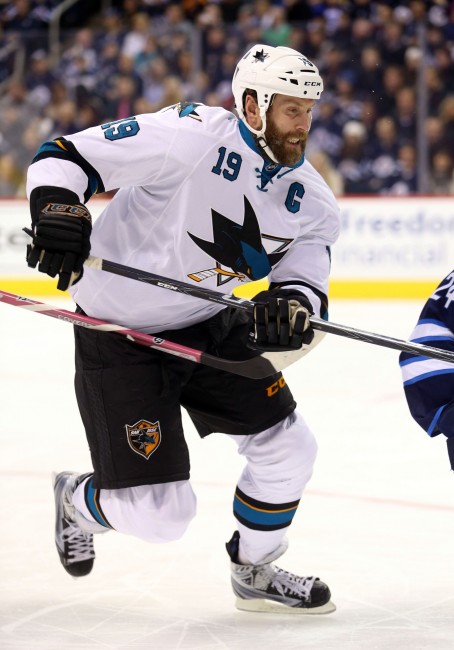 Team: San Jose Sharks
Depth Chart: Joe Thornton-Patrick Marleau-Joe Pavelski/Logan Couture-Andrew Desjardins/Freddie Hamilton
Analysis: And people are predicting the Sharks to miss the playoffs? Not with that kind of firepower at centre. Obviously one of those top four will end up on the wing, likely Couture, but there's no reason to doubt this group's potential or predict a drastic free-fall for the team in general. San Jose is one of the few teams that could deal a top-two centre and not skip a beat, but with Thornton and Marleau reportedly refusing to waive their no-trade clauses, that may be a moot point.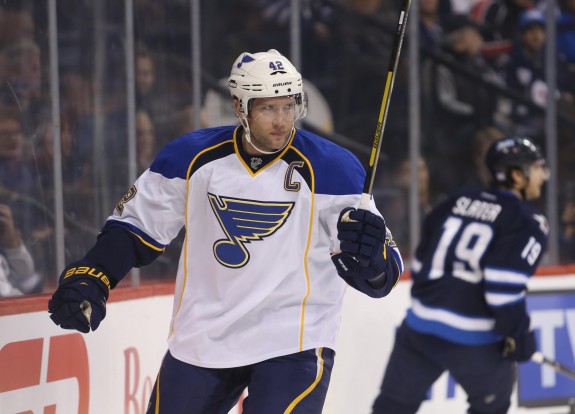 Team: St. Louis Blues
Depth Chart: David Backes-Paul Stastny-Patrick Berglund-Steve Ott-Maxim Lapierre-Jori Lehtera/Joakim Lindstrom/Peter Mueller
Analysis: Wow, something has got to give here. With the additions of Stastny and that latter trio, plus the retention of Ott, St. Louis has potentially eight NHL-quality centres — double the required amount. Berglund could be prime trade bait, with Ott and Lapierre nicely filling the bottom-six roles and plenty of decent options still waiting in the wings if and when somebody goes down to injury. Whatever the Blues decide to do with this embarrassment of riches, they will be in good shape this season.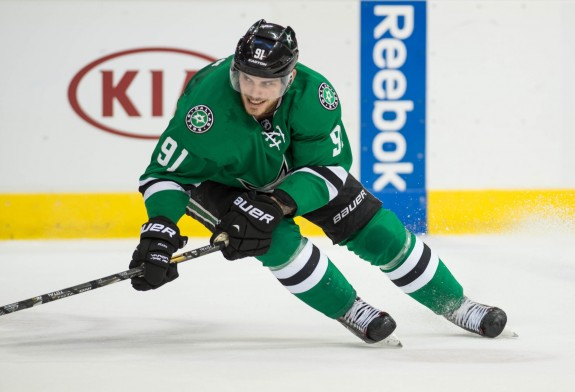 Team: Dallas Stars
Depth Chart: Tyler Seguin-Jason Spezza-Cody Eakin-Shawn Horcoff-Vernon Fiddler/Rich Peverley
Analysis: Remember when Dallas didn't really have a No. 1 centre? Now the franchise best known for middle-man Mike Modano is boasting two thanks to Jim Nill's shrewd moves in consecutive off-seasons since being hired as general manager. Eakin could be shopped for a defensive upgrade if deemed necessary, but the Stars could also role with three scoring lines and shift one of Horcoff or Fiddler to the wing. Too much of a good thing, it's a nice problem to have, no doubt.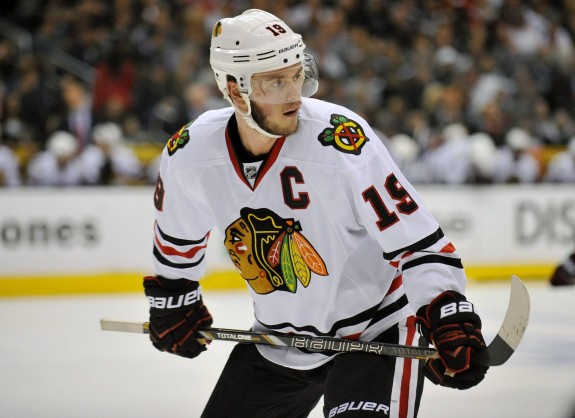 Team: Chicago Blackhawks
Depth Chart: Jonathan Toews-Brad Richards-Andrew Shaw-Marcus Kruger-Peter Regin/Joakim Nordstrom
Analysis: Here's another team that realized the need to upgrade their second-line centre position after auditioning everybody from Shaw to Michal Handzus in that role last season only to be overmatched by their rivals. And rather than force top prospect Teuvo Teravainen into that hole, the Blackhawks played it safe (and smart) by signing Brad Richards to a one-year, cap-friendly contract. There might still be room for Teravainen on this roster if he shines in training camp and pre-season games, but if not, there's no harm in growing his game at the AHL level.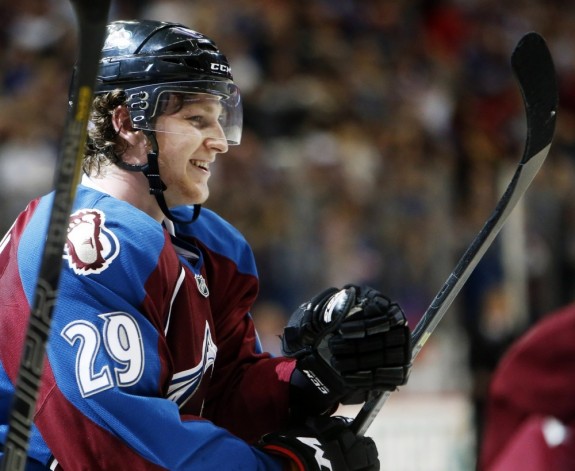 Team: Colorado Avalanche
Depth Chart: Matt Duchene-Nathan MacKinnon-Ryan O'Reilly-Daniel Briere-John Mitchell-Maxim Talbot-Marc-Andre Cliché/Jesse Winchester/Joey Hishon
Analysis: In my mind, here's where things get dicey. The six above teams should all be playoff locks. The next three or four teams will be battling for the two remaining spots. With the Avs wanting to move MacKinnon into the middle, somebody else will need to move to the wing. Or maybe O'Reilly gets moved out of Denver despite recently signing an extension. Patrick Roy can shape this roster however he sees fit, possibly even running with a fourth line of all centres if say Briere and Mitchell were to flank Talbot. Time will tell what works best, but the options are there.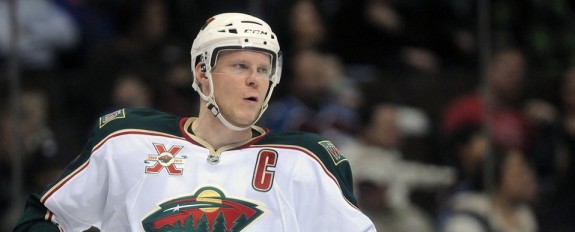 Team: Minnesota Wild
Depth Chart: Mikko Koivu-Mikael Granlund-Kyle Brodziak-Erik Haula-Cody Almond-Jordon Schroeder
Analysis: The Wild are stronger on the wings than at centre, but this group isn't bad by any means. The top three are fairly set in stone, though Brodziak's name surfaced in off-season trade rumours. If Haula can pick up where he left off in the post-season and one of Almond or Schroeder can push for playing time, there could be healthy competition in Minnesota at every forward position.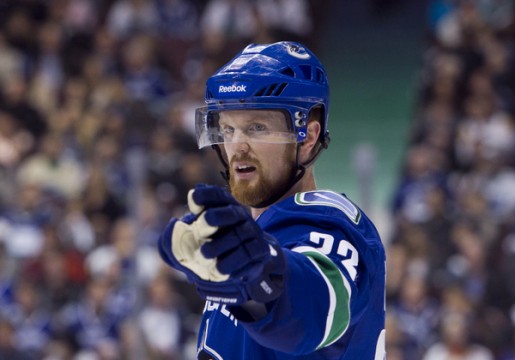 Team: Vancouver Canucks
Depth Chart: Henrik Sedin-Nick Bonino-Linden Vey-Shawn Matthias-Brad Richardson
Analysis: No Ryan Kesler is a glaring omission and the Canucks will spend all season trying to offset his loss. Bonino, who was acquired from Anaheim in the Kesler trade, will have first dibs at filling his skates in that second-line role, but Vey and Matthias could also assist in replacing Kesler by committee. So could prospects Bo Horvat and Brendan Gaunce, both first-round draft picks with potential to become NHL regulars in the near future. The biggest question mark will be Sedin's impact, and whether he can return to form as an elite centre under new coach Willie Desjardins. Sedin only managed 50 points in 70 games last season, but had been at least a point-per-game (and often better) player over the previous eight campaigns.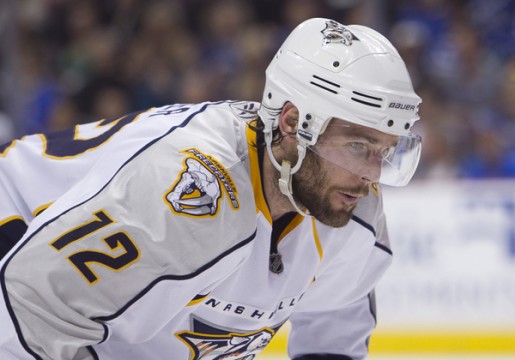 Team: Nashville Predators
Depth Chart: Mike Ribeiro-Olli Jokinen-Derek Roy-Mike Fisher (injured)-Matt Cullen-Paul Gaustad-Filip Forsberg/Calle Jarnkrok/Colton Sissons
Analysis: This is an interesting mix — yeah, interesting is a good word for it. Unlike all nine of the above teams, Nashville doesn't have a clear No. 1 centre. Instead, the Predators have as many as four serviceable No. 2 centres counting Fisher, who is sidelined until at least November with a torn Achilles. Ribeiro and Roy are low-risk reclamation projects with boom-bust potential. Jokinen is past his prime but coming off a decent campaign with Winnipeg. The depth should be there regardless, but whether any of them can provide consistent offence under new coach Peter Laviolette's uptempo system will ultimately determine this team's fate. I'd say 80 points is a stretch for all of them, but if two could exceed 60 points, then the Predators could be back in the playoff hunt.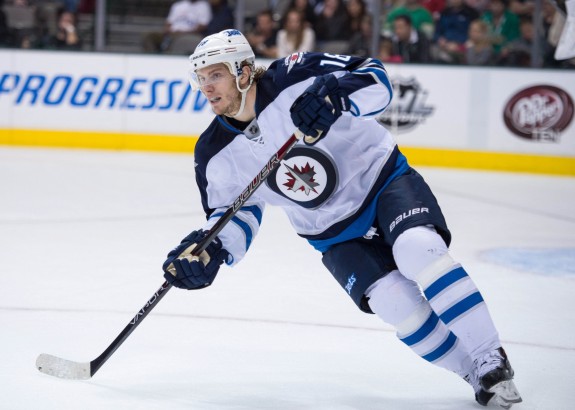 Team: Winnipeg Jets
Depth Chart: Bryan Little-Mark Scheifele-Mathieu Perreault-Jim Slater-Eric O'Dell
Analysis: Again, the top-end talent just isn't there to compete with the top-six or even top-nine teams in the West. Little is a nice player but he's not a bonafide No. 1 and Scheifele is still learning the ropes, while Perreault will always be a bottom-six point producer. Unless Scheifele breaks out for 60-plus points, I don't see the Jets getting a sniff of the playoffs. And I don't see that coming to fruition, not when the kid has to match-up against some of the aforementioned stud centres on a nightly basis.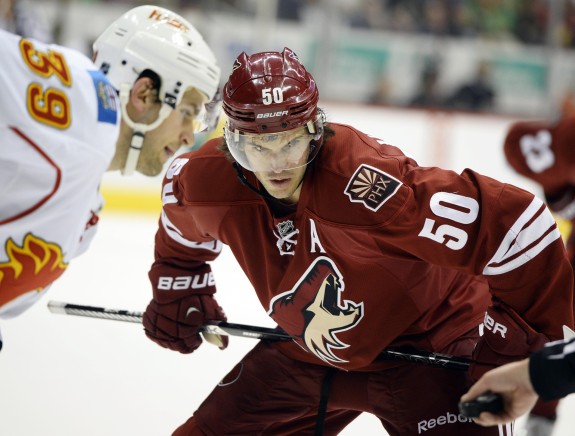 Team: Arizona Coyotes
Depth Chart: Martin Hanzal-Antoine Vermette-Sam Gagner-Rob Klinkhammer-Kyle Chipchura-Joe Vitale-Brandon McMillan
Analysis: Ribeiro must have been a real cancer in Arizona to be bought out by a team hurting for offence. Much like Winnipeg's situation, most of these guys will be in over the heads based on the competition. The Coyotes are looking like road-kill in the West this season. The wild-card here could be Max Domi, a 2013 first-rounder who might be ready to make the jump from junior, but he's not going to be a saviour by any stretch of the imagination.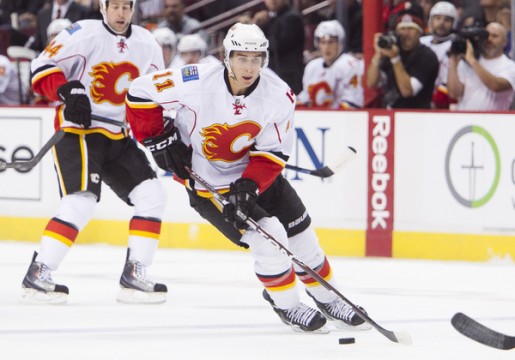 Team: Calgary Flames
Depth Chart: Sean Monahan-Mikael Backlund-Joe Colborne-Matt Stajan-Paul Byron
Analysis: There's some good young centres coming up in Calgary, especially when you factor in Sam Bennett, the fourth overall pick in 2014 who could potentially crack the roster out of training camp this fall much like Monahan (sixth overall) last year. If Bennett's not ready, the Flames still have plenty of options but none of them are high-end, high-impact types. This team will scratch and claw for every goal it gets and likely be one of the league's lowest-scoring clubs — barring rookies exceeding expectations.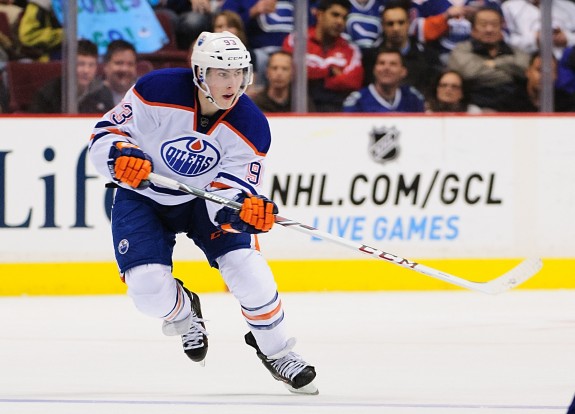 Team: Edmonton Oilers
Depth Chart: Ryan Nugent-Hopkins-Marc Arcobello/Leon Draisaitl/Anton Lander-Arcobello/Draisaitl/Lander-Boyd Gordon
Analysis: There's a lot of "ifs" here, but if Nugent-Hopkins ends up injured for any length of time (missing more than 10 games), it will be another lost season and likely another lottery pick for Edmonton. Now, if Nugent-Hopkins can stay healthy and be a point-per-game player (80-plus points) and two from that group of three can surpass 40 points, the Oilers could surprise and push for a playoff spot. That seems like wishful thinking, though, with the Oilers destined to finish 10-14 again unless sophomore general manager Craig MacTavish acquires a more proven second- (or third-) line centre. Ryan O'Reilly, Patrick Berglund, Cody Eakin, Brayden Schenn or even a Brandon Sutter type would fit the bill and allow Draisaitl to either develop further in junior or else play sheltered minutes mainly against the opposition's bottom-six centres.
---
Taking this a step further, if everybody was to stay healthy and the rosters were to remain the same for the entire season — both impossibilities — here's my prediction for the Western Conference standings:
1) Chicago Blackhawks
2) Los Angeles Kings
3) Anaheim Ducks
4) St. Louis Blues
5) San Jose Sharks
6) Dallas Stars
7) Vancouver Canucks
8) Colorado Avalanche
9) Minnesota Wild
10) Nashville Predators
11) Arizona Coyotes
12) Edmonton Oilers
13) Calgary Flames
14) Winnipeg Jets
I realize there's more to rosters than just centres and, not to worry, I accounted for wingers, defencemen and goaltenders without elaborating. But, long story short, I'm not anticipating much of a shakeup from 2013-14. I don't foresee any Colorado-esque climbs out of nowhere. Nor do I foresee any of the top-six seeds falling out of the playoffs in 2014-15. If I had to pick a surprise team trending upward, it would probably be Edmonton but only if the Oilers add another centre between now and their season opener — mid-season, or even mid-November, will be too late. Nevertheless, it should be another fun campaign from start to finish for all 14 teams in the Wild West.
Larry Fisher is a sports reporter for The Daily Courier in Kelowna, British Columbia, Canada. Follow him on Twitter: @LarryFisher_KDC.