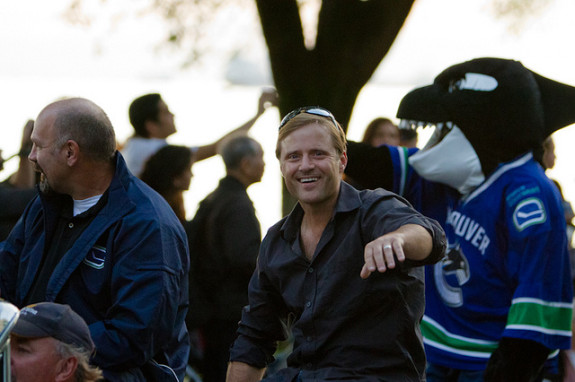 Cliff Ronning is one of the rare successes in the NHL. Standing at 5-foot-8, 170-pounds, Ronning has weathered the adversity of being told he's too small since youth hockey. Despite his size, Ronning went on to play in 1,137 career NHL games, and a win away from hoisting the Stanley Cup. The native of Burnaby, British Columbia has played for 8 different teams (St. Louis Blues, Vancouver Canucks, Phoenix Coyotes, Nashville Predators, Los Angeles Kings, Minnesota Wild and New York Islanders) totaling 306 goals and 563 assists in his 19 year career.
Although Ronning has hung up the skates, he still remains tied to the game. He is currently the co-owner of a hockey stick manufacturer called BASE Hockey. The Hockey Writers caught up with the former NHLer and discussed his hockey career, his ideal bout on the ice, what he is doing nowadays, and much more. Enjoy!
The Hockey Writers: Let's start the interview off going back to the 80's. I'm sure you remember that time. Did you get any grief from your teammates in New Westminster for winning the WHL Most Sportsmanlike Player Award?
Cliff Ronning: No. I was a smaller player, and that year I was very fortunate to win a couple awards. I won that one because I didn't take too many penalties and was able to put up some pretty good numbers offensively.
THW: Back in 1982, you played against Patrick Roy in the 1982 Air Canada Cup midget tournament. Was there any telling then that Roy would be the legendary goaltender that he is today?
Ronning: There was definitely an aura. He played well, but he ended up losing the game to us. I think he had that confidence at a very young age. I never thought that he would go on to the Hall of Fame like he did. But I'd say he is one of the best goalies of all-time.
THW: You were always small throughout your career, and you even said so yourself at the beginning of our conversation. In your retirement statement, you made a pretty inspiring quote telling smaller kids not to give up on your NHL dreams because of your size. What did you face throughout your career and what have coaches told you?
"Even though I was always one of the smallest kids on my hockey team growing up, I never stopped dreaming about playing in the NHL, so having the ability to live out that dream was unbelievable. I certainly hope that kids who are also small in stature but not in heart will look at me and other similar players and know that their dream can come true through hard work and dedication to the game." – Cliff Ronning (2006)
Ronning: Ever since I played pee-wee hockey, everyone said I was too small and I wouldn't be able to play at the bantam level. And I went to the bantam level and was a leading scorer there. Then they said I was too small to go to midget level, then same thing (leading scorer). Then I went to the junior level. It was always the same story, but if anything, it gave me fuel when people were saying I couldn't do something. Something for young kids out there, if they really want something bad enough and they dedicate themselves to it, then good things can happen.
THW: What was it like finally getting drafted in 1984 134th overall by the St. Louis Blues?
Ronning: Your dream is to always just get a chance to see what you can do at the highest level. Being drafted by St. Louis, at the time I didn't know much about it. I just wanted to get drafted by someone who would give me a chance. I was a little naive going into training camp as a young kid. I played really well the first training camp and possibly they saw something they liked. From there, I got opportunities later on as I got older.
THW: What emotions were going through your mind after St. Louis traded you to your hometown team the Vancouver Canucks, and to then see such great success?
Ronning: My dream was to always play for my hometown, being from Vancouver, growing up listening to the radio [and] going to the hockey games as a kid. I think that when I finally got traded, I was really nervous at first, but as I realized the pressure of the NHL, it made me play better. It was just an exciting time for myself and my family.
THW: Did your family attend every game you played in Vancouver?
Ronning: Yeah. My wife and my parents would always come to the games. They enjoyed it. Now, they go to my son's games playing junior hockey in the same rink as I played with the Vancouver Giants. So now, everyone seems to head down to the Coliseum to watch him play.
THW: You were so close to winning a Stanley Cup in 1994 with the Canucks. Describe the experience of playing in a do-or-die Game 7 SCF situation, especially while playing with a broken hand.
Ronning: That's something you will never forget. As a kid, you're playing road hockey and everyone's pretending they're in a Stanley Cup Game 7. For it to actually happen, it was a pretty cool feeling. You knew no matter what, win or lose, that it would be the last game of the year. You're playing on the biggest stage, also in New York. I was really proud of our team, even though we didn't win it. We sure went on a great ride and I still have friends from that '94 team today.
THW: Did you pay any attention to when Mark Messier made the bold statement saying New York would defeat New Jersey in Game 6 of the Eastern Conference Finals?
Ronning: Mark Messier is a guy that is a great leader and has experience of winning at the highest level. He leads by example. He showed his confidence in his team. Who knows if he really felt the confidence, but he made everyone believe that they could beat New Jersey. It made a difference.
THW: In 1998 you were traded to this Honky Tonk town, where I'm located, to play for an expansion club. How was the experience of playing in a non-traditional market in Nashville?
Ronning: When I got traded there, I didn't know much about Nashville. I knew there was country music, but I didn't realize how friendly the people are there and how [welcoming] they were in [when] our hockey team came down there. Mr. Poile put me in a position as a kind of a mentor and show the rest of the team that no matter the size, you get onto that ice and work as hard as you can. I tried to instill that. I really enjoyed my time there for the 5 years with the fans, but also with the coaching staff. The opportunity to get a chance to play and play with great players was a great experience, even to this day. I really felt that of all the teams I played, obviously [with the exception of] my hometown team, the Nashville Predators would be that team. I just love the place.
THW: What did you think about Barry Trotz being let go and moving onto Washington?
[RELATED: Trotz vs Ovechkin: May The Games Begin]
Ronning: I like Barry Trotz. I think he's a great coach. For a coach to coach that long in one place is very different. He was awesome for the city of Nashville. They had to move forward after so many years — I believe 15 years. They want to try something a little bit new and to try a different approach. But you could see Barry Trotz got picked up very quickly. I think both teams are going to be successful this year.
THW: You played alongside players in Nashville who still play in the NHL today — Kimmo Timonen, David Legwand, Scott Hartnell, and Martin Erat. What goes through your mind when you watch them play now?
Ronning: When you get older, and I'm getting close to 50 in a year, you always want to tie yourself to the League still. You still have these guys that you've played with [and] they broke in at the time. You wish them well. You're watch the games and you're hoping they do well. It makes the game more interesting and exciting.
THW: Was there anyone in the locker room in Nashville that stood out to you — good or bad?
Ronning: Tom Fitzgerald was an excellent leader. Not so much his skill level on the ice, but it was his skill level of being a great captain and making everyone feel like they were part of the team. For the most part, I thought the team in Nashville got along pretty well. We had a good leadership group there from David Poile all the way down. They really nurtured and groomed younger kids into great NHL athletes.
THW: You weren't much of a fighter on the ice, but if you could drop the gloves with one person back in the day, who would it be and why?
Ronning: (Laughs) I'd probably try to pick the biggest guy possible, so even if I lost, it wouldn't look so bad (laughs). There were certain guys I always ran into. Tony Granato was one known to flash them pretty good. Chris Chelios … Probably one of those two. I've gone to Gretzky's Camp and met Chelios. You really realize what a great guy he is. That was just his style, getting underneath the skin of players. He did his job.
THW: What was it like playing in Italy for Asiago in your career?
Ronning: Italy was exciting. One thing hockey has given me is an opportunity to see the world … playing for Team Canada and traveling for 2 years. Italy was a totally different aspect in the style of hockey. It was fun. It was a great experience. I grew up a lot by being there. I still have friends [from Italy] to this day.
THW: Did the lockout ultimately make you retire or was that just by coincidence?
Ronning: It wasn't the lockout that made me retire. I still had a contract offer. When you get a certain age, I was pushing 40 years old, you start slowing down a little bit. Guys were starting to get a little piece of me when I was one-on-one. Before, they wouldn't kind of hit me. Just slowing down a little bit and I felt if I played one more year, maybe if I get hit really good, I may not remember who my family is. I just didn't want to risk 20 years of being fortunate to make a living at doing what I did. I just felt it was the right time. Not too many guys are able to retire on their terms and I was one of those fortunate ones.
THW: Who is the most exciting player to watch when you look at the NHL now?
Ronning: Pavel Bure, anytime he got the puck you'd get up off your feet to watch this guy because he'd do things at such high speed. But there are so many good players out there now. There are exciting players, but there are also players that do some things that are pretty amazing. With the Predators, they've got too unbelievable beings [in] Shea Weber and Seth Jones. Shea Weber with that one-timer shot and the young kid Seth Jones moves so well for a big guy. Who knows how good this kid can get? Overall, I think the League has stars on each team right now. It depends on what style of play you like watching. There are some guys who like the rougher players and some like the more skilled player.
I did enjoy watching Nathan MacKinnon this year. He was doing things as an 18-year-old I don't think I've ever seen any 18-year-old do.
THW: You are now behind BASE Hockey, which produces hockey sticks. What makes them different to Bauer, CCM, Reebok or Easton?
Ronning: When you look at the history of how hockey players by hockey sticks, I just felt it doesn't make sense. You are able to try different sticks, different curves, different lies, different flexes, be able to pick what color you want, grip. I just wanted to take a totally different look on it. We design a stick for the player. It is factory direct, so the cost is saving you $100. So, you save money, you learn how to shoot better, and then we figure out what curve and stick makes sense for you. We have 40 curves to choose from. A lot of other companies just sell the same 2 curves on a rack and you have to think that's the right curve for you. I guarantee you the NHL players all use their own curve. I just wanted to change the way hockey players think and how you want to get a hockey stick. We keep growing. BASE Hockey is really flourishing right now and taking off.