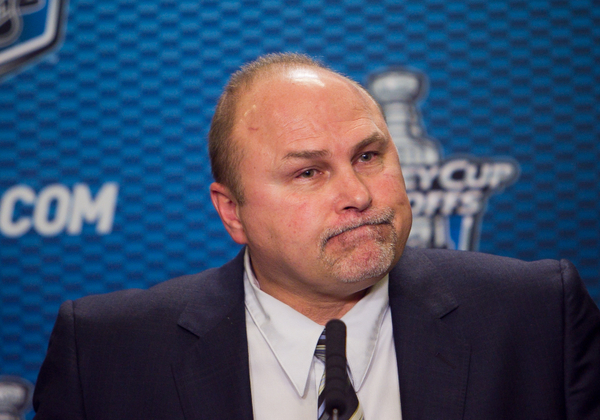 Alexander Ovechkin finished the 2013-14 season with 51 goals, 79 points and a mind-boggling -35 rating. The star Russian winger thrived in the scoring statistical category under former head coach Adam Oates for the first time since the 2010-11 season when Bruce Boudreau was head coach. Oates had a heavy influence on the Capitals' power-play system that finished 2nd in the league. Ovechkin licked his chops and took advantage of the opportunity, scoring nearly half (24) of his goals last season with the man advantage.
However, Oates is no longer in charge and a new brain in Barry Trotz has stepped into the fold that will challenge not only Ovechkin's style of play, but his mental toughness to adjust.
Since entering the NHL in 2005, Ovechkin has been treated like royalty in the Capitals' organization and has lately gained the persona of being a "coach killer". The Capitals have gone through three coaches since 2011 — Boudreau, Dale Hunter and Oates. Coincidentally, Ovechkin had a decrease in offensive production during the seasons of the coaching carousel. Trotz now has the honor of going through the coaching gauntlet in Washington puppeteered by "Alexander the Great".
"Ovi was the one who set this franchise forward when he came in," Trotz said. "I will have a conversation with Ovi on his role with the group and how I would like to play. And we'll decide that together. [I need to] put him in a situation where he is successful with the [rest of the] group. He is going to be a part of the team.
"He does something special — he scores a lot — but can contribute in so many other ways. My job as a coach is to allow Alex and the rest of the team to reach their full potential as a group. My job is to get everyone to play well together."
Trotz seems to fully understand Ovechkin's past with coaches and their disagreements with each other. In an attempt to avoid a similar mess in the locker room and on the bench, Trotz is going to build a special bond with him.
"It starts with a relationship. I know I'm going to work at that, but it can't happen until I have a relationship with him because there's no trust. To me, Alex has to trust I'm giving him the best of advice for the team and for him to grow his game. I don't know Alex. I know going against him what he does well. I need to know Alex the person.
"Coaching isn't about X's and O's, it's about people. He comes from a different culture than the guys from Canada or the States. You find that the Swedish culture is different than Czech culture. I've got to know what these guys are about. They have got to know that I'm about winning. I'm about them.
"When I take over a team, they're part of my family. That's how I look at them. I'm not always happy with my kids. I yell at them but I still love them. They're still part of the group. That's how I approach it. I'm a family guy. I don't have any problems voicing my opinion to anybody on the team, but I also can let things go pretty easy. I don't hold grudges. I may not like the way you played that shift or that game; I'll let you know and let's get to work tomorrow and get it right."
Trotz still wants Ovechkin to play an offensive style, but he will demand a defensive presence as well. For example (shown below), the lackluster back-checking from the captain allowed the New York Rangers to score an easy goal.
Will that type of play be tolerated by Trotz? Not one bit. During the third period of a March 17, 2013 game against the Edmonton Oilers, Predators' forward Sergei Kostitsyn ridiculously went off for a line change while the Oilers went on a shorthanded odd-man rush that resulted in a goal seconds later. Trotz responded to Kostitsyn by scratching him the following game. The precedent has been set by Trotz, no matter what team he is coaching for.
"When you are in your own end, you need to have some accountability and some structure. You can teach that. We just need balance.
"The foundation is going to be hard work."
Ovechkin will have to break the stereotypical Russian laziness to succeed under his new coach. With new general manager Brian MacLellan working hand-in-hand with Trotz, Ovechkin will no longer have "daddy" to run and tattle to when things do not go his way. If the situation gets sour between Ovi and Trotz, the Moscow native could resort to playing in Russia with the KHL, something Trotz knows a thing or two about (Alexander Radulov, twice).
Quotes via Monumental Network and 102.5 The Game: