Jim Benning is officially the Canucks GM, and fans can breathe a little easier now that this key building block is in place. The draft is coming, and without this position filled soon, it would be a futile exercise come June in Philly. It took a bit of time, but Trevor Linden is nothing if not thorough, which should lend assurance that he's picked the right guy. Benning is thorough too, in fact he has likely had his plan for running a team written out for a couple years now. After his introduction at a news conference a few days ago, we got a better idea of what that plan is.
The Past Gives Us The Future
To understand his point of view and philosophies, we have to look at how he arrived here.
We know he was a high first round pick of the Toronto Maple Leafs at 6th overall from the Portland Winter Hawks in 1981. And although he never matched his point production from junior when he got 139 points with the Winter Hawks in 80-81, he was a pretty decent defenceman.
Later he played for the Canucks from the 86-87 season until 1990, 2 of those seasons with Trevor Linden, unknowingly laying the foundation for his first General Manager job many years later.

It's fortunate for all that he made such an impression with Linden, and vice-versa, because then-Canuck GM Bob McCammon did a pretty good job screwing Benning around with the typical criticism of being too small. Happily it seems he was able to forge some positive memories from his playing days in Vancouver to counter the negative ones.
But it's how he spent those years after he retired from playing that have the biggest impact on the Canuck`s future.
Benning Has Produced In The Front Office
Benning retired in 1992, and became a scout for the Anaheim Mighty Ducks in 93-94. The following year he became a scout with the Buffalo Sabres, but in 1998 he was named Director of Amateur Scouting, and that's when things really started to roll for him.
Under his leadership from 1998-2004, he helped unearth Ales Kotalik, Andrew Peters, Ryan Miller, Paul Gaustad, Jason Pominville, Derek Roy, Dennis Wideman, Clarke MacArthur and Patrick Kaleta. What`s most impressive is that all of those players were drafted in the 2nd round or later.
In 2006 he became the Assistant GM of the Boston Bruins, and the responsibilities increased. He was a key part of not only finding Milan Lucic and Brad Marchand, but also the trade that moved Phil Kessel for 3 top draft picks that turned into Tyler Seguin and Dougie Hamilton.
Canucks fans have to be heartened by what they see, a continuing trend of finding talent as well as involvement in deals that make his team better.  The result of the philosophy he began in Buffalo and continued to use while building the Bruins was a Stanley Cup that Vancouver fans are all too familiar with.
His achievements are undeniable, now he can put his talents to use in a city full of fans that have to be looking at this as an upgrade in the area needing it the most.
The Blueprint At A Glance
In his press conference, Benning stated that he wanted to play an up-tempo, fast skating, skilled game. That statement should be music to Canucks fan's ears, as that is the style that has brought the team the most success, and the current players on the roster are much more suited to play this way. It will be embraced more than watching a shot blocking contest that only seemed to result in injuries.
"Before last season, this team has an attitude about them that they were going to skate and to wear teams down and to score, and for whatever reason that didn't happen last year."
Jim Benning's reputation was earned by talent evaluation and a focused plan to build a team piece by piece, until a true complete team exists from the goal crease out. He wants a prototype 4 line, 6 defenceman team that can go out there and perform every night, because that's the kind of team that has proven to be successful. In fact, it's the very type of team that won the aforementioned Cup for the Bruins.
Given his established abilities, a new focus on drafting is going to figure very prominently in the Canucks future. In fact, in his press conference he was critical of the results the current scouting staff have produced, so it wouldn't be a shock to see changes made in that department.
He also stated that he wouldn't have an issue going to a player with a no-trade clause and asking him to waive it if he had a trade that would benefit the team, so he's definitely not against moving current players to make the Canucks better.
So, build for tomorrow without sacrificing today. What would make that possible? Well for one thing, it`s a continuation of what he`s done in Buffalo and Boston with admirable results.
An important aspect of making such a plan work is the development shown by recent prospects in Brendan Gaunce, Hunter Shinkaruk, Bo Horvat and Nicklas Jensen.
If their progress continues and a couple make the roster this season, that will make the lives of current veterans that much easier, particularly Henrik and Daniel Sedin. And if some of the burden is lifted off the twins, their production should go up, thus making the team`s immediate future brighter and making a complete rebuild less necessary.
It is important to realize that the Sedins will turn 34 heading into the season, not 44, and in the right system they have a lot left to give a team. It would appear Benning feels the same way, and is convinced that if the team returns to an up-tempo skilled game, the Sedins will look a lot more like the players we are used to seeing.
They were not suited for the role they were in last year, with increased minutes and blocking shots and generally playing a more grind it out style. When you have skilled players, let them use their skill. For me, that was far more of a factor in their sub-par season than declining abilities.
And of course an enthusiastic and healthy Ryan Kesler is an asset few teams have, and Benning has already begun the process of trying to repair a relationship damaged last year. Getting Kesler to see the vision he has for the team and the style it will play as it tries to become elite again is one of Benning's top priorities, because a player like that will go a long ways toward helping them win in the present.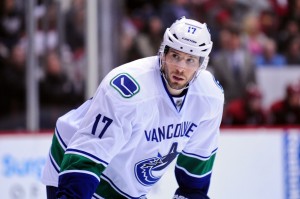 The Overall Outlook
It's a bold plan for certain, but those are typically the ones worth having.
Critics will say that what is essentially a hybrid plan won't work, that you have to go in one direction or the other, either make moves to win right now or rebuild.
On another team I might agree, but I don't think it was lack of talent that caused the Canucks slide to mediocrity, I think it was lack of ability at the top.
Vancouver has had GM`s that could make a trade before, but never have they had one that has also demonstrated their ability to scout talent to the degree Benning has done.
Clearly it will take skill and a delicate balance to add the right mix of youth and be competitive, without scuttling the whole season in a rebuild. But looking at what Benning has done so far in his career, he seems to be one of the few people out there that could possibly make it work, so I'm willing to allow myself to be encouraged.