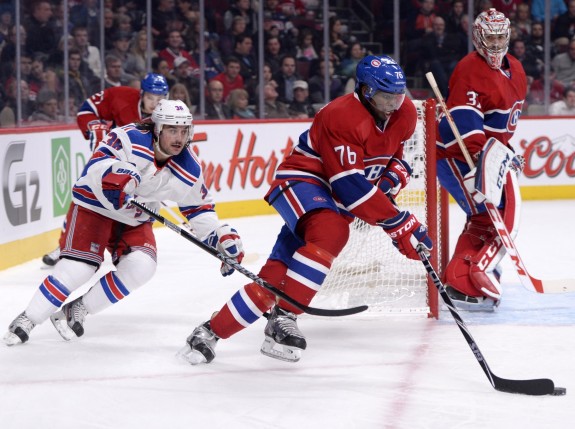 The Boston Bruins have an interesting offseason ahead of them. The foul stench of an early round exit at the hands of their vaunted rivals will be hanging over them for quite some time and they need to do something about their defense for next season.
So many times throughout the Canadiens series the young Bruins defense corps failed them. They made mistakes that led to breakaway goals and uncontested goals. Something has to be done, something drastic. So, how about this if the Bruins want to make a splash: sign Montreal Canadiens' defenseman and Bruins public enemy number one, PK Subban, to an offer sheet.
I know it is a complete long shot and that I have a better shot at Kate Upton before PK Subban wears the spoked 'B', but it is an intriguing thought and maybe Boston should kick the tires on this one.
I mean what better way to stick it to the Montreal Canadiens, their hated rivals and the team that ruined their President's Trophy winning season, than by signing their best player away. Granted Montreal can match any offer that any team makes, and they most likely will.
Right now, the Bruins' cap space is at $9,120,357 and they still need to address Jarome Iginla entering free agency and Reilly Smith being a restricted free agent, so they will more than likely not have enough money to entertain Subban. At the same time, the Bruins could sign Subban to an outrageous offer sheet (see Shea Weber and the Flyers) that Montreal would have  to match (see Shea Weber and the Predators). That, in theory, could take a huge chunk out of Montreal's cap space and hurt them in the upcoming free agency period.
However, should the Bruins just sign Subban as a bluff and what if Montreal calls Boston's bluff? The Bruins would then be stuck with a bloated salary and hinder the team going forward. It's really a high stakes poker hand if they decide to sign Subban to an offer sheet just to see if the Canadiens' would bite.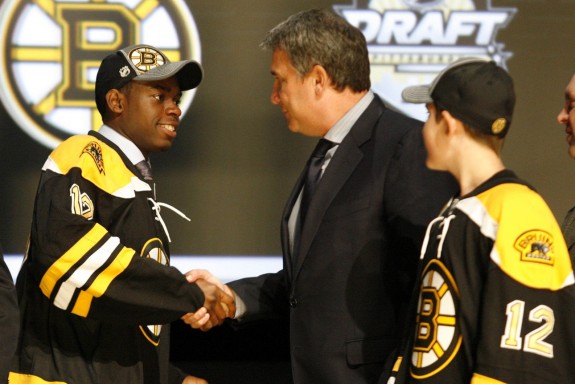 The current Bruins defensive squad consists of Zdeno Chara, Dennis Seidenberg, Johnny Boychuk, Adam McQuaid, Dougie Hamilton, Kevan Miller, and Torey Krug. So, its basically a logjam as it is with the blueliners in Boston. More than likely one of them will be have to be traded to clear some cap space. Next season, Zdeno Chara is expected to make $6,916,667, according to CapGeek.com, you would have to believe PK Subban would be getting something within that range. Even if the Bruins clear more cap space by trading away another defenseman, they still need to re-sign Iginla and keep an eye on whether or not another team signs Reilly Smith to an offer sheet that the Bruins would almost have to match. Who knows if the Bruins could even keep Smith with their problems with the salary cap.
Subban is the perfect player for the Bruins system. Head coach Claude Julien focuses on a defense first strategy and Subban is one of the elite defensemen in the NHL. The top pairing of Chara and Subban, two former Norris Trophy winners, would make any opponent worry. In a perfect world, Chara and Subban would be playing in Boston next season, but the salary cap gods that be will most likely not allow this to happen.
PK's little brother, Malcolm, is a goaltender with the Bruins AHL team, the Providence Bruins. It's possible that they could play together in the future, if PK signs with Boston. That could sweeten the pot, but like I said it is an extreme longshot for the Bruins to sign PK Subban, but, like JP in Angels in the Outfield said, "Hey, it could happen"
Do you think the Bruins should kick the tires on PK Subban? Comment below or send me a Tweet, @MarkWGraham
Mark Wallace Graham has been a writer for TheHockeyWriters.com since March 2013. Growing up in New England, Boston Bruins hockey was in my blood. Follow me on Twitter, @MarkWGraham