The question isn't whether P.K. Subban will stay with the Montreal Canadiens this coming 2014-15 season. It's whether he will stay beyond that point and become the Habs "lifer" he aspired to heading into arbitration.
Letting it get this far may turn out to be general manager Marc Bergevin's only mistake made this successful offseason, but it could amount to being one of the biggest in his career.
A Simpler Time
Prior to the hearing, Subban—incredibly professional in his dealings with the media, it should be pointed out—told Breakfast Television, via NHL.com, that he wants to remain in Montreal "not just for a long time, but hopefully for the rest of my career."
After the hearing, that sentiment seemed tempered, at least somewhat, with Subban saying, "It's been an educational process for me. I will move on and get ready for the season. We have to live with those decisions [in regard to both sides' positions]," according to TSN.
When asked if he still saw himself as a Hab into the long term, he responded by saying, "I think that's kind of a discussion for a later date."
Even though it's ill advised to read too much into a hockey player's comments, seeing as those comments are generally rehashed clones of one another and have little to no basis in actual reality, Subban is different and is not afraid to speak the truth. Yet he went from saying he wants to stay a Montreal Canadien the rest of his career to, essentially, "We'll have to see." When he goes all public-relations mode on you by calling an arbitration hearing an educational process, it's not exactly a good sign. I mean, it's not like he brushed up on his geography in there.
Some (Reported) Facts & Figures
Considering a report from Ken Campbell of the Hockey News saying Subban was asking for $8.5 million over one year and the Habs were only offering $5.25 million, it's fairer to say that the Habs did some serious dressing down of their prized asset behind closed doors on Friday.
Everyone's heard the alleged story of then-New York Islanders goalie Tommy Salo being driven to tears during the arbitration process by Mike Milbury once upon a time. And, no, they weren't the result of Milbury telling Salo the miserable job he himself did assembling a team in front of him.
Granted, Salo is not exactly known for keeping his emotions in check in high-pressure situations. He's known for this. The point remains, though, that things can get pretty ugly in arbitration hearings, where teams sometimes feel the need to go to hilarious extremes, arguing the player they'd very much like to re-sign is so incredibly horrible they shouldn't be re-signing him.
Hey, no one said it made actual sense. In fact, none of this makes sense, right down to the dollar figure the Habs reportedly tabled. To put it in the proper perspective, James Wisniewski, who wasn't good enough to be re-signed by Montreal, makes $5 million. So does octogenarian Sergei Gonchar.
Hell, Bergevin just got through re-signing Andrei Markov to a three-year deal worth an average of $5.75 million. He'll be making $7 million next year. So, there is no world out there in which Subban should be making $5.25 million, at least not according to the pay scale Bergevin has established for his team.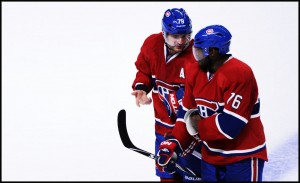 Shea Weber as a Case Study
As a result, one can safely assume one of two possibilities (excluding the report being inaccurate): Either Bergevin is insane or the Habs don't really believe Subban is only worth $5.25 million and that they only tabled that figure to try to drive down the arbitrator's decision.
That's very risky, because push too hard and they may find themselves in a similar position relative to the Nashville Predators not too long ago, when they and Shea Weber went to arbitration. Weber ended up being awarded $7.5 million, the largest in NHL history up to that point. But that was three years ago, when the salary cap was just $64.3 million. It's now $69 million. And Weber has never won a James Norris Memorial Trophy as the league's best defenseman. Subban has.
Regardless of who is better between the two (Weber, probably), there are too many similarities to ignore. The Predators took their best player to arbitration, lost for all intents and purposes, waited a year, essentially for another team to sign their restricted free agent to an insane offer sheet, and then were forced to match it.
Subban will stay a Montreal Canadien this coming season. That's not in doubt. Hell, if history is any indication, he might even stay a Hab for the next 15 years. Or not, as Subban might decide to learn from Weber's mistake and just wait until unrestricted free agency before considering offers from other teams, not even giving the Habs a chance to match. Few would blame him after all he's had to endure in the media and in the locker room the last couple of years.
The Principle of It All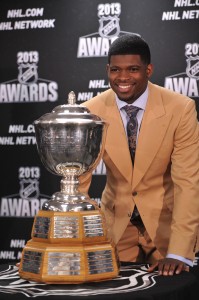 Forget the two-year, $5.75-million bridge deal Subban signed a few seasons ago, essentially bowing to pressure in exchange for a chance to prove himself in preparation for the bigger payday that is just now arriving. Despite the millions the Habs could have ended up saving, Bergevin opted not to set a bad precedent and give Subban a rich second contract. In spite of it all, it was probably still the right move.
Really, money wasn't the main issue. It was the principle of it all. The Habs, one of the richest teams in the league, have $11.7 million in cap space right now, according to capgeek.com. So, what are they waiting for exactly? Next season and another team to swoop in with an offer sheet for more than Subban is asking for that they'll inevitably match (if they're lucky enough that Subban gives them that opportunity)? Or the realization that comes with it that the Predators came to way back when.
The Habs can't afford to lose Subban. But they can afford to meet his demands. Not doing so up to this point and letting it all get this far is inexcusable.
*Update* The Habs and P.K. Subban have come to an agreement, with both sides signing an eight-year $72-million deal, according to TSN.