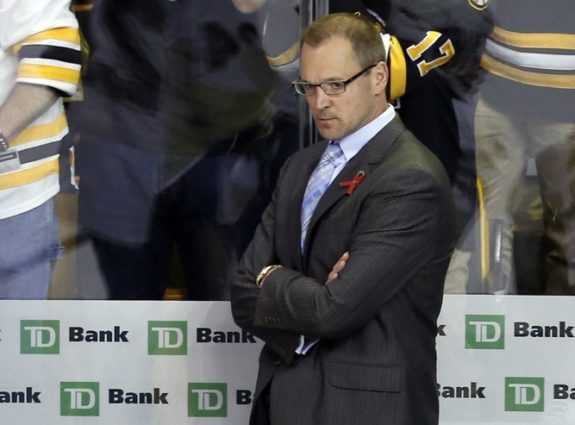 30 Teams, 30 Bold Predictions
If there is one thing that is guaranteed in the game of hockey, it is the unpredictability that the game offers.  There is not one person who can predict what is going to happen with 100% accuracy.  There are many who try, and some get most of them right.  But in the end, we think we know what is coming, and then the next unpredictable thing happens.  The Los Angeles Kings were not supposed to come back from a 3-0 deficit to the San Jose Sharks.  The New York Rangers were not supposed to come back from a 3-1 deficit to the Pittsburgh Penguins.  But guess what?  They did the unexpected, and each landed in last season's Stanley Cup Final as a result. Guess what?  The same thing is going to happen in the league this season.  There are going to be things that happen that nobody predicted would happen.  However, we are going to give you a head start on the 2015 season right here.  We will give you one bold prediction for all 30 teams for next season.  These predictions will be BOLD.  Don't expect to see things like, "Sidney Crosby will win the scoring title" or "Boston is a favorite to win the Eastern Conference."  No, these predictions will make you think.  Hey, some of them might make you laugh hysterically.  That's the whole point of this.  These predictions may look crazy to you, but when you dig a little deeper, you'll see that they are not as crazy as you might first think.  We will go team by team, in alphabetical order.  Let's start off big, shall we?
Anaheim Ducks
Prediction:  John Gibson wins the Conn Smythe Trophy as the playoff MVP.
Told you these predictions would be bold, right?  And to take this a step further, the Stanley Cup will stay in California next season when the Ducks win the Final.  John Gibson stepped right into the spotlight, and did very well for himself on one of the biggest stages.  After his team fell down 2-0 in the Second Round, he helped rally the Ducks to force a Game 7 against the eventual champion Kings.  This was no fluke.  Gibson is going to make a name for himself this season, and for many more to come.
Arizona Coyotes
Prediction: Antoine Vermette will be traded at next season's deadline.
Here is one example of many in which being in the Western Conference is going to make some interesting things happen.  The Coyotes did improve some during the offseason, highlighted by the acquisition of winger Sam Gagner.  But, they live in the Western Conference.  The Coyotes as a result will be sellers at the trade deadline.  What kinds of players get dealt at the deadline?  Players like Vermette do.  He becomes an unrestricted free agent after this season, which makes this scenario even more likely.  Experienced centers don't become available that often.  He will easily bolster the middle of the ice for a playoff contender.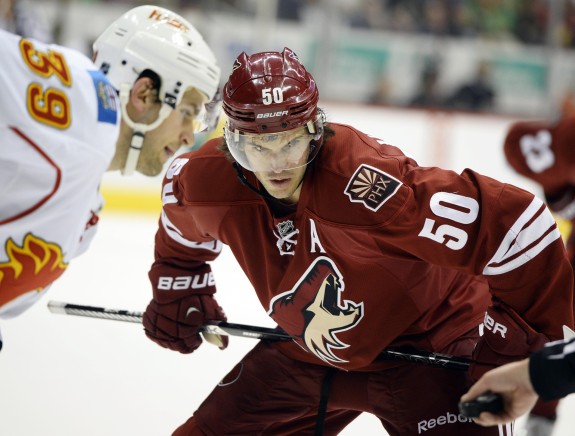 Boston Bruins
Prediction: The Bruins will NOT win the Atlantic Division.
Don't get me wrong, the Bruins are still a very good team.  They must be in the discussion when it comes to teams that can win the Stanley Cup.  But as you will see later on, there is a team that is primed and ready to overtake them in the standings.  Jarome Iginla is a bigger loss than most are acknowledging.  The Bruins will finish 2nd, and start the playoffs with home ice.  This statement is more about the team who will finish ahead of them.
Buffalo Sabres
Prediction: The Sabres will finish last (not surprising), but will NOT get the first pick of the McDavid draft.
It couldn't possibly happen again, right?  There is always a chance.  When there is a chance, you can expect the unexpected.  Florida jumped up and won the lottery last season.  This year, it's going to happen again.  The good thing for them is that the draft also has Jack Eichel in addition to Connor McDavid.  That's a pretty good 2nd prize for a team that could lose the lottery again.  Things are looking up in Buffalo, but it will take some time to get there.
Calgary Flames
Prediction: Mark Giordano will be a Norris Trophy finalist.
Unfortunately lost to many East Coast hockey fans who don't watch much of the Calgary Flames, Mark Giordano has quietly become one of the better defenseman in the NHL.  He scored 47 points in 64 games, and finished with a +12 rating.  To be a Norris Finalist on a non-playoff team is saying something.  He has the tools to win the Norris.  His issue is the team he is on, plus all the other good defenseman in the league.  Regardless, he must be talked about as an elite defenseman.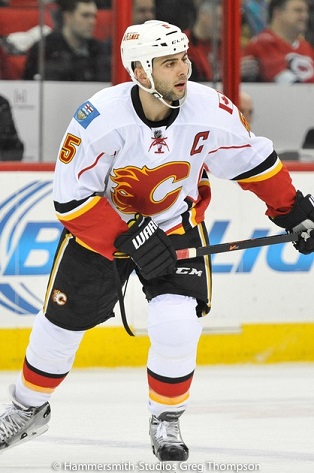 Carolina Hurricanes
Prediction: Jeff Skinner will lead the team in scoring.
With Eric Staal on the Back 9 of his career, and the state of the team around him, it should be no surprise that Jeff Skinner will be the Hurricanes top scorer this season.  He finished last season scoring 33 goals and 54 points, finishing 2nd to the aforementioned Staal.  This will be Skinner's breakout season.  He will reach 40 goals, and he doesn't turn 23 until after the regular season ends.  This season will start the transition from Eric Staal's team to Jeff Skinner's team.
Chicago Blackhawks
Prediction: Patrick Sharp and Brandon Saad are each playing their last season for the Blackhawks.
Somebody is going to feel the effects of the re-signings of Jonathan Toews and Patrick Kane.  The Patrick Sharp rumors will surely come back once the season gets underway.  Quick, who finished last season as the Blackhawks leading scorer?  Yep, it was Sharp.  His over $5 million cap hit presents the Blackhawks with an interesting situation.  They want to keep Sharp, but doing so will make them lose players elsewhere.  Brandon Saad becomes a restricted free agent after the season.  His next contract will be a big one.  Can't see the Blackhawks keeping these guys, if they want to keep the rest of the team in tact.
Colorado Avalanche
Prediction: Even though they improved, the Avalanche will lose in the First Round, again.
The forward depth is clearly better.  Adding both Jarome Iginla and Daniel Briere will do that.  Yet, questions remain.  The biggest one for me, Semyon Varlamov.  He has proven to be a good regular season goalie.  But when the chips are down, in a Game 7 of a playoff series, he has come up short.  The Avalanche will have a nice regular season, but you are only as good as your goaltender.  Varlamov must prove he can win the big game.  Also having to play the Blues or Blackhawks to open the playoffs won't help his cause out any.  He is not the answer, but having a good regular season will delay the inevitable.  Never forget this Bob Cole classic clip in which the puck went in off of Semyon Varlamov's "Fat Face".
Columbus Blue Jackets
Prediction: The Blue Jackets will make it to the Eastern Conference Finals.
With the Eastern Conference as wide open as it is, one of several teams can make a surprise run.  When you consider what pieces the Blue Jackets have in place, it should be no surprise to anyone that this team can make a deep playoff run.  Sergei Bobrovsky has won a Vezina Trophy.  Their defense has vastly improved over the last few seasons.  They have good depth at forward.  This will be the year that Columbus finally wins their first ever playoff series.  That won't be all they do this season.  They are a lot like the St Louis Blues, but in a much weaker conference.  Time to start looking at them as serious Eastern contenders.
Dallas Stars
Prediction: Tyler Seguin will be a Hart Trophy Finalist.
After a choppy beginning to his career which led to him being dealt from Boston to Dallas, Tyler Seguin is starting to hit his stride.  He is clearly one of the rising stars in the game today.  His play carried the Stars into the playoffs.  The tandem of Seguin and Jamie Benn combined to score 163 points.  Add Jason Spezza and Ales Hemsky to this team, and you have the makings of a surprise contender in the loaded Western Conference, and it still may not be good enough to get to the playoffs.  For the Stars to make the playoffs and go deep in them, Seguin has to play at an MVP level.
Detroit Red Wings
Prediction: This will finally be the year that the Red Wings miss the playoffs.
All good things must come to an end.  The Red Wings have had an amazing run of consecutive playoffs appearances.  That will end this year.  Gone are the glory days of Niklas Lidstrom and Steve Yzerman.  Current workhorses Pavel Datsyuk and Henrik Zetterberg are not getting younger.  They did little to improve during the off season.  They will fight until the very end, but come up just short of yet another playoff birth.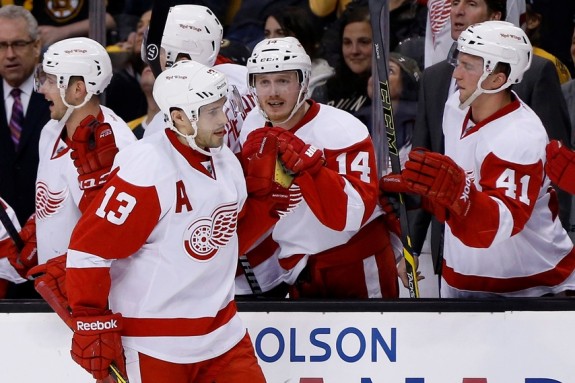 Edmonton Oilers
Prediction: Taylor Hall will score 40 goals.
Like Mark Giordano in Calgary, Taylor Hall is lost to many fans who don't see too many Oilers games.  It's a shame too.  He is one of the elite goal scorers in this league.  He finished near the top of the league in scoring last season, with 27 goals and 80 points.  He is just scratching the surface of his potential.  A Rocket Richard Trophy is not out of the question for Hall.  Getting to 40 goals this season is doable.  If Edmonton wants to even consider threatening for a playoff spot, Hall must deliver.
Florida Panthers
Prediction: The Panthers will make the playoffs.
Don't let last season sway your thinking here.  The team is vastly improved.  With that, you will see one of the next great stars take off.  Alexander Barkov will get to 30 goals.  He will finally have the chance to show everyone the kind of player he is.  If there was a category for Most Improved Player, Barkov will be it.  He will actually get Florida to the verge of the playoffs.  Roberto Luongo will get them over the top.
Los Angeles Kings
Prediction: They will be the 2nd best team in the Los Angeles Metro area.
The team that the Kings need to worry about is right in their own back yard.  The Anaheim Ducks took the Kings to 7 games with a rookie goaltender, who is only gonna get better.  Couple that with the tandem of Ryan Getzlaf and Corey Perry, and you have got one heck of an Interstate 5 series shaping up for this season.  Add Ryan Kesler to the Ducks mix, and now you see why the Ducks will not only rule Los Angeles, but the entire league.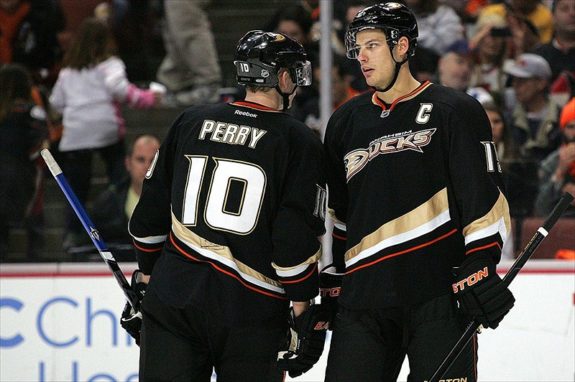 Minnesota Wild
Prediction: The Wild will get to the Western Conference Final.
Take a look back at the last two seasons for the Wild.  In both seasons, the Blackhawks eliminated them.  Two years ago, it was in Round 1.  Last year, it was in Round 2, but it was a much different series than the first.  Minnesota has a good thing going on.  They knocked the favored Avalanche out and gave the Blackhawks all they could handle.  They will not be intimidated in the least to play any of the favorites.  Do not sleep on the Wild.
Montreal Canadiens
Prediction: Montreal will miss the playoffs.
Think about this one for a minute.  Carey Price got injured in the Eastern Conference Final.  The Canadiens then became an average team.  Even with the breakout performance of PK Subban, they couldn't overcome the loss of Price.  It is certainly plausible that Price isn't quite the same after that injury.  After all, that was a serious leg injury that could have lasting effects.  Given the way other Eastern teams improved, Montreal can very easily miss the playoffs.  Then again, they could make a deep playoff run.  The wildcard is Price.   Even with Subban's new 8 year contract, the team's success is determined by the play of Carey Price.  I don't think he comes back all the way from the injury.
Nashville Predators
Prediction: James Neal will score less than 20 goals.
This season is going to be brand new territory for James Neal.  He has had the luxury of playing next to one of the best players in the world in Evgeni Malkin.  He was also on a power play unit with Malkin and Sidney Crosby.  He can shoot the puck with anyone, but he has never been asked to be the man.  There will be extra pressure on Neal to find the back of the net.  I'm not entirely convinced that this role will fit his game.  He will have some moments, but keep your expectations in check.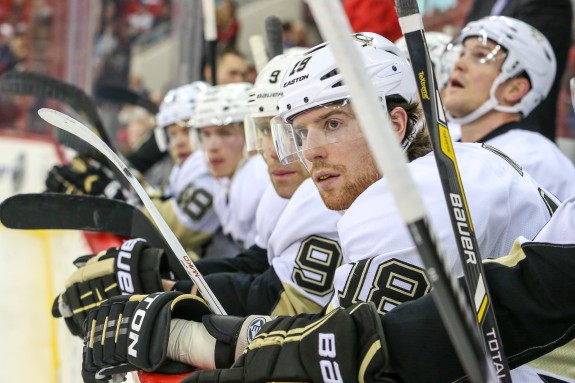 New Jersey Devils
Prediction: They will win at least one shootout this year.
Had the Devils won even just 25% of their shootouts, they are a playoff team.  Don't think that isn't at the top of their minds this off season.  There will be a focus on this part of the game.  With the way they play games, it has to be a focus.  The Devils have talented forwards.  They can't possibly go a 2nd whole season not winning at least one shootout, right?  Right?
New York Islanders
Prediction: Jack Capuano will win the Jack Adams award for Coach of the Year.
For all that Garth Snow has had to endure as GM, things are actually looking good for the Islanders.  They will be moving to a new building and city.  They had a nice offseason by adding Mikhail Grabovski and Nikolai Kulemin.  But what is most important here to remember, John Tavares will eventually be back.  He is arguably one of the 5 best players in this league.  Right now, the expectations for this team are low.  Guess what?  With a healthy Tavares, and other pieces in place, the Islanders will make the playoffs.  (Sorry Sabres fans, your other 1st round pick will be a mid rounder.)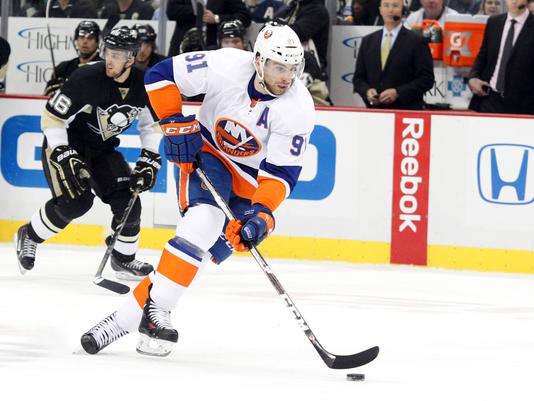 New York Rangers
Prediction: Five players scored more points than Rick Nash last season.  That number will increase this season.
Granted, Rick Nash did miss some time last season due to injury.  And yes, he did score 26 goals.  I'm not sure about you, but didn't seem like those 26 goals were awfully quiet?  Yeah, seemed that way to me too.  Five players (Zuccarello, Stepan, Richards, Brassard, and McDonagh) finished with more points than Nash.  I don't see this changing.  In fact, I see this number increasing.  Nash only scored 39 points in 65 games.  He seemed very lost at times.  Maybe he turns it around some this season.  I don't see that though.
Ottawa Senators
Prediction: The Ottawa Senators will win the Connor McDavid Sweepstakes.
With everybody else in the conference improving, this to me is an easy call.  The bold prediction here is that they will jump Buffalo and land the number one pick in the 2015 draft.  What a story that will be, since McDavid is from Newmarket, Ontario.  He would land somewhat close to his hometown.  More importantly though, McDavid will help turn Ottawa into a consistent contender.  He is farther along in his development at the age of 17 than Sidney Crosby was.  This player will change the course of a franchise.  Ottawa desperately needs something dramatic to happen.  This will be their moment.
Philadelphia Flyers
Prediction: The Flyers will have 3 different 30 goal scorers, and still miss the playoffs.
It's not often a team has this much offense, but will fall short of the goal of reaching the playoffs.  The one thing that needed to improve in Philadelphia this offseason, well, didn't improve one bit.  Their defense is just as suspect now as it was at the end of last season.  Even though Claude Giroux, Jakub Voracek, and Wayne Simmonds will all get to 30 goals, it will not be good enough.  You have to be able to score, and stop the other team from scoring.  They don't play the Penguins all 82 games this season.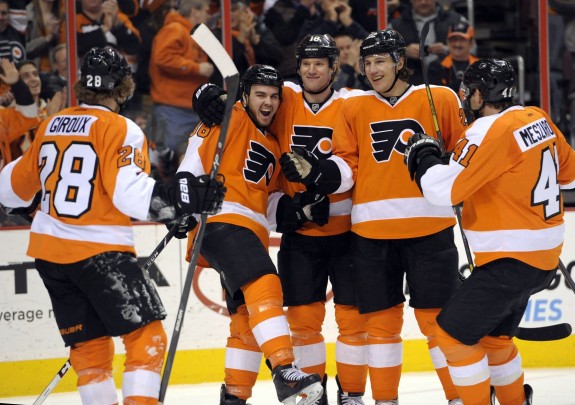 Pittsburgh Penguins
Prediction: Mike Johnston will be fired after the season.
When it comes to hockey in Pittsburgh, there is one general rule: Win the Cup, or the season was a failure.  When you have the likes of Sidney Crosby and Evgeni Malkin on your team, expectations are sky high.  Mike Johnston is entering a pressure cooker.  About the only way Johnston saves his job is if the Penguins actually do win the Cup.  However, another first round exit is awaiting them.  The early exit will give the Penguins the chance to bring in Mike Babcock, which is what they wanted to do all along.
San Jose Sharks
Prediction: Antti Niemi will not finish the season as the Sharks starting goaltender.
It's time to put the "but he has won a Cup" argument away.  That was 4 years ago now.  Niemi is not the same goaltender he once was.  He can get on an occasional hot streak here and there.  But, all you need to remember, is the Los Angeles Kings series last season.  Up 3-0, and then lose 4 straight.  That is hard to recover from.  The Sharks will get into the playoffs.  When they do, it will be Alex Stalock starting Game 1.
St Louis Blues
Prediction: The Blues will make the playoffs as a Wild Card.
The West is a war zone.  This is a case in point.  It's not that the Blues are falling off the map.  It's that everyone around them has gotten better.  In that division, I have Chicago finishing first, then Colorado, then Minnesota.  The Blues are fourth, and the first Wild Card.  That would setup a First Round series with who else, but the Chicago Blackhawks.  That is the last team the Blues want to see in the playoffs.  Plus is Brian Elliott the answer in goal for a team who wants to win a Cup?  I didn't think so.
Tampa Bay Lightning
Prediction: The Lightning will not only win the Atlantic, but they will also win the Eastern Conference.
This is the team that everyone needs to pay attention to.  Yes, Montreal swept them out of the First Round last season, but keep in mind that their top goaltender Ben Bishop didn't play in that series.  Let me remind you that Bishop finished 37-14-7.  He is a true number one netminder.  Stamkos is back.  They have new faces in Brian Boyle and Jason Garrison.  Young phenom Jonathan Drouin will be up.  Steve Yzerman is doing a magnificent job of building this team into a yearly contender.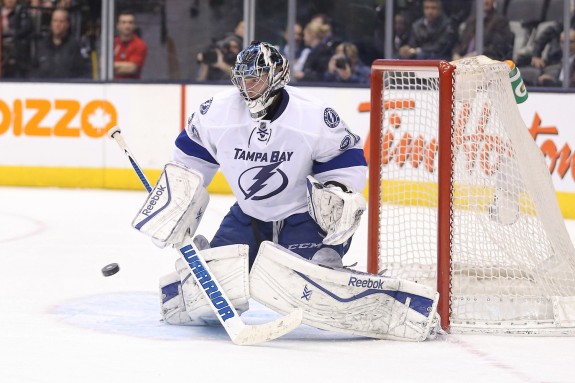 Toronto Maple Leafs
Prediction: Randy Carlyle will be fired mid-season, and replaced by Dan Bylsma.
This season will be unlike many others for this reason.  Dan Bylsma is waiting for his chance to coach again.  Coaches will have extra pressure to succeed early, knowing that a team can hire Bylsma if a change is needed.  Many Leafs fans would say that Carlyle should have been gone by now.  When Toronto starts the season slow again, they will get their wish.  They will get a coach who has won a Stanley Cup.  Even better, the Leafs will make the playoffs this season, and it will be because of Dan Bylsma.
Vancouver Canucks
Prediction: The Canucks will make the Western Conference playoffs.
Anytime you have a World Class goaltender on your team, you have a chance.  Ryan Miller is World Class.  I would take Miller over someone like Kari Lehtonen everyday.  I have Vancouver as the 2nd wildcard, and Dallas missing the playoffs.  The main reason, Ryan Miller.  He can single handily carry a team on his back.  The Sedins are still here.  Nick Bonino and Lucas Sbisa will immediately contribute.  GM Jim Benning deserves credit for putting the Canucks in a position for a quick turn around.
Washington Capitals
Prediction: Mike Green will be traded at the deadline.
Like Antoine Vermette earlier, Mike Green is an unrestricted free agent after this season.  Unlike Vermette, Green has a modified no trade clause.  If the Capitals are out of the race, which is highly likely, they will approach Green about a trade.  After the signings of Brooks Orpik and Matt Niskanen, it is highly unlikely that Green would resign, given his over $6 million cap hit.  Teams that need defensive help at the deadline will come calling for Mike Green.
Winnipeg Jets
Prediction: Evander Kane will finally be traded.
It's only a matter of time.  In a loaded Western conference, teams like Winnipeg will have a really hard time in keeping up.  But if there will be a time to trade Evander Kane for maximum value, this season would be it.  He has the talent.  The question is, can he put it all together?  Many teams believe that he will.  If you can get young players and multiple draft picks back for Kane, and get that contract off the books, it should be considered.  Hey, they are certainly among the teams that could finish in a position where they could draft either McDavid or Eichel.  Watch for a team like the Flyers to make a strong push for Kane as the deadline approaches.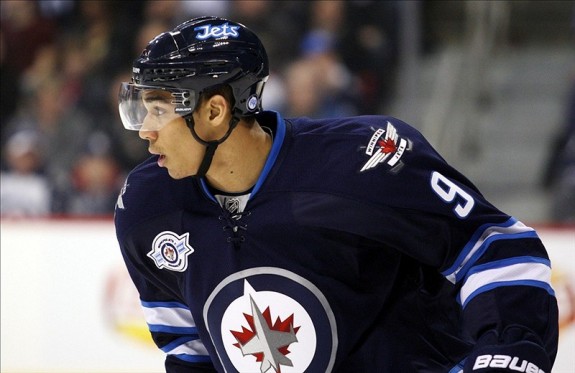 There you go.  30 Teams, 30 Bold Predictions.  This much is for certain.  There will be big names traded.  There will be teams that we think are shoe ins to make the playoffs that miss out.  There will be breakout performances, and many disappointing ones too.  It all adds up to a very unpredictable, but fun, upcoming hockey season.  Is it October yet?