Boston had their meteoric rise a few years ago and has successfully sustained their dominance as one of the Eastern Conference's best teams. They've were fortunate to see Dougie Hamilton fall to them at 9th overall in 2011 and Torey Krug took his game to the next level after finishing his college career. With the exception of wingers, Boston boasts depth in regards to their prospects. But with this year's first round selection, David Pastrnak, the Bruins might be seeing the Czech-born winger in their lineup as early as this season.
Criteria:
Skaters can not have played more than 42 games.
Goalies can not have played more than 25 games.
5. Joe Morrow – AHL – Providence Bruins – D
Morrow has been trade twice since he was drafted in 2011. Both times he's patiently sat in the minors waiting to get the phone call to lace up the skates for an NHL club. Morrow is the best defensive prospect in the Bruins' system and is a fantastic puck-moving defenseman. This year he managed to put up 29 points in 56 games. While he may not have the size, he does have the necessary strength and attributes to be a mainstay in the Bruins lineup.
4. Alexander Khokhlachev – AHL – Providence Bruins – C
This Russian is here to stay. Khokhlachev knew the best way to make the NHL was to come to North American and develop his game in the OHL with the Windsor Spitfires. After three successful season with the Spits, Khokhlachev made the seamless transition to the AHL and kept his offensive game intact.
Unfortunately for Khokhlachev, the Bruins have a logjam at center so he'll have to continue his scoring ways for Chiarelli to force him to call him up. He has gotten a taste of the NHL (albeit one game), but it won't be long before Khokhlachev makes his impact on the Bruins in Boston instead of the Bruins in Providence.
3. Malcolm Subban – AHL – Providence Bruins – G
There isn't much of a need to rush Malcolm Subban along with Tuukka Rask playing lights out and dominating the league. Subban can take his time in the minors working out a few kinks he has in his game. Much more mellow than his older brother, Malcolm has shown why he's such a highly touted netminder. His lateral movement is quick, his size helps him cover up much of the net, and his positioning and cutting down angles makes him very difficult to beat. In 33 games with Providence last season, Subban posted a 15-10-5 record with a bolstering .920 save percentage. Another full season with Providence should help him greatly before easing in to be Tuukka's backup.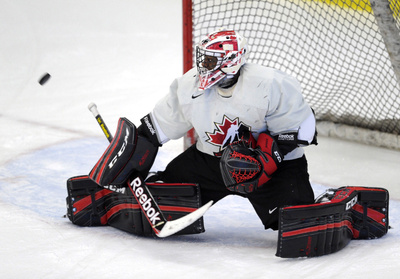 2. Ryan Spooner – AHL – Providence Bruins – C
Ryan Spooner has already got some extended playing time in the NHL. This past year, he played in 23 games for Boston and has been a consistent player throughout his career. He may not have the offensive game that Khokhlachev possesses, but his ability to play 200 ft. of the ice is what impresses most people. As Catherine Silverman put it:
"In the past few seasons with Providence, Spooner has proven to be a great two-way forward who has a strong sense of how to hold on to the puck. In the last season alone, he walked away with eleven goals and thirty-nine assists; but more importantly, he walked away from the season having never dropped below a positive +/- rating. This suggests that he could be the defensive force on the fourth line that Jordan Caron never managed to be."
1. David Pastrnak – SHL – Sodertalje – RW
Far and away the most offensively gifted prospect the Bruins now have, David Pastrnak has turned many heads in recent weeks. He impressed so much that the Bruins decided to give him an entry-level contract, which could possibly mean he could be staying in Boston this season given their need for RW.
Pastrnak is a slick winger that can control the puck in dangerous situations. He's flashy and creative with strong strides and fluid movements. Pastrnak is precisely the player the Bruins could use with the departure of Jarome Iginla to the Colorado Avalanche. With something to prove, Pastrnak could be one of the top rookies in the NHL next season.