What occurred on February 19, 2014 in Sochi, Russia made New York Islander fans gasp for air and it had to do with Captain John Tavares. The event sent ripples through Team Canada's roster, but by the time news hit back home, the tragedy had turned into a tidal wave of despair and wonder of how Team Islanders would manage to cope with the situation. Tavares' teammates on Long Island anxiously awaited news from Coach Jack Capuano and GM Garth Snow about their star player. On that chilling day during this year's Winter Olympics, Islanders players and fans encountered the "worst case scenario": Captain John Tavares suffered a season-ending torn medial collateral ligament and meniscus, meaning that players on an already thinned-out roster needed to elevate their game to an echelon perhaps never before expected.
Throughout the past season, the Long Island team faced many injuries and players who wouldn't normally find themselves in a leadership role were forced to assume the part. Tavares' shoes aren't easy to fill, but the team rallied together and certain men rose to the occasion as leaders. Fans can now rest assured that were Tavares to go down again, the Islanders can handle themselves. Frans Nielsen, Josh Bailey, and Matt Martin showed that their leadership will remain important in the Isles' dressing room.
Captain Obvious
After Mark Streit left the Islanders, it was evident that John Tavares was next in line to the captaincy. A prodigy from the start, Tavares was granted "exceptional player" status by Hockey Canada, thus permitting him early entrance into the Ontario Hockey League as a high school sophomore. Four years later, as the first overall pick in the 2009 NHL Draft, the hockey phenom began his career in the big league with the New York Islanders. In the beginning, he played in the shadows of Sidney Crosby and Alex Ovechkin, both drafted a few years before him. Tavares is still a more subdued character than both of those men, including the likes of most Hart Trophy candidates over the past few years.
Similar to Chicago's Jonathan "Captain Serious" Toews, Tavares has grown into a skipper who leads by example rather than too many words. When he first took the helm, his teammates said he was not the most verbal of guys, but he has become more vocal. When Tavares was asked during Locker Clean Out Day on April 14, 2014 about how he approached the captaincy, he stated that there are many things to balance. "You are trying to get a better grasp of the locker room and what to do to get out of [the tough times]. There are a lot of things you're trying to get a feel for [as captain], especially communicating with the coaching staff, management, and that side of things," said Tavares. "I'm just trying to give the right guidance for the team so we can work our way out of [the downs], and I think it's about trying to get a handle on 'how can we turn it around.'"
The man with the "C" on his jersey leads by example with an unparalleled work ethic. During the team's more difficult times, it is his job to keep spirits up. "As a captain, you want to be positive. I don't think your teammates want to hear you screaming in their faces. I don't think that's the right way to approach things," he said. Tavares takes each day as a new one and as an opportunity to improve. Every once in a while, you may even witness that well-earned, "I have officially arrived," toothless hockey smile. Says Tavares, "You try to keep the locker room light and make sure guys are focused at the same time."
Throughout last season, it may have seemed like focus waxed and waned due to the ups and downs seen on the scoreboard. Yet, when the captain went down (with an injury), the ship didn't go down with him; it stayed afloat. Players like Kyle Okposo, Frans Nielsen, Josh Bailey, and Matt Martin took the reins. There was a stretch when veteran defensemen Lubomir Visnovsky and Brian Strait were simultaneously out with injuries, along with veteran netminder Evgeni Nabokov. While Nabokov and Visnovsky returned to play on January 27, 2014, d-manTravis Hamonic went on injured reserve the very next day. There was constant uncertainty with veteran d-man and Alternate Captain Andrew MacDonald, as well as veteran forward Thomas Vanek, both of whom left the team in early March. Towards the end of the season, vets Okposo, Strait, Grabner, Visnovsky, and Clutterbuck remained off of the ice and in the final three games of the season, eleven out of twenty players on the ice were rookies. Could the team handle another such scenario?
The Great Dane
Most people would become quite frustrated when undergoing times of bad luck, as in the way the Islanders did with all of their injuries last season. However, one person who seemed to remain even-keeled—despite breaking his hand and missing two games—was Frans Nielsen. He stepped up as a leader last season and will truly be an important force in the locker for the Islanders this coming season. A shy, mild-mannered fellow who does not put himself in the spotlight, Nielsen is one of few NHLers from Denmark and the most famous Dane to Long Islanders, even beating out that guy who plays Jamie Lannister on "Game of Thrones."
When John Tavares speaks of Nielsen, one can tell he adores him just like everyone else. "It's great to see Fransy really reach a level that a lot of us, at least as players, know he has. He has that great [offensive ability] and he showed that a little bit more. He really did it throughout the whole season and we count on him for so much," said the captain.
Towards the end of last season, The Hockey Writers caught up with the man who was given the honor of wearing the "A" about half-way through the season, and asked him about his breakout year and how he elevated his game. "I haven't changed much; I've just tried to be myself and play my own game," he said quite humbly. Typical Nielsen. "I have raised my shooting percentage this year, which is one of the reasons I have been scoring. I got off to a good start and I've been kind of riding that wave of confidence. It's been fun to prove to myself that I can [score 20+ goals]."
Still, he wants to keep working on his skills. "I have holes in my game and got scored on too much. I want to be more complete and I want to do both [scoring and play defense]. It is fun when you can help offensively," said Nielsen. THW also inquired about how he handled his leadership role when Tavares and Okposo weren't playing, and he continued with his modesty, only highlighting the team as a whole, rather than himself. "It hasn't been hard [because] everybody here has been working extremely hard, and they want to learn everyday and show that they belong here," he said. "Everyone has been competing really, really hard, and that's what has been giving us recent success." With his peaceful disposition, Nielsen leads his team similarly to someone who once said, "It is better to lead from behind and to put others in front, especially when you celebrate victory when nice things occur. You take the front line when there is danger. Then people will appreciate your leadership." –Nelson Mandela
Don't Bail on Josh
"Josh Bailey probably has the biggest hockey IQ on this team, with the things he does out there," Frans Nielsen told an Islanders reporter in the locker room. "He does things that nobody else sees. He's been playing well and the pucks are now going in for him, and it's just nice to see. He always plays the same way and he works hard." Going into his sixth season with the Isles, Bailey was the 9th overall pick in 2008. Since the team is so young, it seems like he has been playing with them forever. Some say he was pushed out of the nest too early and may not have been developed enough to fly in the big league. Yet, when speaking with him, one will notice that his maturity and patience are beyond his years, and he has adjusted quite nicely to his role as one of the leaders in the dressing room.
Mentally, last season's team as a whole went through somewhat of a scary, rickety roller coaster ride (one of those wooden ones, where there are no seatbelts and the bars don't really come down all the way, and you're not really sure if you will fall out and plummet to your death). Speaking of injuries, Bailey was one of the few players on the team—and yes, he is only 24-years-old—who actually remained injury-free, at least physically. Nevertheless, he had his struggles with tallying the points.
Towards the end of the season, however, Bailey was able to generate some positive momentum and earned himself a power play goal and an assist on April 2, 2014 in the Islanders' 2-1 victory over the Ottawa Senators. THW had asked Frans Nielsen why the Isles' power play had been looking much better towards season's end, and in his answer, he described just how Bailey scored his eighth goal of the year (see the video below). Nielsen paused, sighed, laughed, and then said, "Em, [the power play is] one of those things, that has ups and downs. We have been doing a good job by just starting to keep things more simple and are shooting the puck, and usually good things happen when you do that. Then, suddenly you start getting more confidence.
(Giggling) "It's difficult [to stay positive] when you're not getting pucks in the back of the net," said Bailey, quite candidly. "It can be frustrating, and then you throw in some losses on top of that, it snowballs pretty negatively. Really the only option you have at that point is to keep working hard and keep looking at the task at hand. Keep focusing on that 'one day at a time.' I've used the same mindset all along in that you can't change the past," he said. He conceded that he, like everyone else, "gets anxiety and that's normal." The Islanders are human! He has learned how to handle things better over the years, and has learned how to block things out. "I don't read anything in the papers, I don't have Twitter, I don't have Facebook. I just try to focus at the task at hand and just take it one day at a time."
Bailey said "it was a bit of a different role," being in more of a leadership position when Tavares and Okposo were not playing, however he "tried not to change the way he is as a person, nor change much in general." He just kept working hard, and said it was nice to get some results as a team and individually. No matter what, his mindset is always the same: "keep working at it, stick to the systems, keep it simple, keep practicing, keep pushing forward." Next season, the young players, as well as newcomers like Conacher, Grabovski, Kulemin, Halak, and Johnson know to look to Bailey since he has been an Islander since 2008.
The Hitman
One of the most influential players on the Islanders is Matt Martin, who, as a forward, has topped the NHL in hits the last three seasons. He holds the NHL record of 374 hits from the 2011-12 season. Martin is always courteous to fans and the media. He isn't afraid to wear his emotions on his sleeve. When he's in a good mood, he's always smiling, but you will know when he's upset. Even on a blistering cold winter's night when the Islanders have had a tough loss, Martin will pull over his SUV, get out, and take photos with and sign autographs for the fans waiting outside for him as he's leaving the Old Barn. That's the just kind of guy he is. This past season, he worked hard for the team and the coaches knew this. The young players, as well as the veterans, appreciated his tenacity on and off the ice.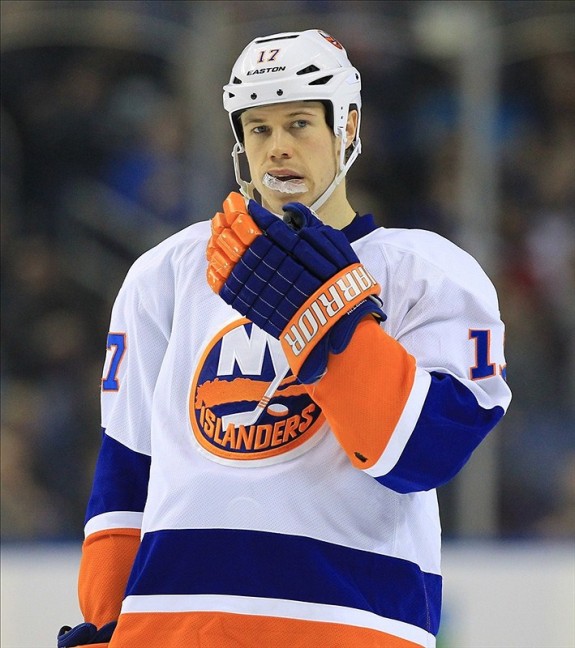 This past season was not Martin's first valiant year. Martin has been viewed as a team leader for several years now. As perfectly described by Allan Kreda of The New York Times and Athlete's Quarterly:
"Martin's proclivity to battle and drive to the net has drawn comparisons to Mr. Islander – Bobby Nystrom, another player who was fearless on the ice, but also scored perhaps the greatest goal in Islander history, an overtime winner giving the franchise their first Stanley Cup win in 1980. Martin has won the namesake award—for best representing "hustle, leadership and dedication"—the past [three] seasons."
But, what happens when half of your team is from the nursery (i.e., the AHL team in Bridgeport)? How does your NHL team compete with the rest of the league? Martin told THW that the secret to last season's Spring resurgence and the Islanders' ability to beat NHL playoff-caliber teams was that it was a young team with a lot of energy. "Everyone is playing hard and within a team concept. Everyone is having success as a team and is enjoying chipping in, whether it's finishing hits, scoring goals, blocking shots, or whatever they do, everyone seems to be doing it at a pretty high level right now," said Martin. "We have to keep building this momentum. It feels good right now and everyone's happy in here about how we've played over the last little while, and we just gotta keep it going."
Though the Isles weren't in the playoff race last season, they were determining the fate of other teams. "It would be great to play spoiler," admitted Martin with a mischievous smile. "The year hasn't gone as well as we would have hoped and we wish we were going for a playoff spot ourselves. But, these games still mean something for the other teams and we're athletes so we're competitive."
The 2011-12 season was slightly different for Martin and his mates, and he told of his playoff experience to Allan Kreda of AQ. Martin even compares his own tight-knit team to the Islanders of the 1980s, and how close those guys were and still are to this day, and attributes his team's successes to the team mentality. Said Martin, "I remember before Game 3 against Pittsburgh – my first home playoff game – sitting in our locker room with a towel over my head. We could hear the 'Let's Go Islanders' chants through the walls. The energy of the moment was unforgettable." Just envisioning that scene should give any Islander fan the goose bumps. Martin knows what it takes to get to the playoffs and next season, he'll again lead the Islanders towards that goal.
Recipe for a Good Leader
"Work hard, keep going, keep pushing, keep practicing, more video, stick to our systems, play a simple game, stay positive, have a good ethic, have a good attitude, have fun, stay focused, work as a team, repeat." John Tavares, Frans Nielsen, Josh Bailey, and Matt Martin all basically said the same things about what makes for a good leader. Tavares is the official captain of Team Islanders, but last season, he did not play after the Olympic Games due to a season-ending injury. Players, including Tavares himself, made no excuses—including bad luck—for the reason for not making the playoffs. Whether or not Saturn was in retrograde for the team, the number of injuries to the team cannot be overlooked.
With Tavares, Okposo, and Hamonic out of the lineup, others became more vocal in the locker room. As Martin informed THW, "We have a lot of leadership, still, on this team. Frans Nielsen and Josh Bailey have been on the team a long time," and they clearly impacted the dynamics of the team. Martin himself has a regular, take-charge presence on and off the ice, which his teammates admire.
The recently-acquired Isles will find it a pleasure to work with him, and will be relieved that he has their backs rather than his fist to their faces. So, should anything happen to the top line of the New York Islanders again, have no fear. Nielsen, Bailey, and Martin can lead the team. The new guys like Halak, Grabovski, and Kulemin acquired by Garth Snow this summer will also vocalize their experiences, and the Isles ought to be quite a formidable force this coming season. The truth is, as Martin said, "You don't have to say a whole lot when you're winning. When you're losing, you have a lot of meetings and a lot of talks. When things are going well, no one is really asking questions and you keep going about your business and keep trying to win hockey games."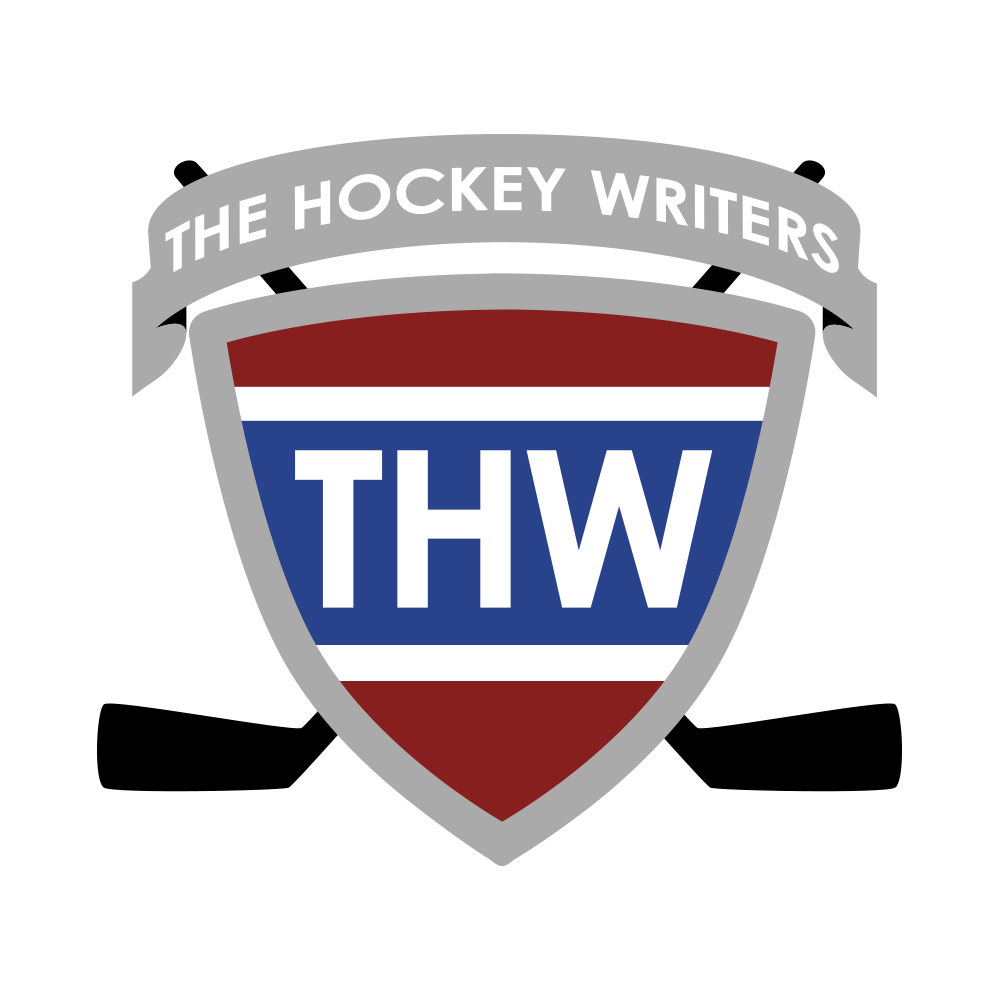 The Hockey Writers is:
1) A top-tier hockey media company delivering a top-notch, in-depth look at the NHL
2) A collective of some of the best hockey writers anywhere
3) A multimedia provider with daily podcasts and YouTube shows
4) Well-respected and widely-cited NHL prospect and draft resource