With the NHL Draft, free agency, and the prospect scrimmage already finished, Islanders fans must be anxiously awaiting the start of the hockey season as the days wind down to the start of the '14-'15 NHL season. After making some solid selections in the 2014 NHL Entry Draft (Michael Dal Colle, Joshua Ho-Sang, et al.), Garth Snow continued to address his team's needs as he signed Chad Johnson, Mikhail Grabovski, and Nikolai Kulemin amongst other players.
However, with almost three months of time left before the regular season kicks off, Islanders fans (mainstays & newcomers) might not have as much coverage of their beloved team as they are used to during each hockey season. While news might be hard to come by – unless there is a devastating injury or blockbuster trade – it's always good to know where one could get reliable news from a trusted source. So, without further ado, The Hockey Writers brings Isles fans some blogs and twitter accounts that could be extremely useful to follow – and if there are some egregious omissions, then please do leave us a comment and let us know if any account or blog was glossed over.
New York Islanders
The New York Islanders' website brings some of the best, and most easily accessed, team coverage on the net. Cory Wright, Eric Hornick (The Skinny), and Brian Compton (NHL.com) contribute to the articles on the site, and there are a bunch of interactive features for fans as videos of post-game interviews, interviews with prospects, and updates on the Isles' minor league affiliate – the Bridgeport Sound Tigers – are readily available.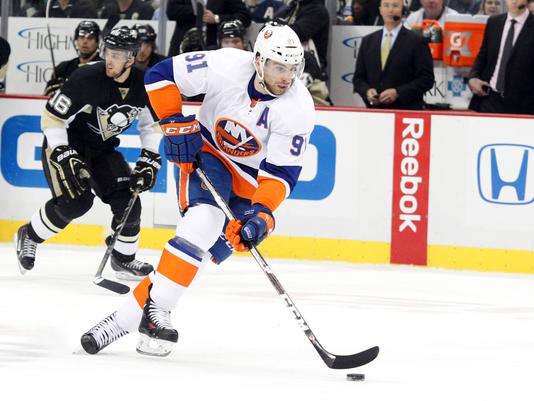 MSG Network
Perhaps the only thing missing from the list below would be a Howie Rose twitter account. With a star-studded cast on the MSG Network, there is a lot of quality reporting that the network has to offer. Individuals such as Stan Fischler, Butch Goring, Jiggs McDonald, Eric Hornick, and Peter Ruttgaizer have given Isles fans some of the best coverage and analysis that they could ask for – be it before, during, or after a game – and their presence in the social media universe is just as big.
#isles love what garth snow has done over the summer, but with the extra forwards look for him to acquire a defenseman.phx or van ??

— Butch Goring (@91Butch) July 3, 2014
Newsday
Since 1940, Newsday has been providing coverage of events in and around Long Island. Of course, the New York Islanders didn't arrive on the hockey scene until 1972, but their establishment certainly gave the Long Island-based paper a significant area of coverage in the sports arena.
For the last few seasons, Arthur Staple has served as the Islanders' beat-writer for Newsday – providing in-depth reporting on the team's progress during the NHL season and the offseason. Not only does Staple produce excellent write-ups on the Islanders, his social media presence is tremendous, and is a must-follow for any person that is either new to the Islanders or the twittersphere.
Ville Pokka now 6-0/194 (was 5-11/200), A. Pelech 6-3/220 (was 6-2/215), R. Pulock now 6-2/212 (was 6-1/218), G. Reinhart up to 217 from 202

— Arthur Staple (@StapeNewsday) July 8, 2014
CBS New York – WFAN
WFAN features some of the best, and most active, personalities that cover the Islanders. With written articles and various audio and video clips regarding the Islanders, WFAN's site is easy to navigate and gives fans a plethora of digestible content. Seeing as how well developed the CBS network is, there is no shortage of Isles-relevant columns, insight, and opinion that comes from WFAN's dedicated team of journalists.
New York Post
The New York Post might not be the first newspaper that comes to mind when one thinks of getting Islanders news, but there is certainly reason enough to follow Brett Cyrgalis as he does a fantastic job covering the Islanders and metro-area teams.
The #Isles were in on Vanek at the end, offered "right around the same" that he signed for (3yrs, $6.5m/per) in Minn., according to source.

— Brett Cyrgalis (@BrettCyrgalis) July 1, 2014
Bridgeport Sound Tigers
The Islanders have what is considered one of the deepest prospect pools in the NHL, and some of those highly touted youngsters are playing with the Sound Tigers right now. For all information regarding some up and coming prospects in the Isles' pipeline, following the Sound Tigers is a surefire bet.
Lighthouse Hockey
Lighthouse Hockey covers all angles of Islanders hockey and is consistent with their analysis of the team. From their fearless leader, Dominik, to their master of satire, Dan Saraceni, Lighthouse Hockey is as good a resource for news and opinion on the Isles as any on the web.
Sparse #Isles and NHL bits: The kids go home from camp, Lipbaum doesn't make it. http://t.co/Td2oKHX6Jn

— Dominik & LHHFriends (@LHHockey) July 14, 2014
Islanders Insight
Having a ton of hands on deck doesn't necessarily indicate quality work, but that certainly isn't the case for Islanders Insight as every member of their team is as dedicated to the Isles as one can possibly be. Andy Graziano, Rich Dias-Rodrigues, Michael Willhoft, and Chris Triantaphilis are just some of the brilliant minds that go into making Islanders Insight the fluidly functioning machine that it is. If you're looking for quality coverage of the Islanders, then look no further, these guys have you covered.
Excellent amateur video here and fitting heading into last season at NVMC. #isles https://t.co/h0jpYJooYj

— NYI Hockey Now (@NYIHockeyNow) July 13, 2014
Islanders Point Blank
Part of the SNY network, Islanders Point Blank has a solid team of writers which is headlined by Kevin Schultz and Christian Arnold. With some solid coverage from inside of the Isles' locker-room, Islanders Point Blank is a good resource for game recaps and team analysis.
LIB Magazine
LIB Magazine also covers events in and around Long Island, and Matt Saidman definitely makes sure to keep Isles fans up to date by providing a stream of steady content during the NHL season. Much like the others mentioned on this list, Saidman is also a very active Twitter personality, so Islanders fans will definitely want to give him a follow.
TCL Isles
The Checking Line has a number of writers covering a multitude of NHL teams, and Rob McGowan takes care of the duties for the Islanders Edition of TCL. As a credentialed member of the media, McGowan weaves together an entertaining narrative while sticking to the facts.
Who To Follow?
With so many accounts mentioned in this post, not every blog or social media personality might have been mentioned, but that is not to say that they didn't deserve to be on the list. Of course, fans will be free to choose who they do and do not follow on Twitter, but that is the beauty of the social media universe as people can decide on what level they want to interact with those that cover the New York Islanders.
In his third year with The Hockey Writers, Toli covers all things related to the New York Islanders. Focusing on the Islanders, the NHL Draft & draft-eligible prospect goalies, and hockey history, Toli can be contacted on Facebook by searching/messaging Toli Metter and on twitter by searching @ToliMetterTHW.