No More Niemi?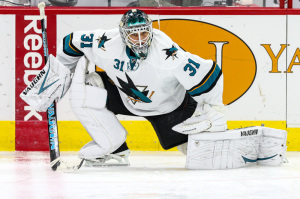 A strong argument could be made that sticking with Antti Niemi as his main goaltender the past five seasons was a big mistake by San Jose Sharks GM Doug Wilson. Niemi isn't a bad goaltender but he struggled frequently when it mattered most. Fans around the league criticize Joe Thornton and Patrick Marleau for playoff failures, but the truth is the two of them have had at least as many strong playoffs as poor ones. Niemi on the other hand delivered just one above average playoff performance in five years. Now as for Niemi's future, it is widely assumed the Sharks are moving on from the 31-year-old veteran who is set to be an unrestricted free agent come July. So where does this leave Team Teal between the pipes?
Alex Stalock Still in the Mix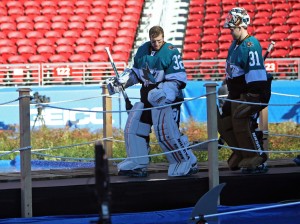 Alex Stalock, San Jose's backup to Niemi for the past two years, is still under contract for one more season. In a small sample size in 2013-14 Stalock kicked butt behind a tremendous Sharks team with a .932 save percentage. This past season in a small sample size he struggled behind a bad Sharks team with a .902. Some say he simply isn't good enough, while others say he has the talent to be much better. The 27-year-old never lit the lower levels ablaze but he has been an adequate backup in the NHL without ever getting a real chance at consistent ice time. Stalock certainly won't be handed the starting job, so if he ends up getting that chance he will have to play lights out to earn the bulk of the starts. Therefore, someone with a stronger track record will almost certainly be joining him in the Sharks crease. Now who will that be? Well there are a handful of names out there set to become available and many bring a solid NHL pedigree.
Jimmy Howard the Big Name
First and foremost let us start with former starters that have recently been supplanted or seen a reduction in ice time. The Detroit Red Wings have long time starter Jimmy Howard under contract at a cap hit of $5.29 million for four more seasons. He is one of the more consistent and reliable names out there. Detroit is likely try to move Howard after Petr Mrzaek took over the No. 1 job this season. Howard wasn't terrible this season, posting a .910 save percentage, the same percentage he posted in 2013-14. However, the previous two years saw him finish with percentages of .921 and .923. Is the 31-year-old on the decline? Four years is a lengthy term to bring aboard. The Sharks must be hoping to develop a goaltender of their own at some point this millennium, so methinks Howard's cap hit and term will turn them away.
Brian Elliott Another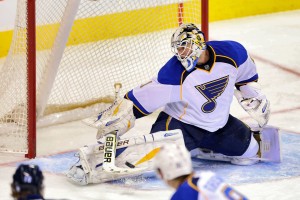 Another veteran goalie who could be on the move is Blues netminder Brian Elliott. The former Ottawa Senator really found his game after landing in St. Louis. That said, finding his game hasn't brought with it a standard No. 1 job. Elliott has continued to battle for ice time seemingly every year of his career. In the first round of the current playoff season the Blues decided to go with youngster Jake Allen as their starter. The Blues were eliminated in six games. Elliott has two years left on his current deal at a much more reasonable cap hit of $2.5 million. The 30-year-old veteran has posted save percentages of .922 and .917 the past two seasons and is the type of goaltender in need of a change of scenery to get more playing time. A Stalock-Elliott combination would be ideal for San Jose if they could pry him away from the Blues. Elliott is reliable to take the load and Stalock can push for playing time but isn't the type of prospect anymore that requires ice time.
Restricted Free Agents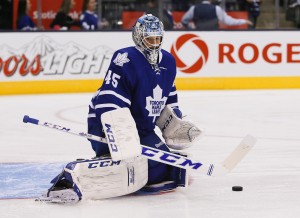 As for free agents, Toronto Maple Leafs' restricted free agent Jonathan Bernier is the big name that is likely to move. Bernier made $3.4 million this past season and with a save percentage of just .912, that salary might only raise to about $4 million. The term is also likely to be team friendly due to the lack of track record and restricted status. Bernier has started 49 and 55 games the past two seasons after never starting more than 22 games in any prior season as a backup in Los Angeles to Jonathan Quick. The jury is still out on whether Bernier is more like the .923 save percentage from 2013-14 or the .912 from this past season. Given the Leafs were terrible this season, perhaps the drop is primarily due to bad defense in front of him. Give his RFA status, the Sharks could acquire him and try to get him to sign for top dollar but on a short term "prove it" type contract. Of all the goalies on the market, Bernier, at just 27 years old, is one of the most coveted available.
Another restricted free agent is Los Angeles' current backup Martin Jones. The rookie goaltender sparkled in his first 18 starts in the league, all coming in 2013-14. That season he posted a .934 save percentage before seeing just 11 starts this past season and faltering to a .906 save percentage. It would seem unlikely though that the Kings would want to deal the 25-year-old to their biggest rival.
Unrestricted Free Agents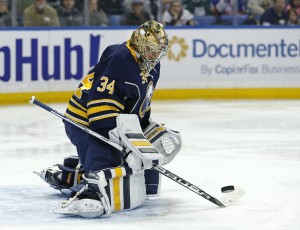 As for unrestricted free agents, there are a handful of goaltenders that are set to become available. Michal Neuvirth was traded out of Buffalo to the Islanders as insurance behind Jaroslav Halak at the deadline. Despite Buffalo's abysmal season, Neuvirth, the former Washington Capitals netminder was actually very good. Even with a terrible team in front of him, the Czech native posted a career high .918 save percentage in 27 starts with the Sabres this season. The 27-year-old is already a veteran of seven NHL seasons and would likely be a cheap option in both cap hit and duration as he has never started more than 45 games in a season and only started over 30 once.
Another unrestricted free agent due to be on the market is Calgary Flames netminder Karri Ramo. The Finnish netminder has posted respectable .911 and .912 save percentages the past two seasons with the Flames. Like Neuvirth, he would be a cheap option in both years and cap hit if the Sharks wanted to go with a low risk option to tandem with Stalock.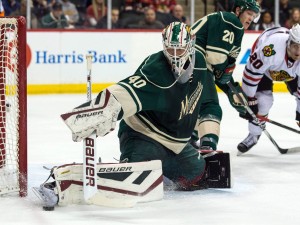 And of course we all know about the current story of Wild goaltender Devan Dubnyk. The Edmonton Oiler castoff was playing well this season with the Arizona Coyotes but then took off like a torpedo immediately after being traded to Minnesota in January. Dubnyk started every game down the stretch for the Wild, finishing with an amazing .936 save percentage. The Saskatchewan native is bound to see the biggest pay day of all unrestricted free agent goaltenders. A big payday but not a reliable track record makes me think the Sharks will stay away from the 29-year-old
Other Possibilities
Other goaltenders that could be moving cities this offseason are Jhonas Enroth, Kari Lehtnonen, Anders Lindback, Viktor Fasth, Jacob Markstrom, Cam Talbot, and Andrew "The Hamburglar" Hammond. The biggest name on this list is Lehtnonen who is under contract with Dallas at a significant $5.9 million dollar cap hit but struggled mightily this season. The two most intriguing names on this list are the Rangers' Talbot who is 27 years-old with just two years experience but shined in the absence of Henrik Lundqvist down the stretch, and Hammond who was a late season sensation going 13-0-1 at one point to elevate the Senators into the playoffs. Like Talbot though, Hammond is a late bloomer to the NHL and perhaps the reason these guys have taken so long to reach the NHL is that they simply aren't No. 1 quality netminders.
Best Option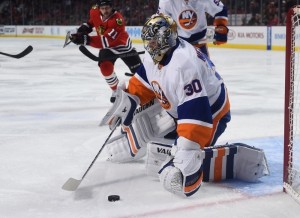 If you ask me, the option that makes the most sense for the Sharks at this time is Neuvirth. He ought to be incredibly cheap and has seven years experience at the NHL level. Neuvirth managed to post an above average .918 save percentage behind an absolutely dreadful Sabres squad who were one of the worst possession teams we have ever seen. Neuvirth seems to have the highest upside at a much lower cost than others and if he falters, can always trade for a goaltender at the deadline or give Stalock more ice time.