In the spirit of the season with the 2016 United States Presidential election campaigns kicking off, it seems like a good time to explore the possible running mates for Buffalo Sabres defenseman Rasmus Ristolainen. The Finnish blueliner is still looking for a new deal, but shouldn't be waiting too much longer.
Ristolainen is the organization's top defender at only 21-years-old. Buffalo made it a point to bring in a player who they believed could play on the top pair with the former first round pick. That player ended up being Dmitry Kulikov in a trade with the Florida Panthers. On paper, Kulikov, seems like a good fit on the left side with Ristolainen. However, he's not the only candidate.
Dmitry Kulikov
Let's start with the aforementioned Kulikov. He's a 25-year-old defender who likes to play a physical game. The Russian native is also a left shot defenseman, which is an important detail. The Sabres roster was loaded with right-handed shots and pairing a left-handed shot with Ristolainen will allow him to play on his natural side.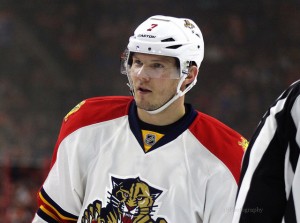 Ristolainen is an excellent puck moving defenseman and a great skater. He scored a career high 41 points last season. Including 21 points on the power play which put him tied for 14th in the NHL among all defenseman. The ideal scenario would be to pair him with a player who plays more a defensive minded style on the blue line. This would take some of the pressure off of Ristolainen in his own end and allow him to be more of an impact player in the offensive zone.
Kulikov seems to fit that ideal partner mold pretty well. The 2009 14th overall pick was touted as a player with offensive upside from the blue line. He can provide some offense from the point, but not to the level of Ristolainen. Instead, Kulikov, developed a better defensive zone game while playing for the Panthers. He's not a perfect top pair defenseman by any means. With that being said, he can be a good fit as a pair with Ristolainen. Kulikov is also an excellent skater and is good at moving the puck to get it out of his own end quickly.
Jake McCabe
McCabe signed a new three-year contract with the Sabres early this summer at a team friendly cap hit of $1.6 Million per season. The Sabres brass are very high on the former second round pick. They believe he has the potential to develop into a very effective top four or even top pair defenseman.
Last season, McCabe, ended the season playing very well with defensive partner Zach Bogosian. Both players began to excel in the second half of the season as they built their chemistry. Head Coach Dan Bylsma may choose to keep the duo together to solidify his top four. It wouldn't surprise me though if he decides to give McCabe an early opportunity to play with Ristolainen.
McCabe is a left hand shot which would check one boxe on the ideal partner traits list. The former Wisconsin Badger isn't a flashy player, but plays a very smooth game. He's a good skater and has excellent vision with the puck. McCabe isn't afraid to play a physical and aggressive style of game as well. He's solid positionally in his own end of the ice and again will take some pressure off of Ristolainen.
Josh Gorges
It wouldn't be fair to forget to mention the current incumbent in Gorges. The veteran leader on defense spent the majority of the past two seasons playing with Ristolainen. The 31-year-old has had his ups and downs playing top pair minutes. He's likely better suited as a fifth or sixth defenseman who can fill in on the top four if needed for an injury.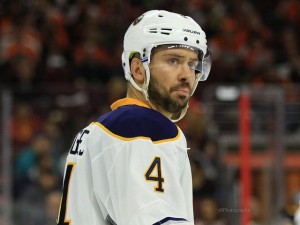 Gorges is the type of player who you'll never have to question his effort on the ice. Now that the Sabres have built depth among the defense group, Gorges, will be able to slide into a role that better fits his play. Slotting in on the third pair with a young player like Casey Nelson or Brendan Guhle would be an ideal situation. He would be a good veteran partner for a young player in their first full NHL season. Gorges is very well-respected by his coaches and teammates. He'll likely be given an opportunity to play top pair minutes in training camp with some players participating in the World Cup. However, come opening night, I'd expect him to fill in on the third pair.
Ristolainen will likely have himself a new defense partner come opening night against the Montreal Canadiens. It'll be interesting to see who lands the role as his running mate on the top pair. The World Cup may keep the answer cloudy, but a partner should emerge near the end of training camp.
Chad DeDominicis was born and raised in Buffalo, NY. Chad is currently a Buffalo Sabres contributor for The Hockey Writers. He is an avid sports fan and is passionate about the game of hockey. Chad works hard to share creative and quality content with his readers.