Today I'll skip all of the pomp and circumstance of an introduction to The Stanley Cup Playoffs (but if you'd like to see it one more time, check out my Eastern Conference Preview) and jump right into the previews for the Western Conference.
Anaheim Ducks (Pacific Div. Champs) vs. Dallas Stars (2nd Wild Card)
Dallas won season series 2-1-0
The general consensus surrounding this series is that goals will not be a hard thing by which to come for either of these teams. Which is an interesting side to take based on the numbers.
For the season, Anaheim ranked 8th in GAA at 2.48, while Dallas comes in at 17th at 2.72 GAA.
Neither number is particularly alarming in my opinion. These figure to be games with an average score of 3-2 in favor of the West's top-seeded Ducks.
As in any series, much will be made of each team's goaltending. While Dallas seems pretty solid in net in terms of who it will be (Kari Lehtonen), the Ducks seem to be in a bit of limbo. Jonas Hiller is the experienced netminder, but newcomer Frederik Andersen went a very impressive 20-5-0 this season.
If Anaheim's top line of rotating left-winger, Ryan Getzlaf and Corey Perry can play to their massive reputation, then that should pave the way for a Ducks' opening-round series victory.
Sometimes you have to go with your gut. Anaheim struggled down the stretch, and they have no clear number-one goalie locked in place. Contrarily, Dallas has that same good mix of vets and young players to make them a dangerous team, much like the Red Wings in the East.
This is my "sexy" pick of the first round.
Prediction: Dallas wins 4-2

San Jose Sharks (2nd – Pacific Div.) vs. L.A. Kings (3rd – Pacific Div.)
L.A. won season series 3-1-1
Folks… Buckle up.
Rangers – Flyers is going to be fun to watch.
This… Will be better.
This… Is going to be one HELL of a series.
The much ballyhooed failures of one of hockey's best teams of the past decade are fresh on the minds of hockey pundits just about every season at this time. The Sharks seem to be the NHL's best "choke" artists.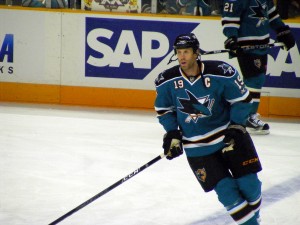 A team chalk-full of playoff-battle-tested-veterans just can't quite get over that hump and play for Hockey's Holy Grail. Joe Thornton, Patrick Marleau, Dan Boyle just to name a few. If ever there were a team that was due to silence their critics, this is that team.
For San Jose the recipe is simple: play your game. This team is talented enough, deep enough, and hungry enough to make a serious run at The Cup this season.
Once again, they come up against their rivals to the south in the first round of this year's playoffs after a stellar seven-game conference semifinal a year ago.
The L.A. Kings are REALLY good at doing one thing: stopping the other team from scoring goals. Jonathan Quick, Dustin Brown, Anze Kopitar, Mike Richards, the list of returning players from 2012's Cup-winning team goes on. The Kings are talented and hungry. Ahhh but there it is. I didn't say deep. Ultimately that is what I feel will put the Sharks over in what will be the most physical and entertaining series, potentially, of these entire playoffs.
One VERY GOOD TEAM is going home early this season.
Call me crazy, but this could be the Sharks' year.
Prediction: San Jose wins 4-3
Colorado Avalanche (Central Div. Champs) vs. Minnesota Wild (1st WC)
Colorado won season series 4-0-1
The Colorado Avalanche; despite the enormity of their regular season success, could be the most dangerous team in these playoffs.
Why?
Because they don't know any better.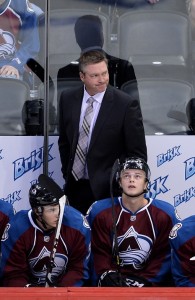 Look at nearly every other team in these playoffs, and you can find a pressure situation for the team or a team's player. But with the Avs, they have none of that. They simply aren't supposed to be here (yet).
Patrick Roy's team of young upstarts has nothing to lose here. Confidence? They've gained that by being a consistently good team all season long. Trust in their coach? Nope. Roy has more than proven himself through his playing career, coaching career in the Q, and this season by pushing all of the right buttons and all of the right times.
The Minnesota Wild meanwhile, are a team that has made a few big moves over the past two seasons, but are still looking for that big reward.
They brought in the enigmatic Ilya Bryzgalov to shore up their goaltending due to injuries. The defense remains a bit suspect after Ryan Suter, who may be asked to play 30 minutes a night as long as the Wild remain in the tourney While offensively they struggle to score at times.
On paper and in my opinion, this series seems like a no-brainer. A young, loose team who really doesn't know any better led by a fiery coach; versus a team with it's share of high-paid, high-profile veterans who have yet to put all of the pieces of the puzzle together.
Prediction: Colorado wins 4-1
St. Louis Blues (2nd – Central Div.) vs. Chicago Blackhawks (3rd – Central Div.)
St. Louis won season series 3-2-0
Boy how good are these Western Conference series gonna be?
Right around Christmas I was thinking to myself that St. Louis and Chicago would put on one heck of a show for us in the West Final. Then remembering the new playoff format and realizing that one of these teams would have to significantly underachieve for that to happen otherwise, so I thought about it in one of the West semis.
Well here we are in the first round with arguably the West's best team for the vast majority of the regular season versus the defending Stanley Cup Champions.
There isn't much need for a lengthy breakdown of this series. Its simple, really. St. Louis struggled mightily towards the end of the season, and the shine has worn off newly-acquired and presumed leader-to-the-promised-land-goalie Ryan Miller. Couple that with the loss of TJ Oshie, plus a team who has seemingly lost their way on defense and you've got a bad formula against a team who knows their way around adversity in the postseason.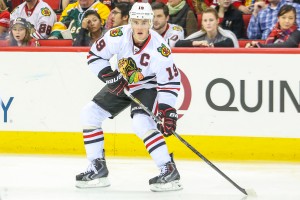 The Blackhawks are not without their fair share of issues though, either.
Jonathan Toews and Patrick Kane will presumably be back for Game One after sustaining late-season injuries. Although when you heard head coach Joel Quenneville talk about those injuries, you almost get the sense that if they were needed badly enough, both could have played.
Which makes me think that Chicago feels pretty good about its chances against anyone in the playoffs; being comfortable to play out of any seed.
As long as those two guys for the 'Hawks come back and are healthy, they are going to send a very good St. Louis Blues team home very early, and very disappointed.
Prediction: Chicago wins 4-1
So let the madness begin!! It's one of my favorite times of year, and it all gets started tonight.
If your favorite team made the dance, then I wish you luck and health. Bring the noise for them.
Want to disagree with any of my predictions here (agreements are also welcome!)? Feel free to do so in the Comments section below, or drop me a line to my Hockey Writers inbox at TDTorraoTHW@Gmail.com