There is a certain smell in the air at this time of year.
Blooming flowers. Freshly mowed lawns. Grills cooking any assortment of various BBQ-style meats.
And fresh sheets of ice are laid at 16 different NHL rinks in preparation for the greatest championship tournament of them all.
THE STANLEY CUP PLAYOFFS.
It is quite simply the greatest trophy in all of sports. At any level. On any continent on Earth. A team doesn't win multiple Stanley Cups (it isn't the Vince Lombardi Trophy, of which one is forged every season for the NFL), they win THE Stanley Cup multiple times.
And once it is achieved, every players' name from the winning team is etched onto one of its rings, to forever be immortalized.
The Eastern (Prince of Wales) Conference and Western (Campbell) Conference contribute eight teams apiece to this dance. Each looking to be the first to win 16 games.
Today I offer, for your debating pleasures, my preview of the former Prince of Wales – and now known presently as – the Eastern Conference.
Boston Bruins (Atlantic Div. Champs) vs. Detroit Red Wings (2nd Wild Card)
Detroit won season series 3-1-0
Its a simple formula for the Bruins these days: Keep doing the same thing, be the best team in the league.
The Bruins are the Presidents' Trophy winners with 117 points this season. And they aren't referred to as the "Big, Bad, Bruins" for nothing. They are a deep, talented, physical team that can beat you in a number of ways, and that's before you get to their stellar goaltending. They roll four lines consistently, and each brings a different element to the ice.
Detroit meanwhile, is certainly not the same team as it was in the mid-90's, or the latter part of the 2000's for that matter. This is by no means a slight to the Wings, however. They are just not as dominant as they once were. They'll rely on a strong passing game and puck possession in the offensive zone to try and stem the Boston attack. If they can succeed in those two areas, they'll stand a puncher's chance.
I do truly think that the Wings have a legitimate shot to pull a MAJOR upset in the first round. Hey, no one thought the L.A. Kings could do it two years ago against Vancouver. If they had their captain Henrik Zetterberg and a 100% Pavel Datsyuk I'd feel a lot better about picking the upset here. But in the end, the Bruins' size and skill I think just overwhelms a very game Detroit squad. It won't be a cakewalk for the B's, but they'll find a way to pull this one out.
Prediction: Boston wins 4-2
Tampa Bay Lightning (2nd – Atlantic Div.) vs. Montreal Canadiens (3rd – Atlantic Div.)
Tampa Bay won season series 3-0-1
The Tampa Bay Lightning made the playoffs this season despite trading away their heart, soul and former team captain in Martin St. Louis. Not to mention their best player Steven Stamkos missing 45 games with a broken leg.
But the goalie combination of Ben Bishop and Anders Lindback have proven to be a backbone for this Lightning team when they've needed solid goaltending the most. And he's no St. Louis in the minds of Tampa Bay fans, but Ryan Callahan has brought another level of leadership, along with some grit to this team that will help make this a very entertaining series.
The Canadiens meanwhile, boast a roster of playoff-toughened veterans at just about every position. Names like Brian Gionta, Thomas Plekanec, Andrei Markov, PK Subban, and of course their gold-medal-winning goalie Carey Price.
The one question that surrounded this team after the Olympics pertained to scoring. Well, GM Marc Bergevin rectified that when he sent a bucket of pucks and a five-dollar McDonald's gift card to the New York Islanders for dynamic goal-scorer Thomas Vanek. The Habs' playoff chances were in limbo prior to Vanek's arrival, but he has since helped Montreal distance themselves from their hunters.
Ultimately this series will come down to goaltending. I'm taking my chances with Price over the inexperienced combo of Bishop and Lindback.
Prediction: Montreal wins 4-3
Pittsburgh Penguins (Metro Div. Champs) vs. Columbus Blue Jackets (1st Wild Card)
Pittsburgh won season series 5-0-0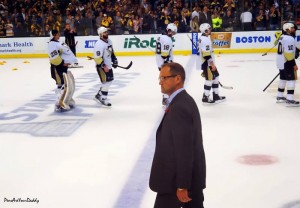 This postseason could very well be do or die for Penguins' head coach Dan Bylsma.
After four straight seasons of being unceremoniously dismissed from the Stanley Cup Playoffs, his hockey club once again looks to assert themselves as the most talented team in the league.
And not many will question this team's ability, while boasting the two best players in the world in Art Ross Trophy (most points) and likely Hart Trophy (MVP) winning team captain Sidney Crosby and former Conn Smythe Trophy (playoff MVP) winner Evgeni Malkin.
For the Penguins though, it will come down to coaching and their staff's ability to make adjustments, along with the play of much-maligned goalie Marc-Andre Fleury. Simply put, Fleury must be better than he's been in each of the past two seasons for the Penguins to stand a chance at The Cup.
For a Columbus team making it's second Stanley Cup Playoffs appearance in their organization's history, drawing the Penguins in the first round will be a tough mountain to climb.
They don't have any of the qualities that the Philadelphia Flyers of two seasons ago; or the New York Islanders of last season, possessed. They do however, have one thing that each of those teams lacked: a recent Vezina Trophy-winning goalie.
Sergei Bobrovsky won the Vezina Trophy (league's best goaltender) last season for an abysmal Blue Jackets' squad. It will be in his legs and glove hand that this team and its fans place 99% of their hope to stand a chance against the Pittsburgh Penguins.
Ultimately Pittsburgh is just too talented, and Columbus is missing a lot of its most gifted players to really make this an interesting series.
Prediction: Pittsburgh wins 4-0
New York Rangers (2nd – Metro Div.) vs. Philadelphia Flyers (3rd – Metro Div.)
Season series tied at 2-2-0
Separated by 99.9 miles of interstate, these two teams simply don't like each other.
This should be one of the first round's most entertaining series, and it should go the distance.
New York seems to have found their groove since the Olympic break and trade deadline. Acquiring a strong locker room presence like Martin St. Louis is certainly going to help the Blueshirts' cause this postseason. And having guys like Brad Richards, Rick Nash, and Marc Staal out there won't hurt, either.
But the Rangers best player is the guy in the most important position come the playoffs: goaltender Henrik Lundqvist.
King Henrik is the rare breed of goalie who has the ability to put a team on his back and win a series or three in the postseason. From top to bottom, these clubs are about as evenly matched as any two teams in this tournament. The difference in the end will be the goaltending.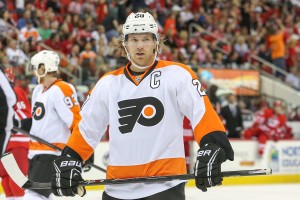 Unless Philly can get some out-of-this-world play from it's captain, Claude Giroux; which isn't a far-fetched idea. Giroux played so well in the 2012 opening-round series against the Pittsburgh Penguins that many hockey pundits were calling him the new "best player in the world." If he can elevate his game, the game of those around him, and limit the amount of stupid penalties taken (because we all know that the Flyers are going to take the lions' share of dumb penalties this postseason), then Philly has a very above-average chance of winning this series, and doing so in short order.
Alas, it IS the Flyers. And they're up against STILL one of the best in the game in Lundqvuist. It'll be tightly contested, and in series like these, always go with the better goalie.
Prediction: New York wins 4-3
So there you have my breakdown of each series – along with predictions – for the Eastern Conference. Feel free to comment here on anything you agree or disagree with.
And check back tomorrow for my Western Conference preview, breakdown, and predictions.
The Pittsburgh Penguins/THW Mailbag is still (but barely) open. Submit your question to my inbox at TDTorraoTHW@gmail.com.
Or as always, hit me up on Twitter: