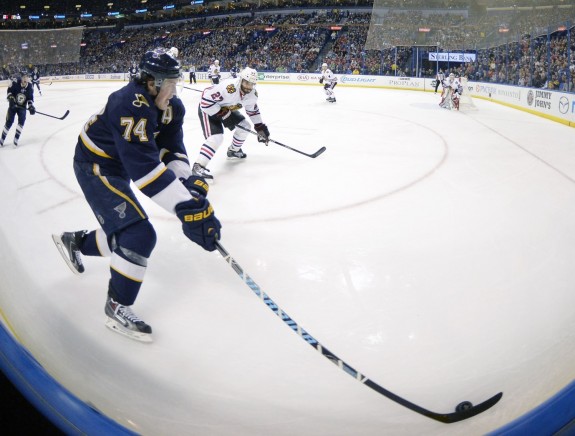 Fans of the Chicago Blackhawks are chomping at the bit to get a piece of the St. Louis Blues. The way they see it, the Blues are back peddling into their First Round playoff matchup with the defending Stanley Cup champions. It's easy to get that impression when you glance over the headlines on NHL.com or
The Hockey News
.
The Chicago media has also been quick to jump on this storyline.
Blues about to lose their sixth straight. They have five goals (so far) in those six games. #Blackhawks

— Mark Lazerus (@MarkLazerus) April 13, 2014
Or…
The Blues have been outscored 22-5 in their last six games.

— ESPN Chicago (@ESPNChiHawks) April 13, 2014
These are valid points made by folks that know what they're talking about. Here's the thing though. Chicago didn't exactly close out the regular season in spectacular fashion either.
St. Louis' record through the last 10 games of the 2013-14 campaign: 3-7-0
Chicago's record through the last 10 games of the 2013-14 campaign: 5-5-0
For all the noise the 'Hawks have made about the Blues slumping at the wrong time, carrying a .500 record through the final weeks of the regular season isn't exactly setting the barn on fire. Jonathan Toews and Patrick Kane weren't involved in those contests, to be fair. The Blues were without eight regulars during the season finale against the Detroit Red Wings, so if it's a square, then it's a square.
The injury card can't work for one squad here and not for the other. So the two teams have more in common than Chicago fans would probably like to believe. In short, the Blues aren't going to take a nose dive in the postseason because they lost six straight games to close out the season, just like the 'Hawks aren't going to crash and burn because of their home stretch.
To attempt to predict this series based on the final two weeks of the campaign is simply asinine and short-sighted, yet that is exactly what folks seems to be doing. It's not rational, nor does is jive with the common line of  thought that the regular season doesn't mean squat in the postseason. There are implications and storylines heading into Game One, but all that goes out the window when the puck drops for the opening period.
This is the time of year where bandwagoners come out of the wood works (for all teams) and they try to make lump assumptions based on what they've read on their Twitter feeds or Facebook recently. There's way more to the Blues team than meets the eye however, and if Chicago sleeps on St. Louis then we'll have a new Stanley Cup champion this year.
Healthier Than You Think
Chicago head coach Joel Quenneville has gone out of his way to announce that Kane and Toews will be ready to start the opening round.
#Blackhawks coach Joel Quenneville said Jonathan Toews and Patrick Kane will "absolutely" be ready for the start of the playoffs.

— Chris Kuc (@ChrisKuc) April 12, 2014
That's one way to approach the situation. St. Louis isn't in the dark about who it'll be facing on Thursday. Kane will be there, and so will Toews. It's not too tough to piece together the Blackhawks lines with that piece of information. St. Louis Coach Ken Hitchcock has been much more coy when discussing his lineup heading into a pivotal Game One.
The Blues have closed their practices to the public, and Hitchcock continues to keep his cards close to the chest. Of the eight players that missed St. Louis' season finale, we've been forced to guess about the probability of all but one or two players. Vladimir Tarasenko might not be ready to go, but no one really knows for sure.
Hitchcock has said this…
Hitchcock on injured players: "We're going to have everybody back at some point in the first round." #WeAllBleedBlue

— St. Louis Blues (@StLouisBlues) April 15, 2014
And that's pretty much it. T.J. Oshie has indicated that he felt good after an optional skate on April 15, but added that he'd need the clearance of doctors before suiting up. Brenden Morrow also surprised some by suiting up and practicing. The uncertainty surrounding St. Louis' roster may seem like a disadvantage to them, but Hitchcock knows exactly who he's going to be able to play and who he isn't.
At this juncture, he can't receive any more bad news. Barring a catastrophic injury during practice, he knows the status of his guys and the likelihood of them playing. Chicago though? The 'Hawks don't have any clue as to who they should prepare for. Will David Backes and Oshie be able to form the top line during Game One? Or will Hitchcock be forced to shuffle up the deck?
These are important unknowns to consider, and if there's an advantage in mystery, St. Louis has it.
Better Than You Think
The Blues were shutout twice in their final two games of the regular season. For some reason, this has given some pundits a serious case of amnesia. The NHL is a "what have you done for me lately" league, but forgetting that St. Louis is one of the most explosive offensive teams in the playoffs because of two games is silly.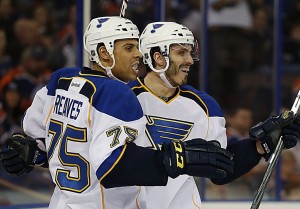 Chicago is every bit as explosive, but for some reason the Blues don't seem to be getting the credit. The 'Hawks were the league's fourth-best when it came to five-on-five goals for/against during the regular season. They clipped in at 1.27. The Blues were fifth, sitting at 1.22. You can choose to take the end of the season struggles of St. Louis to heart if you want, but it's tough to ignore how close these two teams are in terms of goal scoring during even-strength play.
The Blackhawks have seven players with 40 or more points. So do the Blues. If you view Chicago as an outstanding offensive team, you can't possibly keep a straight face while denouncing St. Louis—even with the late-season struggles in mind. Never mind that the slump hasn't been dissected particularly well. There's more to hockey games than the final score, and St. Louis just hasn't had the same puck luck recently.
They're still among the league's best in terms of driving play, and they're still a squad that takes a ton of shots.
Those St. Louis Blues, by the way. Same team. The bounces have dried up though. pic.twitter.com/GNsAPTfUN9

— Travis Yost (@TravisHeHateMe) April 12, 2014
Averages tend to level out (obviously), and it shouldn't surprise anyone when the Blues begin trending in the opposite direction once the postseason starts. They'll have a majority of their guys back and healthy, after all.
Blues Better On Special Teams
If all things are equal during five-on-five play (and things seem pretty equal), then the special teams battle will be paramount.
Stanley Cup champions typically posses solid special teams. The Blues aren't just adequate on the power play or while playing down a man though. They tend to crush their opposition. Special teams coaches generally want to see their PK and PP percentages add up to 100% or better. St. Louis' units add up to a monstrous 105.5%.
Or, better than Chicago on both the power play and penalty kill. In fact, the 'Hawks have struggled to improve their PK all season long. While the Blues are sitting pretty with a 85.7% kill rate (second in the NHL), Chicago is toiling in 19th with a 81.4% kill rate. Things are a bit closer with the extra man.
St. Louis clicks 19.8% of the time, while the Blackhawks convert on 19.5% of their chances. Regular season success doesn't always lead to postseason results, but it's clear here that the Blues have more proficient systems in place than their first-round opponent. Could Chicago see their penalty kill rapidly improve suddenly and randomly?
Perhaps, but counting on that seems foolish. These teams are closer than some folks seem to believe, and if Chicago takes up this line of thinking then they're sleeping on a Blues' time bomb.
All statistics appear courtesy of NHL.com unless otherwise noted, and are accurate through the end of the 2013-14 NHL season.