Unrestricted free agency in the salary cap era has become a very different animal than the free agency we knew in the pre-cap era. Very rarely these days do teams allow their best players to reach free agency. I would argue that no real superstars have reached unrestricted free agency since 2012 when Zach Parise and Ryan Suter signed in Minnesota.
As a result, it has mostly evolved into teams with money to spend signing good players to contracts usually reserved for great players, and hoping that they don't end up with egg on their face. There were ten "large" ($10m or above in total value) contracts signed by UFAs or UFAs-to-be last summer. Let's take a look at how each of them has fared since signing: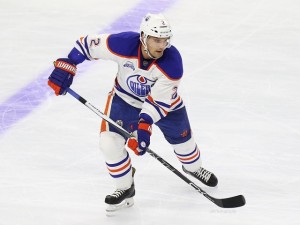 Andrej Sekera: 6 years, $33 million ($5.5 million/year) with Edmonton
After a rocky start to the season, Sekera has settled into being a reliable top 4 defenseman for the Oilers. He's been solid but unspectacular, averaging just over 21 minutes per game and scoring 30 points, the second best total of his career. The Oilers' defensive struggles can't be blamed on Sekera. He's their #1 defenseman by default, but that's because they really don't have anyone better.
Coach Todd McLellan has smartly distributed ice time very evenly among his defensive corps instead of trying to ride Sekera as a 24-25 minute defenseman, which he simply is not. At $5.5m/year, Sekera is paid as a top 25 defenseman, which he is not. However, among other defensemen making $5.5m right now, he stacks up well against most. They include Brooks Orpik, James Wisniewski, Dan Girardi, Nick Leddy, Matt Carle, Tyler Myers, Jeff Petry, and Oliver Ekman-Larsson.
Grade: B
Devan Dubnyk: 6 years, $26 million ($4.33 million/year) with Minnesota
After carrying the Wild to the playoffs last year with an unbelievable second half of the season, the Wild didn't have much of a choice but to re-sign Dubnyk. Niklas Backstrom was done, and Darcy Kuemper is not a #1 goalie. Realistically, nobody expected Dubnyk to continue his 2014-15 pace, but at that contract, Minnesota is relying on him to be their #1 for a few years.
SECOND STAR: Devan Dubnyk (@mnwild) went 10-2-1 with a 2.06 GAA, .927 SV%, 1 shutout in 14 March appearances. pic.twitter.com/pezlY3NOlv

— NHL Public Relations (@PR_NHL) April 1, 2016
Dubnyk's AAV puts him at a low-end #1, but he's had a strong year this year. His .933 even strength save percentage puts him 10th among goalies with at least 15 games played. His 2.34 GAA and .918 overall save percentage put him at 12th and 17th in the league, respectively. Dubnyk is a big reason why the Wild have let up the 10th fewest goals in the league.
Grade: A-
Carl Soderberg: 5 years, $23.75 million ($4.75 million/year) with Colorado
In his first season in Colorado, Soderberg has set a new career high in points with 50 (12 goals, 38 assists) in 79 games. Those 50 points nearly equaled the production of Nathan MacKinnon (52 points) and Gabriel Landeskog (51 points), albeit playing a few more games than the other two. He's picked up right where he left off in Boston, providing solid playmaking from the center position playing mostly with Blake Comeau and Landeskog.
Despite receiving especially difficult usage (35.8% offensive zone start percentage), Soderberg has continued to produce offensively. Among players with at least 40 games played and an offensive zone start percentage of less than 40%, none have more points than Soderberg's 50 (Ryan Kesler also has 50). Looking at the other forwards with comparable cap hits, (Tuomo Ruutu, Scott Hartnell, Gustav Nyquist, Bryan Little), Soderberg's production stands up very well. Add in his two-way acumen, and the Avalanche have themselves a very good signing.
Grade: A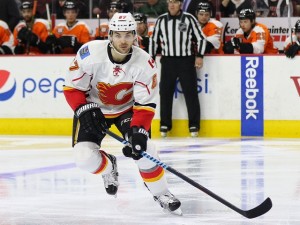 Michael Frolik: 5 years, $21.5 million ($4.3 million/year) with Calgary
In his first season in Calgary, Frolik has seen his point total dip to 32 points after scoring 42 in each of his two previous seasons in Winnipeg. However, most of the dip can be attributed to a decrease in games played as he is scoring at the same .5 PPG pace he had in Winnipeg. He's been one of Calgary's highest used forwards on the penalty kill, but their penalty kill has been dreadful this season, the worst in the league.
Compared to other forwards in the same range of cap hits (Andrew Ladd, Drew Stafford, Loui Eriksson, Craig Smith, Patric Hornqvist), Frolik's production has been sub-par this season. Frolik is the first example we've seen of the typical overpayment that occurs with good players in free agency. He is a good player, no doubt, but he gets paid more than he should because of the lack of talent available.
Grade: C
Paul Martin: 4 years, $19.4 million ($4.85 million/year) with San Jose
In Martin's first season in San Jose, he has seen his TOI drop below 22 minutes per game (20:45) for the first time since 2003-04. However, it's not for a lack of effectiveness in Martin's game. He continues to provide a steady, consistent stay-at-home brand of defense playing alongside the offensively adventurous Brent Burns. The decrease in his TOI can mostly be attributed to not being used on the power play in San Jose, averaging just 22 seconds per game on the power play compared to regular usage in previous years on the PP in Pittsburgh.
Martin never lit the world on fire with point production in previous years (his career high was 37), but has chipped in 19 points this year. He was brought in to eat minutes and keep things simple on defense, and has done just that.
Grade: B+
Matt Beleskey: 5 years, $19 million ($3.8 million/year) with Boston
When Beleskey hit the free agent market last summer, many were expecting another David Clarkson-type albatross contract to be doled out. Belseskey was coming off a career year, scoring 22 goals (double the amount he had scored in any previous season), and did it on the back of shooting an unsustainable 15.2%. While the term given to Beleskey wasn't great, at $3.8m the amount per year is palatable as long as he keeps up his production.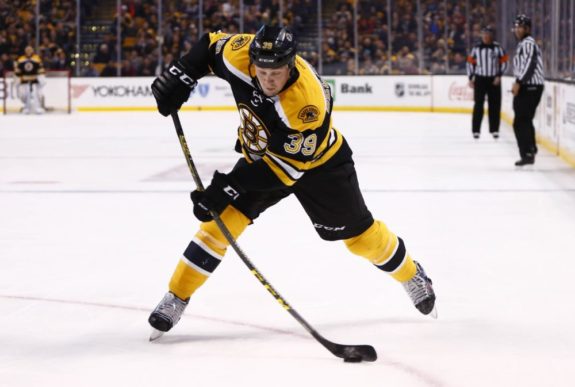 He's set a career high in points this year with 37 (while returning to his career average shooting percentage), and continues to be a high-energy, physical player out on the ice. It's not a great contract, but it's far from crippling. As long as Beleskey stays healthy, plays physical, and chips in 35 points a season, the Bruins will be happy with their investment.
Grade: B-
Mike Green: 3 years, $18 million ($6 million/year) with Detroit
The highest paid player in free agency in terms of annual cap hit, the Red Wings brought in Green for his offensive acumen and ability to quarterback the power play. He hasn't been terrible this season, recording 34 points in 71 games, but you'd be hard pressed to justify spending $6 million a year on him right now.
That cap hit puts him tied for 10th highest among defensemen, yet his 34 points is good for just 35th best among defensemen. At even strength, he's been Detroit's #4 defenseman and receives the most favorable offensive zone start percentage (70.3%) among all skaters in the entire league. With that kind of usage and cap hit, you would expect Green to produce more than he has.
Grade: C-
Antti Niemi: 3 years, $13.5 million ($4.5 million/year) with Dallas
Niemi was brought into Dallas to compete with Kari Lehtonen for the starting job. Combined, the Stars now spend $10.4 million on the position, but are still in the bottom half of the league in goals against, mostly thanks to poor play from both goalies. Niemie's cap hit puts him at 20th among goalies, indicative of a below average starter. His even strength save percentage, however, ranks 32nd in the league among goalies with at least 15 games, more like a backup.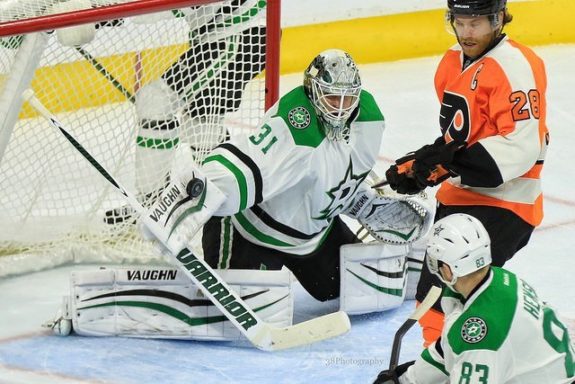 The Stars are still winning games, but it's more despite their goaltending than because of it. Niemi's stat line shows this perfectly: a 24-13-7 record with a 2.68 GAA and .905 save percentage. Playing behind Dallas and their run-and-gun style doesn't help Niemi's numbers, but he simply hasn't been playing like an NHL starter this year.
Grade: C
Francois Beauchemin, 3 years, $13.5 million ($4.5 million/year) with Colorado
How many defensemen in the NHL do you think have averaged over 24 minutes per game, while playing over 700 games, since 2005-06? The answer is seven. You could probably guess six of the names: Zdeno Chara, Duncan Keith, Ryan Suter, Dion Phaneuf, Shea Weber, and Jay Bouwmeester. Would you have guessed the 7th was Francois Beauchemin? Well, it is. One of the more underappreciated defensemen in the league over the past decade is having one of his best seasons yet at 35 years old in Colorado.
Blog: Francois Beauchemin still a key cog on defense but it's with the #Avalanche now, not the #NHLDucks. https://t.co/i52CQ2Pg19

— Eric Stephens (@icemancometh) March 10, 2016
Playing alongside Erik Johnson on the top pairing, Beauchemin is playing a lot of tough minutes (25:06 per game), and has racked up 33 points, the second best total in his career, and best total since 2005-06. It's questionable whether Beauchemin will be able to keep up this strong play at 36 and 37 years old for the remaining years of the contract, but he's showed no signs of slowing down thus far.
Grade: A-
Adam McQuaid: 4 years, $11 million ($2.25 million/year) with Bruins
McQuaid is in Boston for two reasons: physicality and fighting. He doesn't do a whole lot other than that, but that's not anything new. He's been the Bruins' worst possession defenseman on a relative basis this year with a CorsiRel of -10.7. He was second worst last year. It's hard to not be cynical of McQuaid's contract status on the Bruins without considering the Dougie Hamilton debacle that occurred during the summer.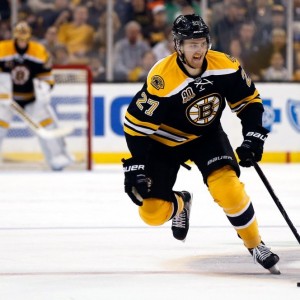 The Bruins gave McQuaid this contract just hours after trading Hamilton to the Flames for what was universally regarded as a questionable return. Earlier that day, the Bruins offered Hamilton 6 years, $33 million, but were unable to strike a deal, and dealt Hamilton because they thought an offer sheet was incoming. Four days after being traded, before any team could have talked to Hamilton about a potential offer sheet, the Flames signed him for 6 years, $34.5 million.
If $1.5 million was really all it would have taken for Boston, how do the Bruins not take that from McQuaid and give it to Hamilton? Imagine the shape their defense, which is aging and badly hurting for defensemen that can move the puck, would be in now instead.
Grade: C based solely on McQuaid's play, F considering McQuaid's play and opportunity cost of Dougie Hamilton
How would you grade the ten biggest signings from last summer?
Bill Schoeninger is a Philadelphia Flyers writer and current Boston University student studying business. Coming to THW from Hometown Hockey, Bill follows and writes about the Flyers, Boston University Terriers, and NHL Draft prospects. Follow him on twitter @BSchoeninger17