Okay there are several reasons why the Chicago Blackhawks are a borderline dynasty right now. You could name players, coaches, shrewd drafting and the right decisions in terms of trades. But there is one overriding reason why the Hawks look to be on a crash course for their second straight Stanley Cup Championship and fourth in the past six years. And his name is Scotty Bowman.
There is an ongoing debate, not just in hockey but in all professional sports, over just how important a coach or manager is to a team. How much of an influence on the outcome can the guys in suits really have? They can choose the players, they can hash out the strategies and create the systems, but ultimately it's up to the athletes themselves to execute. Not everyone sees eye to eye on the issue, but one thing cannot be disputed. Certain people carry success with them, and everything they touch turns to gold. Is some of it luck? Maybe. But after a while, you can't chalk it up to a fluke. There comes a time when you must recognize greatness, and Mr. Bowman is greatness.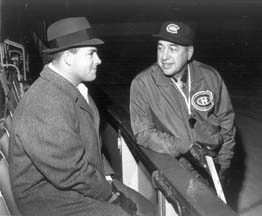 A team like the Edmonton Oilers have proven something very important: you can draft high all you want, but it takes so much more than calling a players name first overall. It's about who you surround him with, the culture you create within the organization, and the decisions you make in terms of signings and trades. Drafting well is only the first part of the battle. Sometimes a great player just falls into your lap. The Blackhawks are actually a good example of that.
In 2007, the Philadelphia Flyers were the worst team in hockey. They seemed like a lock for the first overall pick. But thanks to the luck of the lottery balls, the Blackhawks were awarded the first overall pick. (The Flyers chose James Van Riemsdyk at number two. He's no longer with the organization). You can also say that the Hawks were lucky the St. Louis Blues and Pittsburgh Penguins passed on Jonathan Toews in the 2006 draft. Did having Kane and Toews automatically guarantee success? No. They were crucial building blocks, yes, but a lot of teams have key players and still don't find success. Why have the Penguins only managed one Championship with Sidney Crosby and Evgeni Malkin on their roster? Unfortunate injuries played a big part there, but so did mismanagement and poor asset handling.
Scotty Bowman's track record speaks for itself. He won five Stanley Cup Championships as the head coach of the Montreal Canadiens, and three with the Detroit Red Wings. His only unsuccessful stint as a bench boss came with the Buffalo Sabres in 1985-1987. That first season was the only time in his head coaching career that his team missed the playoffs. He was replaced the following year, but promptly bounced back as a coach, winning the Cup with the Pittsburgh Penguins in 1992 (his first season behind the bench). Just try to wrap your head around that. As a head coach in the NHL for 30 seasons, he missed the postseason one time.
Bowman also has five Stanley Cup rings as a member of a teams front office. He was the director of player development in Pittsburgh when they won their first Cup in 1991, he was a consultant of the 2008 Red Wings, and of course currently works for the Blackhawks as the Senior Adviser of Hockey Operations and was in that role for all three of their most recent championships. That's a lot of hardware for one guy. (It's almost crazy that he only won the Jack Adams award twice). Winning just follows this guy around. Bowman was offered a job as the President of the Toronto Maple Leafs in 2007 but he declined. (Imagine if he would have said yes. Sorry Leaf fans).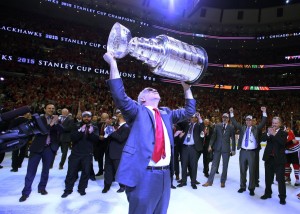 After winning with Detroit in 2008, Bowman took his talents to Chicago. When he got there, the Blackhawks were irrelevant in hockey. Since 1997, the made the playoffs just one time, and it was a quick first round exit. What happened in Bowman's first year with the organization? They made it to the Conference Finals. (I'm not saying it was all because of Bowman, but it's a fascinating coincidence). That season didn't start off too well for the Blackhawks. They fired their head coach Dennis Savard after just four games and promoted Joel Quenneville, who had recently joined the organization as a scout.
Quenneville is a huge part of the Blackhawks success. He is continually one of the best coaches in the league. That decision to remove Savard and insert Quenneville was a turning point for the team. You can be sure that Bowman's influence was all over that move. It was a difficult time for the players, because they loved Savard, but I'm sure now they'd admit it was the best thing to happen for them. The Blackhawks have had two General Managers throughout this run of greatness. Dale Tallon, who left in 2010, and now Stan Bowman, Scotty's son.
The senior Bowman has never been the kind of guy to sit back and let others run the show. His fingerprints are all over the Blackhawks organization, and all over the decision making process. Sure, not every personnel decision the team made has been perfect, but you can't argue with results. Picking up Andrew Ladd for a modest return is the latest of moves that have fueled the Blackhawks success. Can they win it all again this year? It's going to be mighty tough to stop them.
The Blackhawks have done a lot of things right. They have key people in key positions. They have drafted well. They've made a lot of good decisions when it comes to the players on the ice. How much influence does Scotty Bowman have on this team? Well it's difficult to label everything a coincidence. And really, how could you not shut-up and listen when Bowman has something to say. He's a magician when it comes to hockey. He is the winning-est coach in NHL history for a reason. He has the most Stanley Cups for a reason. There is a reason the Blackhawks are just so much better than everyone else. You can bet Mr. Bowman has a lot to do with it.