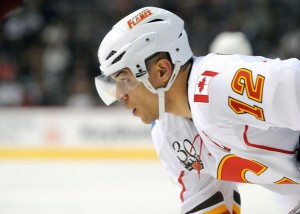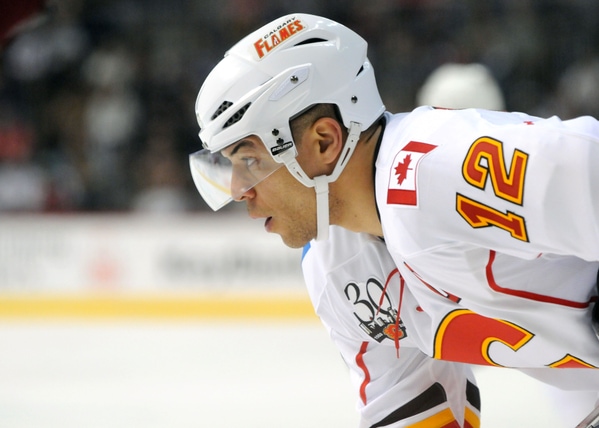 Jarome Iginla is a very good hockey player in the midst of a very good career. The past two seasons have seen him hit some pretty big milestones. During the 2010-11 season he hit the 1000 point mark, becoming just the 77th player in NHL history to do so. This past season he scored his 500th career goal, one of only 35 men in league history to reach that lofty plateau.
These numbers have placed Iginla firmly in the Hall of Fame hunt, even though the Flames captain has reportedly set his sights on playing for another five years (which will help him pad his numbers). Following the performance of his hockey club this season, however, it's unlikely that Iginla is doing cartwheels. Despite his stellar statistical performances throughout his career, he's been beyond the first round of the Stanley Cup Playoffs just once (2004), and hasn't made the playoffs in three straight seasons.
While Iginla is a definite candidate for a Hall of Fame spot when he retires, a successful post-season and a Stanley Cup ring would remove all doubt from the Hall of Fame selection committee's minds.
Over the past few years there have been concerns raised regarding Iginla's overall play. While he has consistently produced 30-goal seasons, the captain's two-way play has dramatically declined – evidenced by his recent CORSI numbers. Whether or not that's due to coaching decisions or Iginla's own decisions on the ice, the fact is that he is still able to pick his spots and score goals; He's just shown an inability to take over a game like he used to.
That said, Iginla's got roughly five seasons left in him to write the final chapter of his career and cement his legacy. As such, he's at the proverbial fork in the road.
On one hand, Jarome Iginla can still play top-line minutes with the right line-mates. He's got good hands, and while his foot-speed may have slightly degraded, he's still in great shape compared NHLers both young and old. However, he's shown an inability to throw his team on his back and carry them to victory like he did in 2004. That makes sense, given that the game has changed quite a bit in the past eight years, and Iginla seems to be playing roughly the same style of hockey he was before the lock-out.To be blunt, a team with Jarome Iginla as its centerpiece and/or best player probably won't go much further than the Flames have over the past few years. He can be isolated and countered by most defenses. Regardless, five years of Jarome Iginla playing top-line minutes for a hockey club will produce perfectly fine offensive numbers (as Iginla's instincts are still sharp, and he can still pick his spots well), although for the aforementioned reasons, they're unlikely to produce much in the way of post-season success. Most teams don't win very much when their best player is 35 years old, or older.
On the other hand, a team with Jarome Iginla at its disposal, as a complementary asset, would be quite lucky. For an example of an aging top-level player performing as a complementary player, take a look at this year's incarnation of Jaromir Jagr, or the later seasons of the careers of Steve Yzerman and Joe Sakic. Jagr is the Flyers' fourth highest-paid forward, and tenth in overall team pay at $3.3 million. He's not the player he was five years ago, but he's definitely useful for his team. Yzerman took a pay cut in each of his last two years in the league, and allowed the Red Wings the time and space to bring along newer players. Moreover, all three of the aforementioned veterans showed a willingness and ability to adapt to the changing circumstances – both financial and on-ice.
If Jarome Iginla retires without a ring, I don't think many will begrudge him. Stanley Cups are very hard to win, and there are numerous Hall of Famers with worse career numbers than Iginla, and no Cup rings. But if Iginla retires with a ring, it's a sign that he was able to adapt. He showed a willingness to adapt when he broke into the league with Calgary, and he took coaches' comments to heart and became more physical and adaptive.
If Iginla wants to remove all doubt from his Hall of Fame resume by winning a Stanley Cup before his career is over, he'll have to continue to adapt. That process could begin with a potential trade, or with the negotiation of a new contract following next season. Either way, Iginla's future and legacy are in his hands.