Alexei Kovalev isn't necessarily done with the NHL. He should be with the Montreal Canadiens though.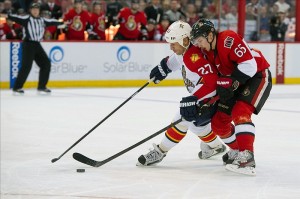 That's in spite of how he fits like a glove with the Habs—on paper. Montreal, where he played from 2004-2009, was the last city in which he enjoyed statistical success. He also plays right-wing, the position at which the Canadiens are arguably the weakest, with grinder Dale Weise having suited up on that side on the first line on countless occasions this past year.
He's also 42 years old. And, despite his reputation for taking nights off, has the knees to match a (much older) baseball catcher.
Kovalev last played in the NHL at the start of the lockout-shortened 2013 season. Even then, he didn't last, playing just 14 games and scoring five points—for the Florida Panthers. That was a 15-27-6 team led in scoring by Tomas Fleischmann, a guy the Panthers just traded for the washed-up Dany Heatley (who was last seen in the American Hockey League).
So, if two-time 50-goal-scorer Heatley is washed up at 34 years of age and Fleischmann—a regular healthy scratch in the playoffs by the Anaheim Ducks—is washed up at 31 (or never all that good to begin with), what does that make Kovalev?
Considering he's been officially retired for one full year? A beached whale, maybe?
A Big Fish
Maybe that's not totally fair. He's more a whale in terms of his reputation, not size, especially since he apparently trains three times per week. Bottom line is he's still a big fish (or mammal, if you want to get technical), and, if he's serious about this potential comeback attempt, he might seriously attract enough attention to at least warrant a professional tryout agreement from one team.
That team obviously shouldn't be the Canadiens.
You could make the argument that the 2013 Florida Panthers were a young team and Kovalev just didn't fit into their plans. It would be a hard argument to make as they had just come off a Southeast Division Championship the previous season and should have been going for it again.
A Team in Transition?
Granted, in that championship season, they earned 18 loser points and just weren't as good as their 12-games-over-.500 record might have suggested. But, for the sake of this argument, let's say the Kovalev signing was a cultural mismatch. It should be in Montreal as well, with Habs general manager Marc Bergevin repeatedly stating his team is in transition.
As Andrew Berkshire over at Habs Eyes on the Prize argues, because the youth movement was slightly delayed this season, what with Alex Galchenyuk being kept at the wing and Jarred Tinordi in the minors among other moves, "the Canadiens have set themselves up for another 'transition year.'"
As such, former teammate or not, how can a self-respecting Bergevin go out and offer Kovalev a PTO when he's made it clear in the past that there are bigger priorities than winning right now, that the team's younger players, like Galchenyuk, need more work. If it didn't work out in Florida two years ago, it sure  won't work out in Montreal now.
In sharp contrast, you could argue that, if the Canadiens are prepared to go for it right now—and two straight second-round appearances make a good case to that effect—Kovalev could be the piece to push the team over the top on the right side. Now, maybe he wouldn't realistically slot into the top-six at his age, but you might argue that he'll land in the bottom-two for leadership purposes.
If so, who would get pushed out to give him a roster spot, when this team's right side already comprises Weise and Devante Smith-Pelly—two competent grinders already, not to mention Brendan Gallagher and Pierre-Alexandre Parenteau?
Is anyone really suggesting that they somehow ditch Parenteau because of a supposed bad work ethic in favor of Kovalev? That would make about as much sense as switching out a pot while cooking because it's black for… well, another pot. Maybe even a blacker one if that's possible.
It's unlikely Kovalev makes a return to the NHL at this juncture. When he says he keeps himself in shape on the off chance he'll get an invitation for next season, he's potentially just paying lip service to Le Journal de Montréal reporter Raphaël Gendron-Martin.
I mean he probably keeps in shape, but not with an eye on a return to the NHL. He understands the game has changed. He said as much in the interview, anyway. He's changed too. Unfortunately just not in any way that would make an attractive option for Montreal. Maybe some other team though.