For the 1st time in 3 seasons, the NHL schedule has reached the All-Star Break.  Because of the shortened season and the Olympics, Columbus finally gets their chance to host the All-Star Weekend.  That comes with some major storylines.  One of which is the return of the former face of the Columbus Blue Jackets, Rick Nash.
In a recent interview with NHL.com's Dan Rosen, Nash shared his thoughts about playing in the All-Star Game in Columbus, and what the city of Columbus means to him.
"It's exciting for me.  I think it's a huge thing for Columbus to host that.  Its' a huge thing for that organization, and something they deserve.  It's exciting for me to be a part of it.", Nash said in regards to coming back to Nationwide Arena for the weekend.  About Columbus, he added, "Oh, it means a lot to me.  I hold that city pretty close to my heart.  Being a Blue Jacket was pretty special.  I started my career there and owe a lot to that organization, the fans, ownership, so it's exciting to get a chance to go back for such a milestone event like the All-Star Game."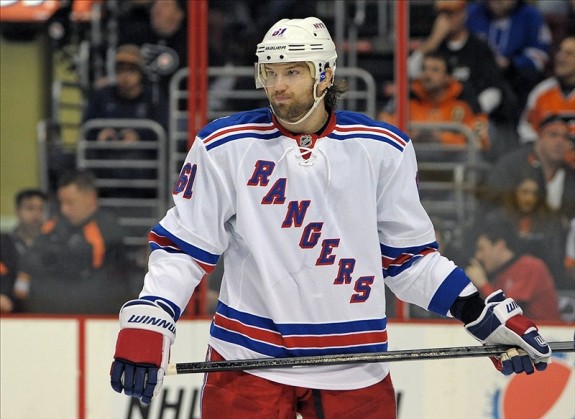 When asked about the how the fans would react to him at the All-Star Weekend, Nash said, "If I had to guess, I would guess boos, same as when I go back there with the Rangers.  That would be my guess."
He is certainly right about that.  Rick Nash isn't liked very much in Blue Jacket land right now.  Fans remember the way he left the organization.  Anytime the Rangers and Blue Jackets play, fans don't miss their chance to boo him loudly.
Now that it is the All-Star Game however, this is the perfect chance for the city of Columbus to show how appreciative they are for the time that he did spend with the Blue Jackets.  He comes back to Nationwide Arena not as the enemy.  Columbus fans should cheer him this weekend.
Remembering Rick Nash's Columbus Career
One look back at his time in Columbus shows how truly important he was to the growth of the franchise.  The Blue Jackets drafted Nash as an 18-year old, and got into the lineup right away.  He scored 39 points in 74 games as a rookie.  As a result, he finished 3rd in the Calder voting for Rookie of the Year.  He followed that up the next season with 41 goals, which is still his career high to this day.
All told, Rick Nash played in 674 games for the Blue Jackets.  He is their franchise leader in games played, goals (289), assists (258), points (547), power play goals (83), shorthanded goals (14), game winning goals (44), shots on goal (2278), and hat tricks (5).  He was everything.  Even though the team suffered through many losing seasons, Nash still performed throughout. He represented the city of Columbus very well.
The Trade
Then came the 2011-2012 season.  The Jackets started out 2-12-1.  Thus, the talk started circulating that the team wanted to trade Nash.  He was even asked about the rumors.  He indicated that he would waive his no trade clause if the franchise felt that they would improve by dealing him.  However, no deal was done during that season.  Finally that summer, the Blue Jackets did deal Nash to the New York Rangers.  In return, Columbus got Artem Anisimov, Brandon Dubinsky, Tim Erixon, and a 2013 1st Round Pick (Kerby Rychel).
Fans seem to remember the events that led to this trade more than the highlights of Nash's career in Columbus.  That's quite a shame too.  He had a marvelous career.  Probably one of the greatest moments in Blue Jackets history happened because of Nash.  He scored the goal in 2009 that clinched the Blue Jackets 1st ever trip to the playoffs.  Fans won't forget were they were that night in April.  It's because of those moments that Rick Nash deserves a standing ovation this weekend.
Other Bad Breakups That Were Mended
Rick Nash is certainly not the only NHL player to leave a franchise on "bad terms".  Remember how Patrick Roy left Montreal?  Or how Dominik Hasek left Buffalo?  Those weren't on good terms either.  But now look at how they are viewed in their respective cities.  Forgiveness came to them over the course of time.  The same thing should happen to Nash as well.  This weekend is the perfect opportunity to celebrate his Blue Jackets career.
It is also on a national stage.  When it comes to hockey, Columbus doesn't get the spotlight that often.  Cheering Rick Nash would not only look good for the fans, it would look good for the Blue Jackets and for the city of Columbus.  It would make for an incredible moment as well if the whole building stood up and cheered for him.  Nash is as classy as they come.  Columbus now has the chance to show the NHL how classy they are too.
When Nash is the opposition, boo him like you would any opponent.  But this weekend is a celebration of the game's best.  In line with that, here's hoping that Columbus puts their differences with Nash on the back burner for one weekend, and shows him how appreciative they are for his career.  He holds Columbus close to him.  The fans should do the same for him.