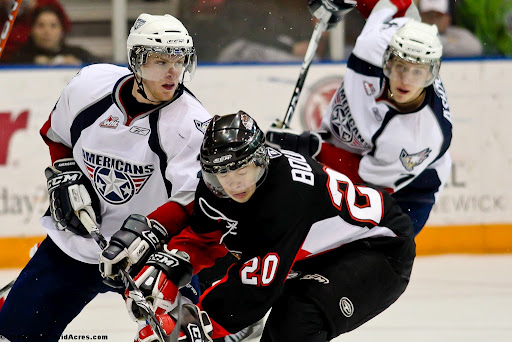 Brendan Shinnimin is a true dark horse prospect for the Arizona Coyotes. Not many people expect that he will ever play in the NHL, but in a make-or-break contract season, Shinnimin might be able to prove himself worthy of an extended opportunity with the club.
On March 12, 2012, the Phoenix Coyotes signed the Tri-City Americans' centerman Brendan Shinnimin to a three-year, entry-level deal. Although this story was initially buried under the ocean of speculative tales of the franchise's relocation, many Coyotes fans were quick to jump on the hype train.
There was certainly plenty to be excited about. Shinnimin's potential career projections seemed to be off the chart. In 2012, he led the WHL in point totals with 115 points (52 goals and 63 assists in 59 games). Many criticized him for being too old for the WHL and too undersized for professional level hockey. Still, his point total seemed to speak for itself.
Fast forward to now – the beginning of the third and final season of his contract. Many would say his critics were proven right; that he will not be able to translate his style of play successfully at the professional level. He is undersized and can not wield the same level of physical competitiveness that he did against younger adolescents in junior hockey. While these critics might certainly be right, Shinnimin's true form is that of a late bloomer.
You will notice from Shinnimin's career statistics that he did indeed increase his point-per-game ratio from 0.45 in 2012-13 to 0.54 in 2013-14. It's not an incredibly dramatic increase, but it does show that he has improved his game by some measure.
While Shinnimin might never reach the astronomical heights that many once hoped he would, he is still a talented hockey player with a decent shot at making the NHL. Not many people expect that he will crack the Coyotes' roster this season, but a breakout scoring performance could earn him a new contract and an extended lifespan within the organization.
His performance this year will dictate whether or not the Coyotes will continue to have interest. The potential is there for him to have a breakout season, but it is also very possible that he continues to underwhelm with nightly performances of bland mediocrity. Either way, this will most likely be the most important season of Brendan Shinnimin's professional career.