Things are pretty tough these days for Columbus Blue Jackets defenseman Jack Johnson.
Last week the collective hockey world was both stunned and saddened by the news that Johnson, a 27 year-old that has already earned more than $18 million during his NHL career, is filing for bankruptcy. The reason? Johnson was taken advantage of financially by his own parents, the two people that he entrusted to handle his earnings.
The situation is so bad that it's being reported that Johnson has, apparently, cut off all contact with his parents. The entire story is nothing short of heartbreaking. Johnson will still make millions more over the remainder of his hockey career, and has a new team of financial advisers beside him to help ensure that the money gets used wisely, but the damage has already been done. Johnson is, understandably, choosing to remain silent in the media about the whole ordeal, so we can only guess at how he's handling everything.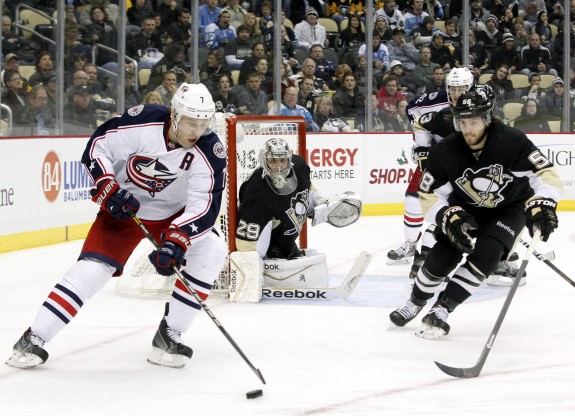 While there's next to nothing that we, as fans, can do to help out his financial and legal problems, maybe there's something else that we can do to help him out in another way.
This year's NHL All-Star Game is on January 24th, and the league has already opened up voting to the fans. The top six vote-getters by position – three forwards, two defensemen, and one goalie – will automatically get to participate in the event.
As a way to do something nice for a person in need, I'm putting out a call to arms to start a movement to vote Johnson into this year's All-Star Game.
#VoteForJack
Let's stop and be real here for a moment: the All-Star Game is nothing but a bedazzled popularity contest. The game itself really serves no other purpose than to showcase the league's top superstars and to give fans another chance to see their favorite players take center stage in the spotlight.
Johnson might not be one of the NHL's best defensemen, but that doesn't matter because, since the ASG is just a popularity contest anyways, Johnson is guaranteed to be the most popular player at the event because of where it's being hosted: none other than Columbus, Ohio, home of Johnson and the Blue Jackets.
After all he's gone through lately, can you imagine how good it would feel for Johnson to stand in front of thousands of supportive home fans at the All-Star Game? It could go down as the one of the best feel-good NHL moments in recent history.
What Can We Do To Make It Happen?
I'm now proposing that hockey fans of all teams come together to vote Johnson into this year's event. You can vote for Johnson (and other players) every day at this link, and you can help spread the word by using the #VoteForJack hashtag on Twitter.
The hockey world is no stranger to activist movements. The ALS Ice Bucket Challenge, which became a phenomenon among hockey players and media personalities this summer, helped to contribute to the $115 million raised by the movement this summer. With the All-Star Game in particular, most fans are sure to remember the infamous Vote For Rory campaign that started up prior to the 2007 event and became a surprise internet sensation, even though it ultimately failed. What's stopping us from doing the same for Johnson?
While getting Johnson to the All-Star Game won't be a solution to the other problems in his life, we can still do our part to help him out by letting him know that hockey fans all over the world support him and wish him the best.
Derek Neumeier primarily covers the Dallas Stars, but also other various topics related to the sport of hockey. A Journalism graduate of Mount Royal University, Derek also writes for Defending Big D, and has done previous work with the Edmonton Oilers as a communications intern and Hockey Canada as a freelance writer. You can follow him on Twitter at @Derek_N_NHL