When the Minnesota Wild drafted Kirill Kaprizov 135th overall in the 2015 NHL Entry Draft, no one could imagine the impact he'd have in his rookie season six years later. At the start of the season, it wouldn't be surprising that many casual NHL fans didn't know who he was.
For starters, when Kaprizov was drafted, it was the first time in 12 years that the Wild organization drafted a Russian player. But there was something different about him and it's paying off now as he's one of the favorites to win the Calder Memorial Trophy for the top rookie this season. In 11 games, Kaprizov has tallied three goals and six assists for nine points. He's also leading all Wild forwards when it comes to average time on ice at 18:32.
Even though the Wild have started off the 2020-21 season with an underwhelming 6-5-0 record as of Feb. 16, Kaprizov's impact has been felt. In those 11 games, Minnesota is 5-1-0 when Kaprizov records a point and 1-4-0 when he doesn't. While this is a small sample size, he shows that he's not only an important part of the team's present but also their future if this is the type of player he really is.
However, Kaprizov's arrival in Minnesota required a lot of patience from Wild fans, but it's been worth the wait.
A 6-Year Journey to the NHL
At the 2015 NHL Draft, Minnesota traded their 2016 fifth-round pick for the Boston Bruins' 2015 fifth-rounder that they would use to select Kaprizov. Even though he was the first Russian player the organization drafted in some time, it didn't seem like a significant move because fifth-rounders don't often become impactful players. But don't let that fifth-round status fool you. After all, Kaprizov had been selected first overall in the KHL's draft prior to the 2015 NHL Draft.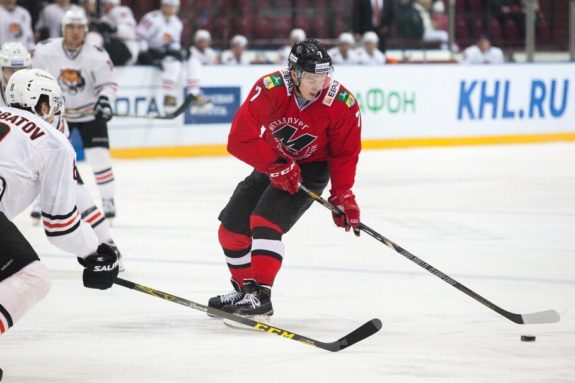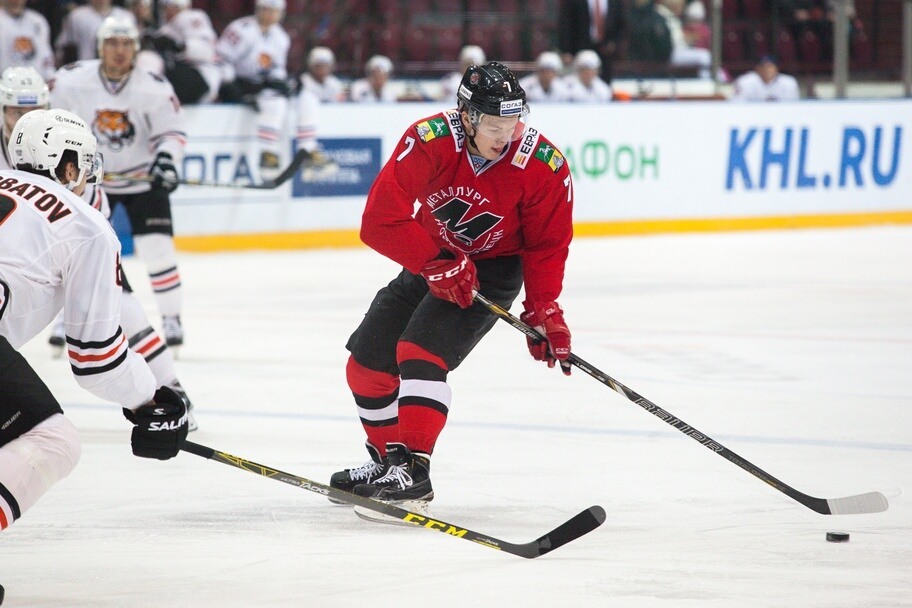 For the longest time, there tended to be a stereotype of Russian players staying in their home country rather than coming to play in the NHL. Since the Wild hadn't drafted a Russian in over a decade, it seemed like a potential high reward for a low-risk situation by using a late pick.
Kaprizov would go on to have an impressive KHL career, suiting up for 293 regular season games in which he scored 113 goals and 117 assists for 230 points. While that looks impressive on its own, it's important to take into account that he actually led the KHL goals in 2018-19 and 2019-20 with 30 and 33 goals respectively.
With CSKA Moscow, Kaprizov would end up winning the 2019 Gagarin Cup. The team would also win it again in the 2019-20 season, but only because COVID-19 shortened the KHL, so the Gagarin Cup was awarded based on regular season standings. However, Kaprizov's success wasn't limited to the KHL. On the international stage, he has one Olympic gold medal, a silver and bronze medal at the World Juniors, and a bronze medal at the IIHF World Championship.
When the Wild signed Kaprizov to a two-year entry-level deal in 2020, general manager Bill Guerin was even surprised by his development. "He has exceeded all expectations in his development since he was drafted in 2015," Guerin said regarding the signing, adding that he's "smart" and "dynamic."
Kaprizov's Calder Trophy Chase
When a rookie is making his NHL debut, it can take time to get up to speed and dealing with the fact that they are now in a men's league. What makes Kaprizov different is that he's spent the last several seasons in a men's league (KHL), so he has the advantage of being 23 years old in his rookie campaign.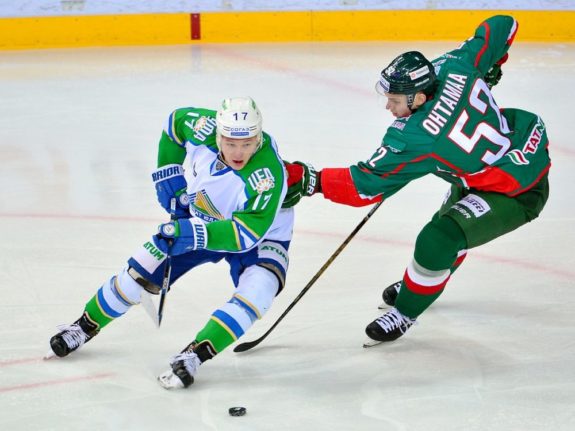 2020 first-overall pick Alexis Lafreniere was expected to be the Calder Trophy favorite when he was drafted to the New York Rangers. Unfortunately, he's started his career off on a down note after recording just one point in 13 games. On the other hand, Kaprizov came right out of the gate looking like he had played in the NHL for years. In his debut on Jan. 14, the Wild beat the Los Angeles Kings 4-3 in overtime behind a three-point night by Kaprizov, which included the overtime winner.
It was the first time in NHL history that a player scored three points and the overtime winner in their first game.
Kaprizov is currently tied with the Ottawa Senators' Josh Norris with nine points for second in rookie scoring behind Chicago's Pius Suter). The difference here is that Kaprizov has only played 11 games while Norris and Suter have played 17 each.
Now, Kaprizov has not been perfect so far this season. One of his main issues is that, despite being a former 30-goal scorer in the KHL, he has not shot that often in the NHL. He's averaging 1.5 shots per game in his rookie season, which isn't nearly close to what he should be at. In the KHL, he averaged 2.5 per game. It's especially not great when you take into account that he's averaging the most minutes of all Wild forwards.
However, the season is young and there's time to improve. Assuming that no other rookies have explosive seasons and Kaprizov can keep up his current pace, the Calder Trophy is his to lose.
What Comes Next for Kaprizov and the Wild?
Whether the Wild end up making the playoffs or not is another story. Minnesota lost a 3-1 series to the Vancouver Canucks in the qualifying round of the 2020 Stanley Cup Playoffs. This season, the team is three points back of the Colorado Avalanche for the final playoff spot in the West Division. There are still a lot of games left and both teams have postponed several due to COVID-19.
Regardless, the Wild are going to need Kaprizov to shoot more while also relying on the likes of Kevin Fiala (three goals, zero assists), Zach Parise (two goals, three assists), and Victor Rask (three goals, zero assists) to step it up for a playoff push. But after the playoffs, whether the Wild advance or not, what happens to Kaprizov?
Even though it's his rookie season, one year was already burned off of his two-year contract when he was signed during the 2019-20 NHL season. While he's still a restricted free agent until 2024, what does Minnesota do in the meantime? Will they sign him to a bridge deal and see what happens? Or will they opt to lock him down with a long-term contract?
Depending on how things go, Minnesota may use New York Rangers forward Artemi Panarin as an example.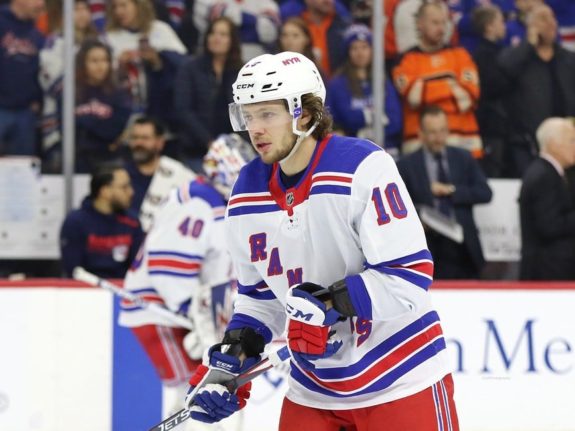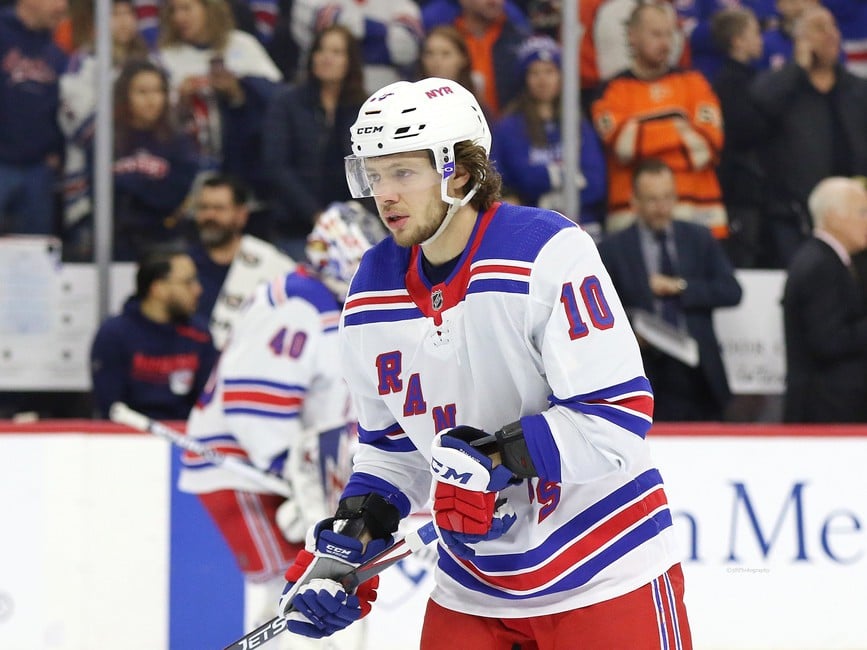 Like Kaprizov, Panarin was late coming from Russia to the NHL. When he played his rookie season in 2015-16 with the Chicago Blackhawks, he was 24 years old. He wound up scoring 77 points in 80 games, mostly playing with Patrick Kane. In December 2016, Panarin signed a two-year, $12 million extension with the Blackhawks, only to be traded to the Columbus Blue Jackets in 2017.
Obviously, that's not to say Panarin and Kaprizov are identical players or that the latter will follow the former's path. If anything, Panarin's career gives the Wild an understanding of what could happen if their Russian winger stays around a point-per-game and wins the Calder Trophy.
Unlike Chicago, Minnesota doesn't have the luxury of seeing how Kaprizov plays in another season before offering him an amount. If they opt to go for a bridge deal this season, the Wild better hope that things go differently than the Panarin situation did for the Blackhawks.
Kaprizov is the most exciting young player Minnesota has seen since Marian Gaborik. With the youth movement in effect for the Wild, this is one bridge they can't afford to burn.
---
---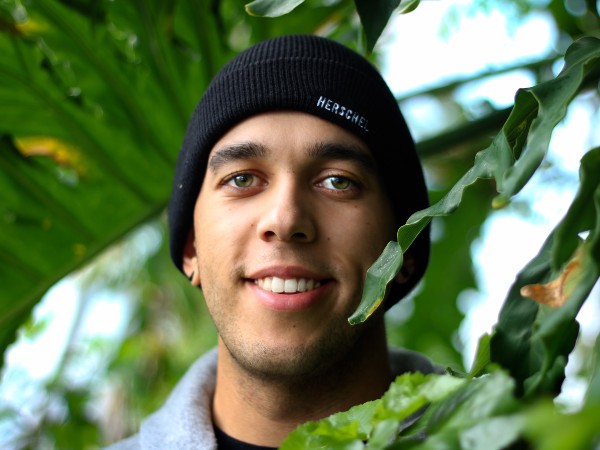 As a lifelong hockey fan and recent Master of Journalism graduate, it's always been my dream to write about the sport. That's why you can find me here on THW covering the Minnesota Wild! You may also see my work on FanDuel, the Ottawa Citizen, and various sports betting sites. Follow me on Twitter @devplat!