The Minnesota Wild plan to submit qualifying offers on restricted free agents Mikael Granlund, Erik Haula, and Christian Folin, as expected. There was some question as to which of the RFAs in Iowa — who finished last in the AHL for the second straight season — the team would qualify. According to the Star Tribune's Michael Russo, they plan on qualifying Brett Bulmer and Jared Knight, while allowing Colton Jobke and Curt Gogol become free agents.
The other RFA in question is defenseman Jonathon Blum, who Russo says Minnesota may shop for a trade. The team would, in return, expect a similar player who is on the cusp of NHL time, but may need a fresh start with a new organization.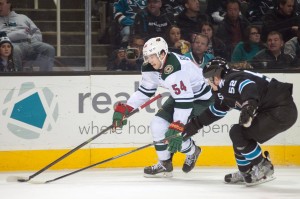 As Russo points out, if the Wild QO'd Blum, even if they intend to trade him, it may buy the team some time to buyout Niklas Backstrom (which is a complicated situation and you're best off reading
this post
by Russo on the subject).
Blum is an offensive-minded defenseman who always looked like he was close to getting steady NHL time, but never wound up playing many games. Rumors regularly circulated about why he seemed to be in the doghouse so often, citing work ethic and off-season training at times. (Claims that I can't say I've seen substantiated.)
While with the Predators, Blum was playing 23-35 games per season. Since joining the Wild he's entered just 19 games in two seasons. Tagged as an offensive presence, he has yet to score a goal with the NHL club and has just a 0.6 P/60 through his two seasons with the team. Though he's been a positive relative possession player with a 4.54% CF%Rel.
While Blum hasn't produced at the NHL level for Minnesota, he's been one of the few bright spots in Iowa, finishing tied for second on the team in scoring last season with 12 goals and 25 assists.
The other moves aren't entirely unexpected either. Bulmer has had injury troubles and had a rough year last year, but entering the season he was considered to be high on the team's AHL depth chart. At the price he'll command and the way their depth chart looks, it doesn't make sense to let him go.
Jared Knight was a question mark. He was acquired at the trade deadline in an exchange that sent Zach Phillips to the Providence Bruins, AHL affiliate of the Boston Bruins. This was a similar deal to the speculated Blum exchange. Phillips, a first round draft pick, and Knight, a second round draft pick, have thus far failed to deliver on their potential and both needed a fresh start.
Jobke and Gogol both spent significant time in the ECHL with the Alaska Aces this season, with Jobke eventually heading to Germany to play for the Augsburger Panthers. He recently signed a new contract with the Straubing Tigers there.
RELATED: Wild Will Sign Goaltender Steve Michalek
[catlist categorypage="yes" numberposts=3 excludeposts=this]
Dustin Nelson writes about news and the Minnesota Wild for The Hockey Writers.