UPDATE – JULY 2: T.J. Oshie Traded to the Washington Capitals
Ever since Washington Capitals general manager Brian MacLellan told the media that he was in the market for a new top-six forward during the offseason, speculation has mounted as to who would arrive in D.C. to complete the GM's plan. Is the St. Louis Blues' T.J. Oshie a possible trade candidate?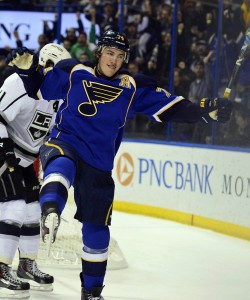 In recent weeks, a couple of strong players were rumored to be possible trade options including Toronto's Phil Kessel and Chicago's Patrick Sharp. Of those two, a Sharp trade deal is the most likely scenario – but an Oshie deal is not as farfetched as one might think.
The 28-year-old right wing has no trade protection in his current deal with the Blues – a five-year contract with two years left at an average of $4.175 million per year. Blues general manager Doug Armstrong recently revealed that he was willing to deal some of his 'core players' – talk that often accompanies a season that promised a lot but fizzled out in the postseason.
ESPN reports the #STLBlues are open to moving David Backes, T.J. Oshie and Patrik Berglund if it's the right deal

— Hockey Tracker (@Hockey_tracker) June 19, 2015
Oshie is a consistent goal scorer, with neither a poor nor remarkable NHL season on his books. He usually tallies right around 20 goals per season, give or take a couple. Perhaps that kind of consistency is just what the Capitals need since some of their forwards have endured up-and-down seasons.
Lately, Washington has put Joel Ward on the first line alongside the outstanding center Nicklas Backstrom and superstar left wing Alex Ovechkin. Down on the second line, we've seen Jason Chimera or Troy Brouwer.
Ward will be an unrestricted free agent on July 1, will ask for a long-term contract to finish his career in Washington, he won't get it and will ultimately get snapped up by a needy team. That opens up a slot for a top-six forward, although Ward's elevated position was quite flattering in 2014-15. Ward had a good season, but he's no career first-liner – or even second-liner. Oshie would be a welcome addition at right wing.
So, if a deal for Oshie was to materialize, what would it involve? There are a few scenarios involving draft picks and prospects but I see a viable solution in Brooks Laich.
The 31-year-old Laich is coming off two disappointing seasons for the Capitals by his standards, but he's certainly worth the $4.5 million per year left on the remaining two years of his contract and has at least three to five more good years on the clock. He's a center, but he's extremely versatile and has no problem switching to the right wing. There is a slight difference in their salaries, but a deal could easily be reached between the two general managers.
An Ovi-Backstrom-Oshie first line would produce goals. Oshie is used to playing alongside goal-scoring center David Backes in St. Louis. Washington's 'Backs' is an unselfish helper—one of the best ever in the NHL—and would have the added advantage of supplying the puck to a right wing who can score.
Laich's career has stalled, but it's by no means over. He's shown that he can score clutch goals and he's a team player. However, I believe it's time for him to move on. The Capitals can easily find a player to slot into Laich's current center role and Laich should see a trade to St. Louis as a tactical career move. He's unlikely to see much ice time in Washington next year as a bottom-six center. He's versatile enough to play on either wing and could excel with another team if given the chance.
A new top-six forward will shirt up for the Capitals on opening day. Will it be Oshie? Maybe. But let's not forget the other teams that would love Oshie … the Pittsburgh Penguins chief among them.