The Minnesota Wild were back at home to face the Columbus Blue Jackets for the second time in four days on Sunday, Feb. 26. While the first matchup resulted in a 2-0 shutout win on Feb. 23, this time around the Wild appeared to have a slight advantage and early jump as the Blue Jackets were on the second half of a back-to-back. However, they were also riding a high of beating the Edmonton Oilers in a 6-5 thriller and weren't going to give up anything easily despite having a very beat-up roster with four key players out due to injuries.
---
---
Unfortunately for the Wild, this game did not start the way they hoped with the Blue Jackets finding the net first in the latter half of the first period on a turnover. They held that lead and capitalized on another turnover early in the second period to take a commanding 2-0 lead and put the Wild on their heels for a while.
In the third period, things turned around and the Wild got one by Blue Jackets goaltender Elvis Merzļikins and that was just the start. They kept pounding him with shots until another one went in to tie the game at two. They continued to generate opportunities until time ran out and they went to overtime. The back-and-forth chances continued until a slip-up by the Blue Jackets left Kirill Kaprizov open for the game-winner.
Wild's Kaprizov Does It All
The Wild knew Kirill Kaprizov was a vastly talented player when they drafted him back in 2015, and while he's deemed a superstar, he continues to find ways to show he's a level above most other players. Their win over the Blue Jackets was just another example in his long list of accolades of why he's the best player the Wild have ever had in their franchise.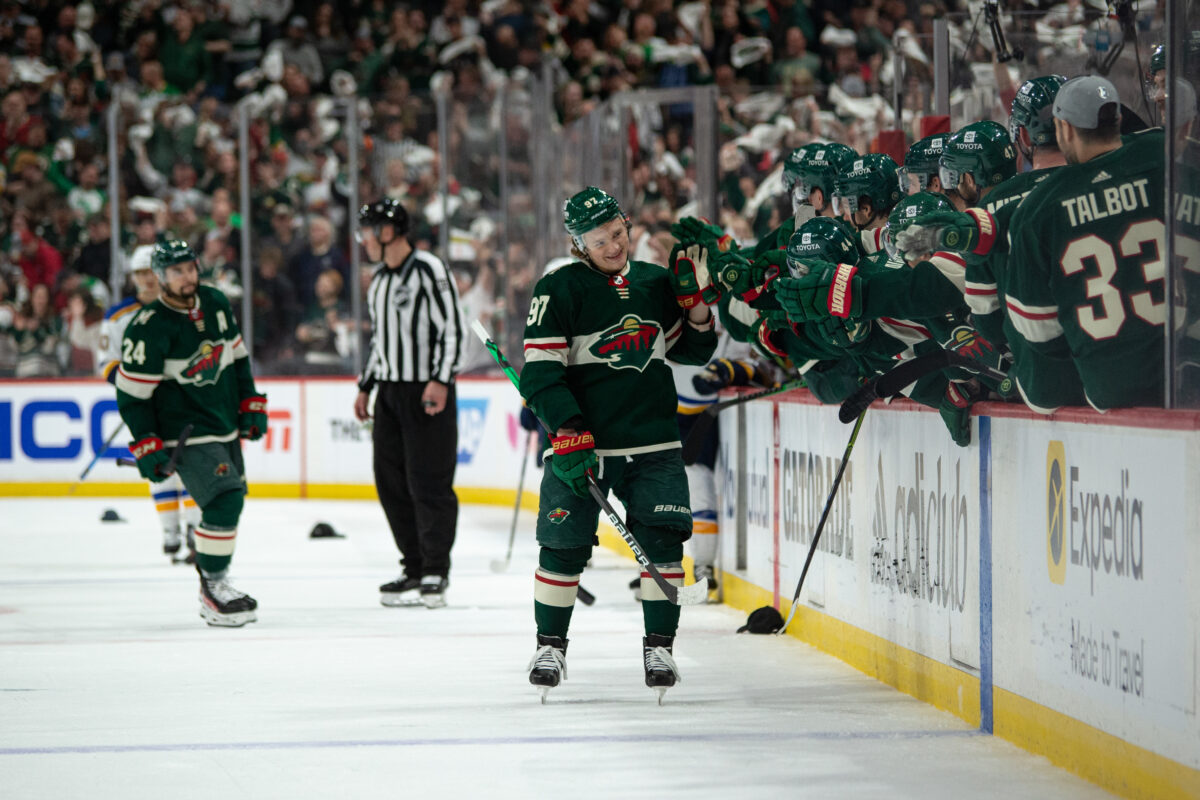 The Wild were down 2-0 going into the third period and Kaprizov already had numerous chances to score throughout the game but couldn't make it happen, until a lucky bounce got things going. He almost mimicked his linemate, Ryan Hartman, when he bounced the puck off his shoulder and past Merzļikins for the Wild's first goal just over a minute into the third period.
Kaprizov was a man on a mission and continued his strong play until he was able to add another goal on the power play to almost singlehandedly tie the game for his team. He wasn't done there however; time ran out and the game went to overtime, where he was part of a great set-up courtesy of Calen Addison and Mats Zuccarello that secured the game-winner and Kaprizov's third hat trick of his career.
Related: Canucks 2023 Trade Deadline Targets: Wild's Greenway & Spacek
---
Latest News & Highlights
---
Along with the natural hat trick, Kaprizov also recorded his 16th power-play goal that set a new franchise record for most goals on the man advantage in a single season. He now has 37 goals and 34 assists for 71 points, just 37 points away from his career-high 108 points from last season. Both his 37 goals and 31 power play points put him fifth in the NHL as of Feb. 26. Hopefully he can keep climbing the stat sheet and help his team win more games.
Wild's Fleury vs Blue Jackets' Merzļikins
Prior to their first win over the Blue Jackets, the Wild's Marc-André Fleury had been in somewhat of a slump. However, he pulled it together in that first win and he did it again to help secure the season series sweep. Things didn't look great, to begin with, but that wasn't Fleury's fault, it was turnovers by his defensemen and he wasn't able to get in position in time. He didn't let that affect his game, instead, he hunkered down and made some big saves that kept his team in it and thankfully he looks to be out of his slump.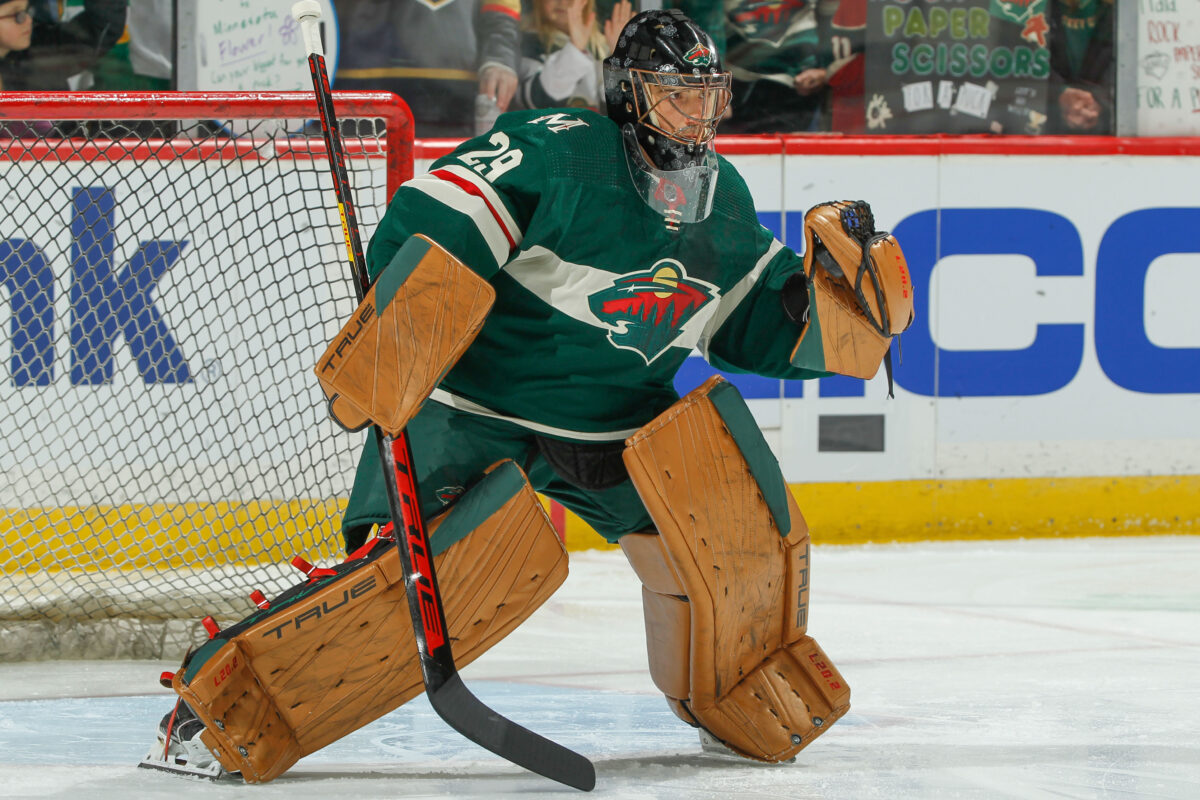 On the opposite side of things, Merzlikins played out of his mind to give the Blue Jackets a chance to take down the Wild. He continually found ways to stop Kaprizov through the first and second periods as well as some shorthanded opportunities by Connor Dewar and Mason Shaw. He stopped 41 out of 44 shots on goal with a save percentage of .932 and gave his team every chance to seal the win and deserved an honorable mention despite the loss.
Wild's Highs & Lows
Besides Kaprizov the Wild had another player who stepped up and played a strong game but couldn't find the back of the net. Jordan Greenway has had a struggle of a season since returning multiple times from injury but against the Blue Jackets, he looked like a whole new player. He was playing with confidence and handled the puck quite well, the only thing that could've gone better was if he was able to score. Hopefully, that'll come sooner rather than later and he can get his game going again.
The other great part of the Wild's game was their shots on goal. They took 44 shots on goal that tied for the second-highest shot total of their season, just five shy of their 49 against the Anaheim Ducks back on Dec. 3. It took a bit for the Wild to get things going in terms of scoring but as long as they keep putting shots on net, the goals will eventually go in.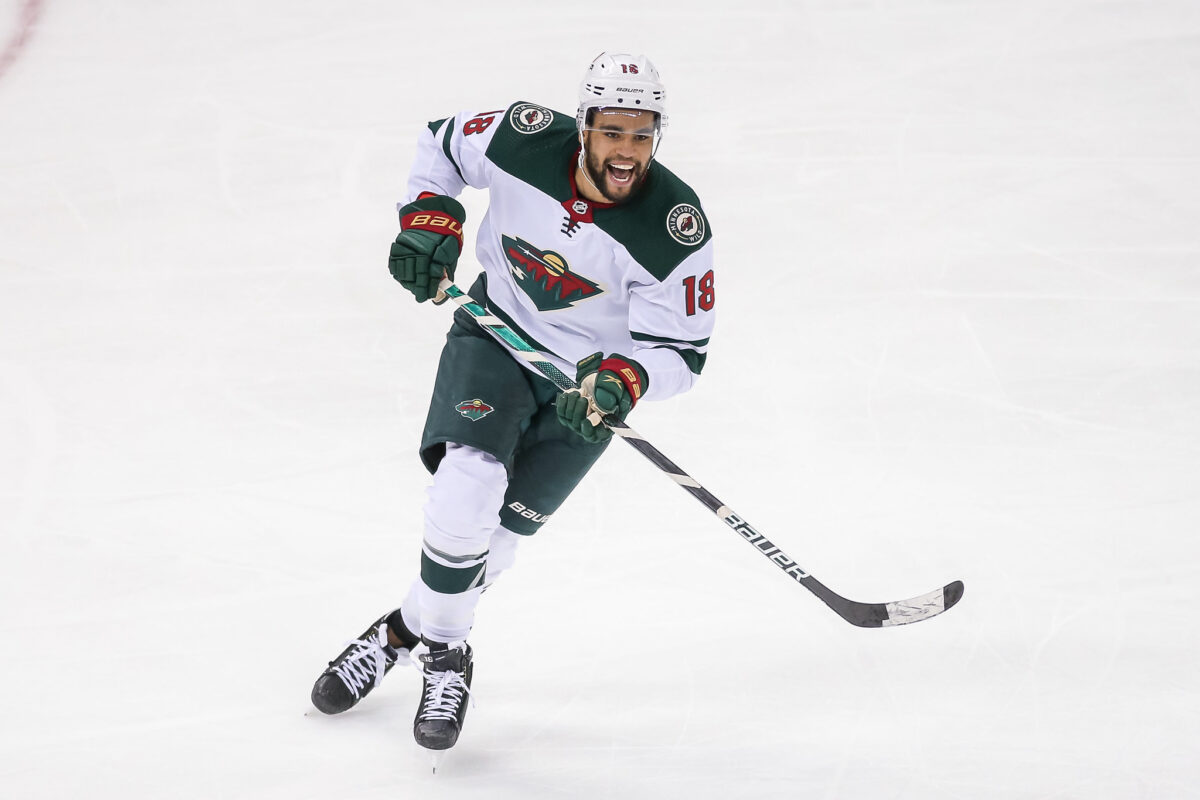 The Wild were able to pull out the win in the end, but the beginning of the game told a vastly different story. They were guilty of way too many turnovers with two resulting in goals, altogether they turned over the puck 14 times. With that many turnovers, the Wild were lucky Fleury brought his A game and kept them from falling into a deeper hole.
The Wild had a similar problem the last time Jonas Brodin was out of the lineup and he's currently on injured reserve with no exact timetable for his return. His teammates have to figure out a way to prevent turnovers with or without him in the lineup. They can't allow their game to falter because of his absence, especially since they aren't sure when he'll be back. They have to step up and control their passes better to reduce the turnovers and in turn keep pucks out of their own net.
Wild Face Islanders
The Wild can't have that many giveaways when they take on their next opponent the New York Islanders at home on Tuesday, Feb. 28. The Islanders have a pretty similar record to the Wild and will capitalize on any mistakes made especially on turnovers. There are a number of Minnesota connections on the Islanders such as Minnesota natives Brock Nelson, Anders Lee, and Zach Parise who also spent some time on the Wild's roster.
Nelson, Lee, Noah Dobson, and Parise are all players the Wild have to keep an eye on in terms of scoring, however, the Islanders are without one of their top scorers in Mathew Barzal who is out due to a lower-body injury with an unknown timetable for his return. While the defense are busy helping out Fleury or Filip Gustavsson, the offense will be trying to find a way past either Ilya Sorokin or Semyon Varlamov.
This overtime win was huge for the Wild but they can't overlook the mistakes made early on. As long as they fix those issues and keep up with the high shots on goal they should be able to get past the Islanders and continue to climb up the standings.