Late Sunday night the New Jersey Devils held media availability for both general manager (GM) Tom Fitzgerald and their newest acquisition, former San Jose Sharks winger Timo Meier. The team officially announced the blockbuster trade at 9 pm on Twitter stating, "It's Timo Time." Below is a breakdown of the massive trade.

To New Jersey: Forwards Timo Meier, Timur Ibragimov, defensemen Scott Harrington, Santeri Hatakka, goaltender Zachary Emond and a fifth-round pick (originally Colorado's selection) in the 2024 NHL Draft via trade with the Sharks.
To San Jose: New Jersey's first-round pick in the 2023 NHL Draft (conditional), defensemen Shakir Mukhamadullin and Nikita Okhotiuk, forwards Andreas Johnsson and Fabian Zetterlund, a conditional second-round selection in the 2024 NHL Draft and a seventh-round selection in 2024. San Jose will retain 50% of Meier's 2022-23 salary as part of the trade. 
---
---
It's Been a Long Time Coming
Fitzgerald has been with the Devils organization since July 2015 when he was named the team's assistant general manager. At that time Ray Shero was at the helm and Fitzgerald worked alongside him for five years until Shero was fired in January 2020.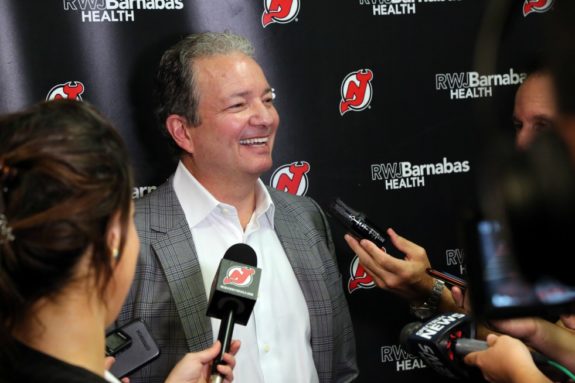 During his media availability, Fitzgerald stated the organization has been preparing for this for years going back to the days with his mentor, Shero.

"We've been gearing for this for a long time," he said. "Going back to my mentor, Ray Shero, selling off older players, gaining assets and using those assets. … Really drafting assets, developing assets for New Jersey, whether they play in New Jersey or they are traded for players to play in New Jersey. That has been the goal since day one. Now we are in a situation where we can actually apply that because of where we are at."
Fitzgerald States Devils Fans Deserve This
Fitzgerald has heard the "we want Timo" chants that have echoed throughout Prudential Center over the past couple of weeks.
Related: Grading Devils' Blockbuster Trade for Timo Meier
---
Latest News & Highlights
---
"I heard (the fans) loud and clear," he said with a chuckle. "I understand who they wanted and it's great when it aligns with the hockey ops department and who we want."
Some fans berated Fitzgerald after losing out on Johnny Gaudreau and Alex DeBrincat over the summer, but in the end, it was a blessing in disguise because Meier is the player most likely to make an impact in New Jersey. The Devils' general manager mentioned Meier's skill set and his overall size as reasons why he focused his attention on the Swiss winger. The newest Devil is listed as 6-foot-1, 220 pounds, making him the largest forward in the team's current top six. He is expected to bring a physical style of play and led all Sharks with 112 hits this season. It's the perfect marriage for both sides as Meier checks off a lot of needs for Fitzgerald's group.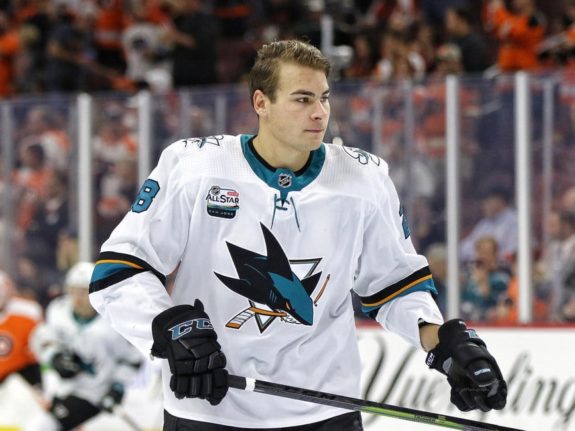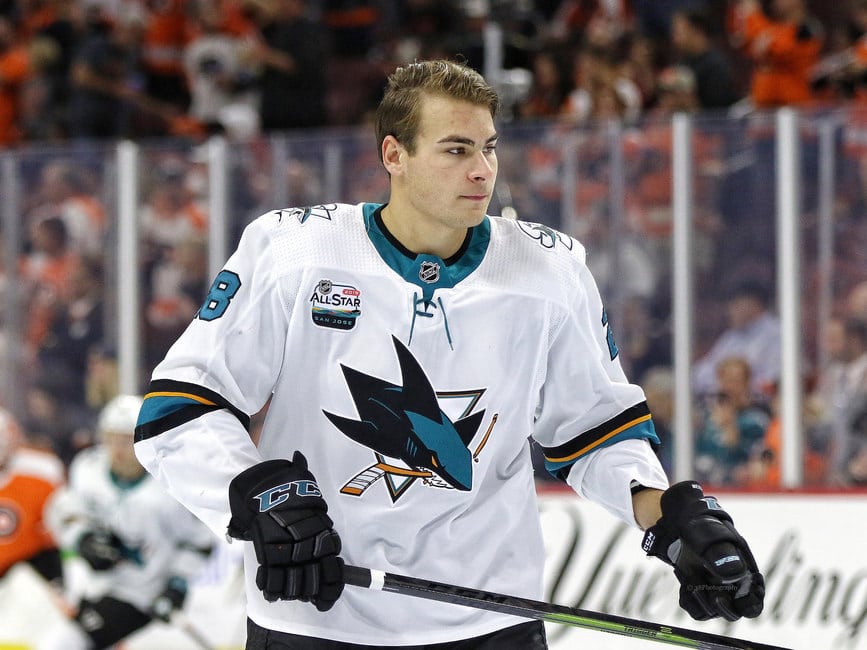 At the end of the day as much as the fans deserved a player of Meier's caliber so did the players in the locker room. Mike Morreale of NHL.com asked Fitzgerald if this was in some way a reward for how well his group has performed this season.

"Guys have taken huge steps in their game. I think the additions that we have made have really been effective and done what we thought they would do with our young core and pillars that we have," he said. "When you make a move like this, or even a smaller move, yeah, you're showing your team and you're showing your fanbase that we want to improve and we can get better."
The Devils May Not Be Done
New Jersey's general manager stated he may not be done making moves ahead of the March 3 trade deadline.
"My staff is coming in tomorrow (Feb. 27). My pro guys are coming in, my personnel guys are coming in, and we're going to start really looking at our roster and where can we add some depth. Where are areas we believe we need to add depth? We are going to go through that starting tomorrow with my staff and my coaching staff and get their input on what is needed."
It's known that while a team's stars will get their club into the postseason, it is the depth players who make an impact once the playoffs begin. The Devils' bottom six could use some tweaking if the right player presents itself, especially with Zetterlund on his way to San Jose. Fitzgerald and his team have a few more days to put something together if the opportunity is there, but he knows it takes time for new players to adjust to a new team and system.
Not only did the Devils' GM trade for the player that was on every fan's wishlist, but he also did so and kept Simon Nemec, Luke Hughes, Alexander Holtz, and most importantly Dawson Mercer. Timing is everything and in the end, Fitzgerald got his man.
"We all had the same goal. How can we improve our team? Who is the player out there that can improve our team? And it all came back to Timo Meier."