The blockbuster trades keep on coming. While it took a little while to get finalized, the New Jersey Devils acquired Timo Meier and Scott Harrington from the San Jose Sharks in exchange for Fabian Zetterlund, Andreas Johnsson, prospects Nikita Okhotiuk and Shakir Mukhamadullin, a 2023 first-round pick, and a conditional 2024 second-round pick. Here are the full details of the conditions:
The Devils also received a few minor leaguers to help the Sharks get under the limit of 50 contracts. There were quite a few moving parts, given the scope of the trade. Let's break it down and see how each side graded out in one of the biggest deals ahead of the March 3 trade deadline. 
Devils Get Their Top-Six Winger
The Devils have their core players: Jack Hughes, Jesper Bratt and Nico Hischier. You can probably add Dougie Hamilton to that mix as well. But what they were missing, specifically up front, was a bonafide top-six winger to complement Hughes and Hischier. They acquired that in Meier, who's on pace for 45 goals and 75 points this season. 
Related: THW's 2023 Trade Grades
What makes Meier such a weapon offensively isn't necessarily his shooting ability; he is a slightly above-league-average shooter. Instead, it's his shot volume. Meier shoots the puck a ton, and I mean a ton. His 255 shots on goal through 57 games is an average of 4.47 shots on goal, putting him on pace to total 367 over 82 games. That'd make him the team's second-highest volume shooter behind Jack Hughes, who's averaging 4.5 shots on goal a game. 
Not only is Meier a shot machine, but he's a plus-possession player who does a fantastic job of generating grade-A chances in high-danger areas. He can create off the rush, but given the Devils' build up front, he probably won't be asked to do that too much. Overall, he ranks in the 97th percentile in wins above replacement among his peers over the last three seasons:
Not only did the Devils add Meier to the fray, but they got a depth defender in Scott Harrington, who has played well in limited minutes for the Sharks this season. His defensive game has lagged some, but he's been effective offensively and in transition. He'll likely be a 6th/7th defenseman-type with Kevin Bahl and Brendan Smith, but more defensive depth can never hurt ahead of the playoffs. 
Overall, there's a lot to like about this trade for the Devils. They kept most of their top prospects (Alexander Holtz, Seamus Casey, Arseni Gritsyuk) and added a bonafide first-line winger and more defensive depth. They might not have inked a contract extension with Meier, but Pierre LeBrun did report the Devils were comfortable doing the deal without the extension. That likely means they have an idea that Meier is open to signing long-term with the organization. 
Devils Grade: A-
Sharks Find Value for Meier
Though the Sharks didn't get a Holtz or Casey as part of the return for Meier, they did get some interesting pieces. We'll start with Zetterlund, who was close to an NHL regular for the Devils this season. At the time of the trade, he had six goals and 20 points in 45 games — an 11-goal, 36-point pace over 82 games. That's solid production for a 23-year-old in his first full NHL season. 
Related: Devils Acquire Meier From the Sharks in a Massive Trade
---
Latest News & Highlights
---
At five-on-five, Zetterlund has averaged 1.89 points per 60 minutes, a rate you'd expect from a second-liner. He's shown two-way promise and has been a possession hound, with a 56.27 expected goals percentage (xG%), and he plays physically. He obviously doesn't have the upside of Meier, but he has the potential to be a solid middle-six winger for the Sharks. 
The next major piece is Mukhamadullin, who the Devils drafted 20th overall in the 2020 draft. He had a strong season in the KHL with Salavat Yulaev Ufa, finishing with six goals and 25 points in 67 games. The 6-foot-4 defender excels in transition and has plenty of power-play upside based on his usage and production in the KHL. There are questions about his defensive game, but his puck-moving ability is very promising (as his shot). He has top-four potential.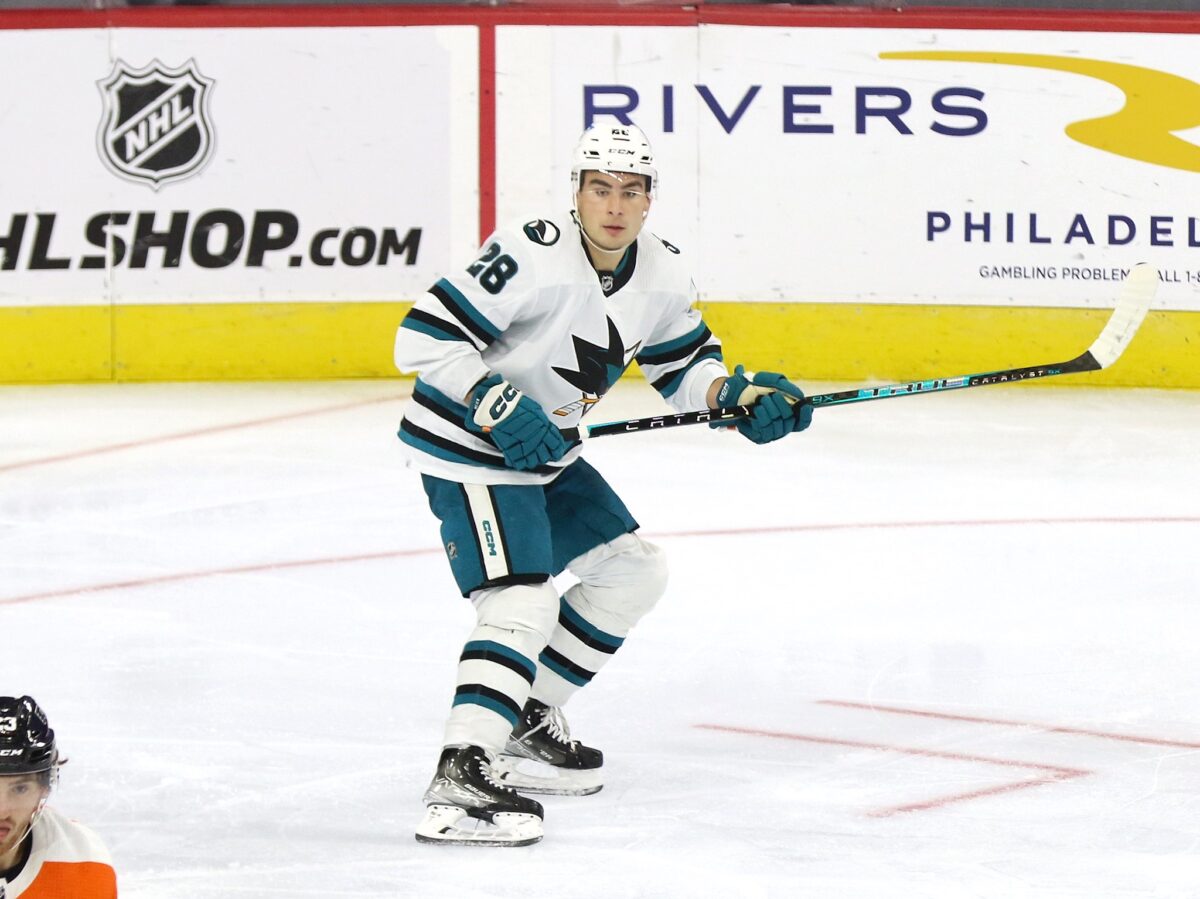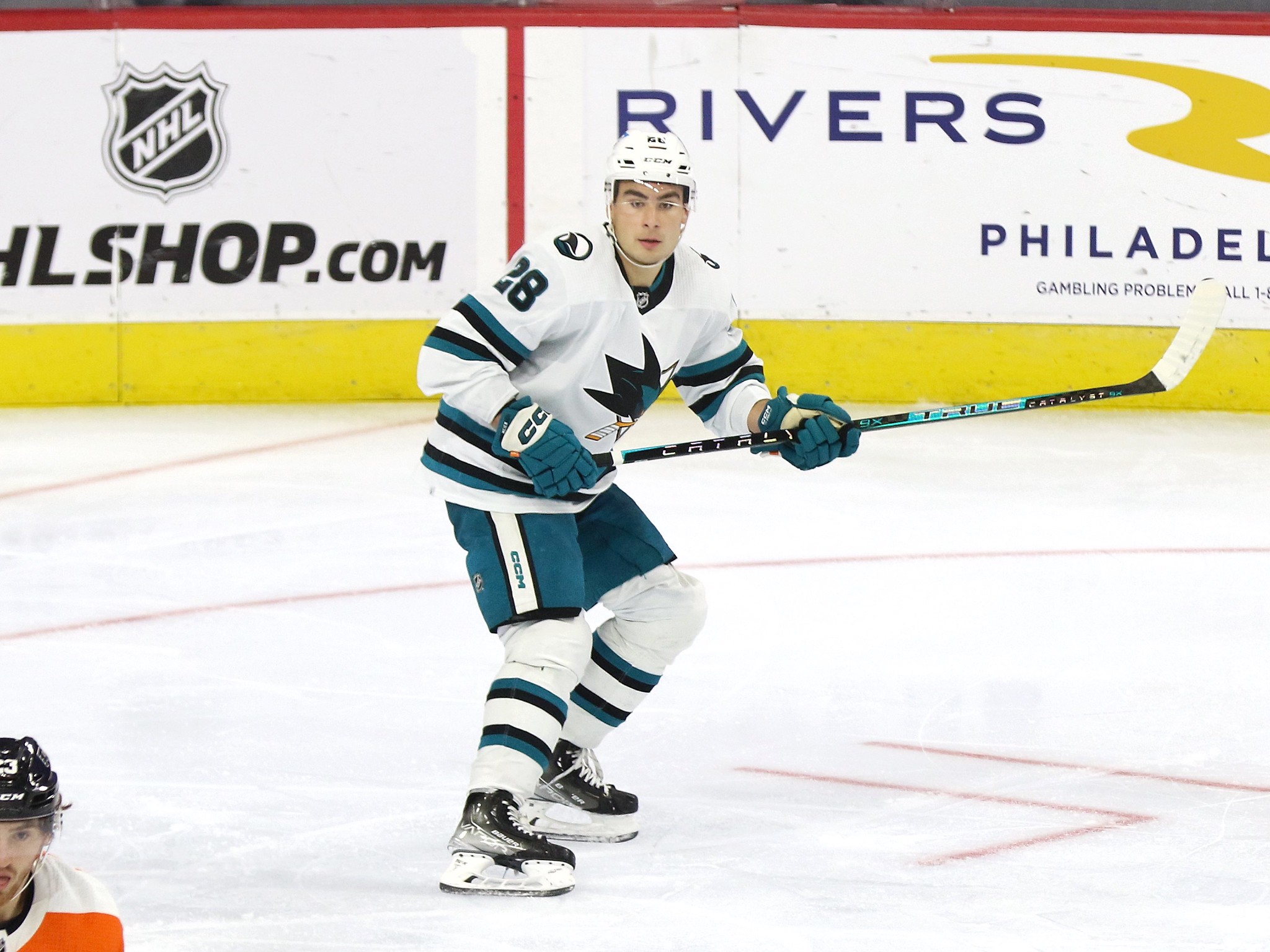 The last prospect the Sharks received is Okhotiuk, a bruising defenseman who plays a physical game. His puck skills need work; his inability to move the puck in transition has been problematic. But he has played well defensively in spurts for the Devils when called up to the NHL. He's likely not more than a bottom-pair defender, but he does have the potential to settle into that role full-time
Lastly, there's Andreas Johnsson. While he's barely played in the NHL this season, he had 29 points in 35 games with the Utica Comets in the American Hockey League. However, he did produce at a 40-point pace with the Devils in 2021-22. He's not a long-term solution for the Sharks, but they are getting back someone who could be an NHLer for them on a short-term extension if he takes this opportunity and runs with it. 
Of course, there are the two draft picks. The Devils will be picking in the back half of the 2023 draft, but it's a loaded class with talent for the Sharks to select from. Time will tell if the conditions get met on the 2024 pick, but this isn't as bad a return as it seems. It's reminiscent of what the Devils got for Taylor Hall in 2019; they turned the assets from that deal into Jonas Siegenthaler and Dawson Mercer. The Sharks got better young players in this deal than the Devils did for Hall, a decent bit of business for general manager Mike Grier, especially if he turns the extra picks into NHL talent. 
Sharks Grade: B
* * *
Advanced stats from Natural Stat Trick