The Toronto Maple Leafs didn't have many picks heading into the 2022 NHL Draft, but out of the five they did have, the early returns are looking good. I did a piece on the draft class a couple of months ago, but today we're going to focus on only one player. 
Related: Maple Leafs' Samsonov Has Earned the Starting Job, For Now
---
Latest News & Highlights
---
It's not forward Fraser Minten, the team's second-rounder who looks like a surefire middle-six centre with a ceiling of a high-end second-line centre. It's also not goaltender Dennis Hildeby, a Swedish overage goaltender who's arguably the closest to being NHL-ready of their entire draft class. And it's not forwards Nick Moldenhauer or Brandon Lisowsky, both of whom took a huge step forward offensively. 
---
---
Instead, we're going to take a look at a Russian forward who was drafted in his second year of eligibility, and just wrapped up his rookie season in the Kontinential Hockey League (KHL). If you haven't heard of him, meet Nikita Grebyonkin. 
Grebyonkin's Road to Being Drafted 
A native of Serov, Russia, Grebyonkin has played in the Metallurg Magnitogorsk system for his entire career up until this year. With 34 points in 54 games for Stalnye Lisy Magnitogorsk of the MHL, which is essentially Russia's version of the Canadian Hockey League (CHL), his offensive production wasn't quite enough to earn him a selection in the 2021 Draft, which was his first year of eligibility.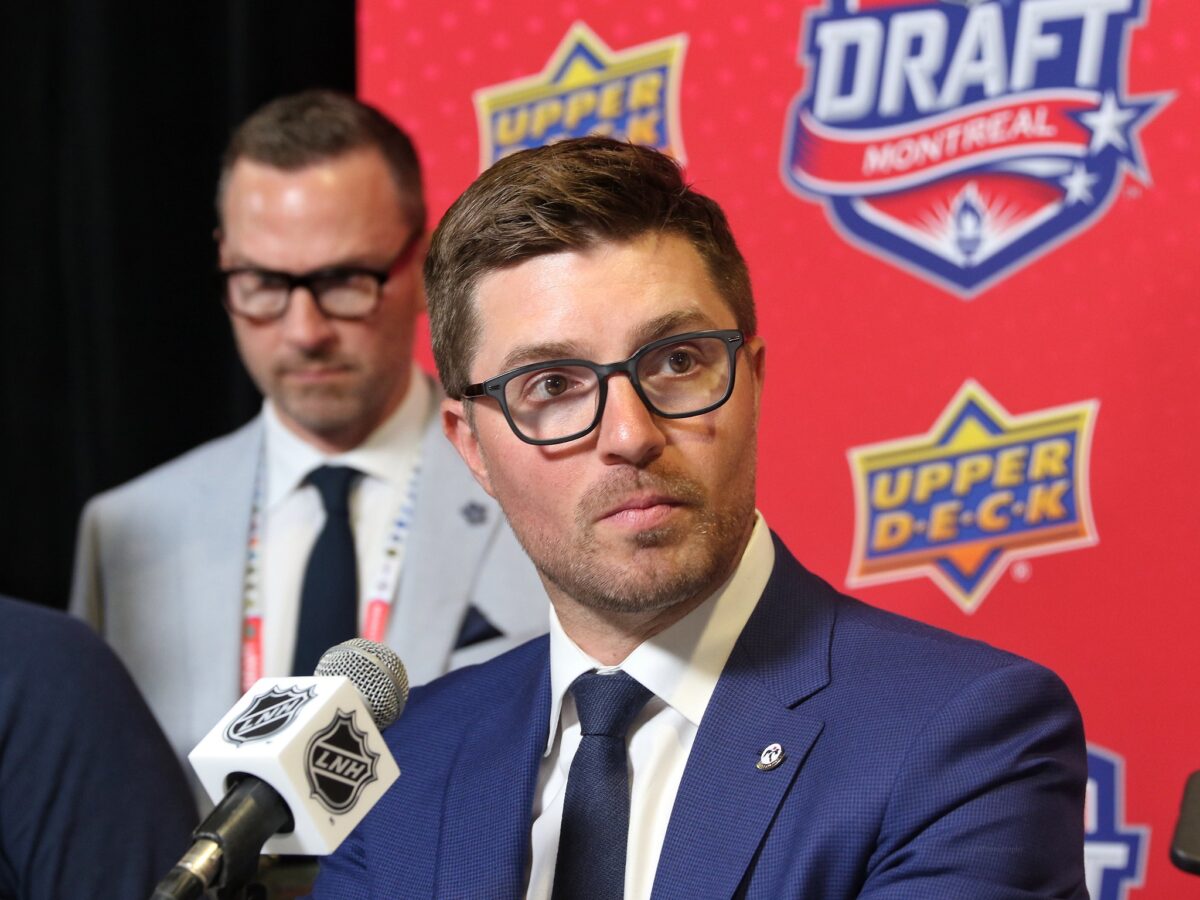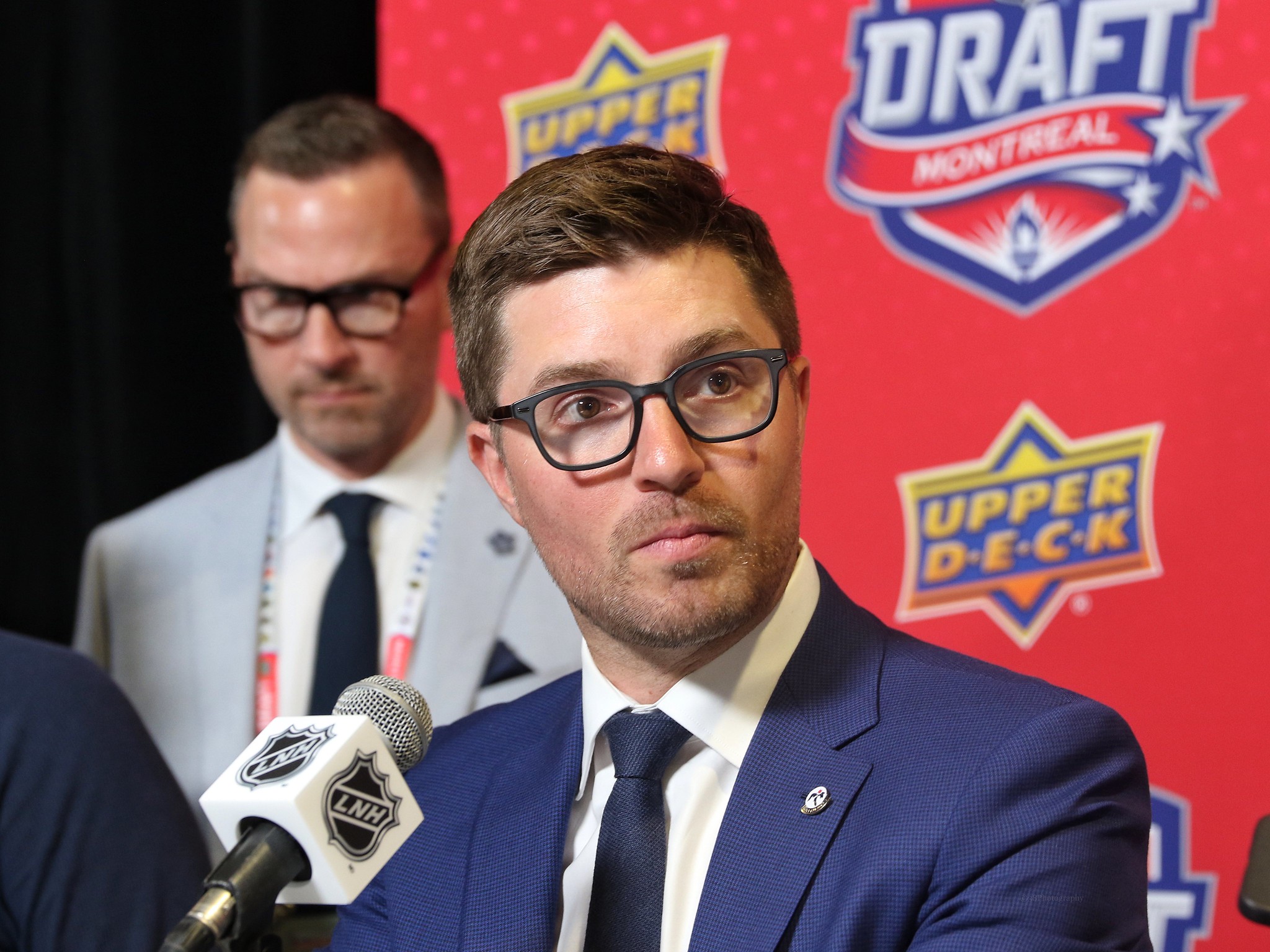 Fast forward to 2021-22, and Grebyonkin clearly wanted to ensure that his rookie campaign with Stalnye the year before was a fluke. The 6-foot-2 right winger nearly doubled his point total, scoring 17 goals and finishing with 64 points in 58 games. His performance caught the attention of the Maple Leafs, who selected him in the fifth round, 135th overall in the 2022 Draft as a 19-year-old. 
It was a slow start to Grebyonkin's KHL career, failing to tally a single point in seven games with Magnitogorsk's pro team, but things shifted for him when he was loaned to Amur Khabarovsk in the same league. Having just wrapped up his rookie KHL season, he finished with 26 points in 45 games, which are pretty impressive totals for a 19-year-old. I've said it in pretty much every article I write covering a European prospect, and I'll say it again – European pro teams do not care about developing prospects for NHL teams. If you're not good enough, you won't play, so his production in 2022-23 is a telltale sign of where his game is at. 
Grebyonkin in Great Company With Early Production 
To see Grebyonkin producing the way he is at his age is impressive on its own. But try not to get too excited when you see some of the names who had similar seasons at that age. To put it into perspective, his 2022-23 season was the fourth-best KHL season by a 19-year-old of all time. The three names ahead of him? St. Louis Blues forward Pavel Buchnevich at No. 3, Washington Capitals forward Evgeny Kuznetsov at No. 2, and some guy on the Minnesota Wild you may have heard of named Kirill Kaprizov at No. 1. 
Obviously, his presence on this list doesn't guarantee a career trajectory similar to those guys. And that notion is confirmed when you see Nikita Filatov, a well-known draft bust in the hockey world, directly below him. But when you look past him, there are more names with solid pedigrees than names without them. How he performs in 2023-24 is going to be a good indicator of whether this was a case of a hot rookie catching fire for a little bit or if there's really some life to his game. 
Grebyonkin Could Come to North America Following 2023-24 Season 
It's always risky drafting Russian players who grew up and played in Russia, because sometimes there's extra pressure on them to stay in their homeland and carve their careers out there. But, given that Grebyonkin is a winger with skill and size alike, I'd imagine the Maple Leafs will be doing whatever they can to make him feel at home with the organization and get him overseas as soon as possible. In fact, general manager Kyle Dubas already pegged him as a prospect the Maple Leafs would like to hold on to.
Grebyonkin's KHL contract expires at the end of next season, so if I'm the Maple Leafs, I'd already be in contact with his camp to plant the seed about having him come to North America. Having him join the American Hockey League (AHL) and suit up for the Toronto Marlies for the 2024-25 season would be ideal to see how he manages the transition from European to North American ice. From there, who's to say he doesn't make his NHL debut the following year? 
You May Also Like
We're obviously getting way ahead of ourselves here, but it's an intriguing trajectory for a fifth-round pick, and he's a prospect that's undoubtedly worth keeping an eye on over the next few years.