When Kyle Dubas pulled the trigger on the blockbuster deal that landed the Toronto Maple Leafs Ryan O'Reilly and Noel Acciari earlier this month, the majority of the conversation surrounding O'Reilly and his run with the St. Louis Blues to the Stanley Cup along with his Conn Smythe performance.
While the team's secondary acquisition — in this case, being Acciari — is recognizable to Maple Leafs' fans from his days with the rival Boston Bruins, the excitement around his involvement in the trade didn't exactly mirror that of O'Reilly.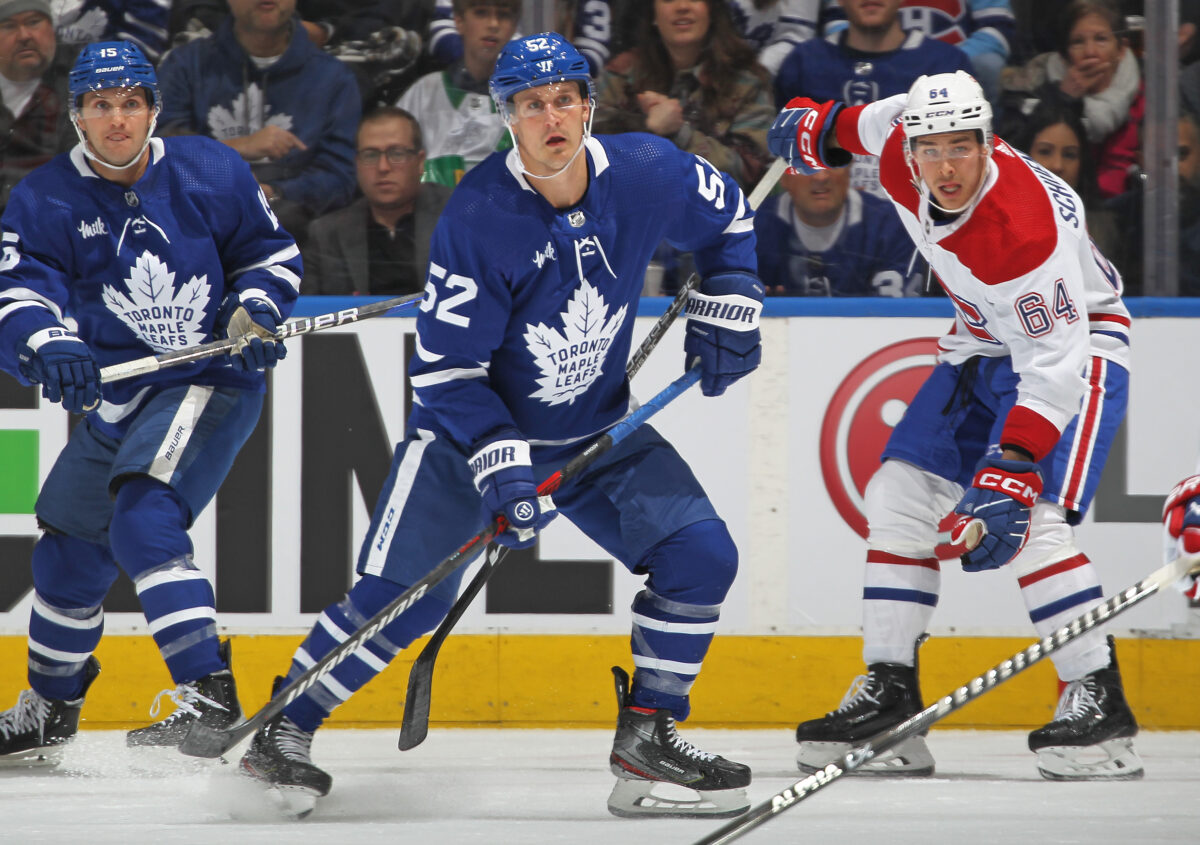 That said, with the Maple Leafs needing a first-round playoff win and Dubas being all-in, Acciari might go down as his most underrated acquisition this season by the time the NHL Trade Deadline comes and goes.
Acciari Brings Consistency to Maple Leafs' Fourth Line
From the puck drop to start the season, the Maple Leafs have played more than 20 different combinations on their fourth line. They haven't been overwhelmingly bad, but they haven't been overwhelmingly good either and what the Maple Leafs need is consistent play throughout their lineup.
Bringing in Acciari — or as his teammates call him, 'Cookie' — gives the team a player that they can count on night in and night out. He's a player that provides a set of skills that teams need when it comes to their depth role players — exactly what Acciari is.
---
Latest News & Highlight
---
As for the player himself, he knows how important his role is and what it means for his club and for his career.
"For me to make it in the league I had to focus on what helped me get there and it was my hard play," he said, according to Mark Masters. "I couldn't get away from that. I tried to make it the best I can and try to keep it consistent so you know what you're going to get out of me every night."
Related: Maple Leafs Need Depth Over Big Names at Trade Deadline
With Alex Kerfoot and Zach Aston-Reese on his wings, Acciari's presence on the fourth line has helped redefine both of his wingers' roles on the team. Kerfoot adds speed and edgy board work, while it seems that Acciari and Aston-Reese have hit everything in sight since the trade with the Blues.
Sure, the offence might be minimal when it comes to this line, but the physicality and the offensive zone control is something the team can benefit from — especially come playoff time.
Maple Leafs' Fourth Line Showing Depth Options
In fact, the Maple Leafs' fourth line has completely shifted its numbers since Acciari came over. Prior to their game against the Minnesota Wild on Friday night, the Maple Leafs fourth line had a 75.2 percent expected goals for and had generated nearly 90 percent of high-danger chances in the three games with Acciari suiting up.
Acciari alone has generated 13 high-danger scoring chances for an overall high-danger scoring percentage of 92.86 percent in all situations.
The sample size is small, having only played 52 minutes for the Maple Leafs through four games, but his expected goals percentage in all situations in 79.96 percent and he's pushed his line mates to reach higher with their potential.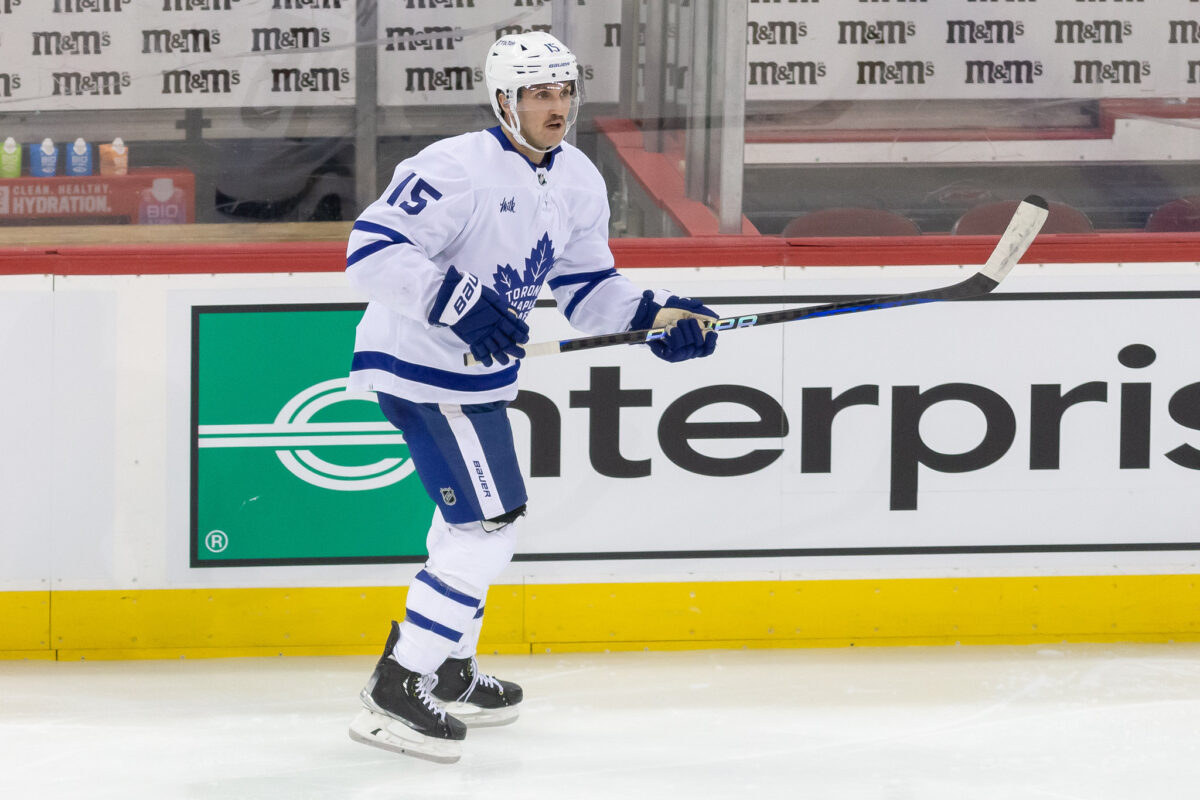 Over his last four games, Kerfoot has an expected goals for percentage over 63.5 percent in three of those games and over 80 percent in two of them at five-on-five. His high-danger scoring chances percentage has been over. 85 percent in three of those games and at 100 percent for two of them.
As for Aston-Reese, he's had some of his best numbers of the season over the past four games. In fact, his last three games he's had a high-danger scoring chance percentage of 100 percent at five-on-five while continuing to be a physical presence for the Maple Leafs when needed.
But none of this matters if the Maple Leafs fizzle out in the first round again this season. That's why Acciari's playoff experience might be the most notable piece of information from the acquisition.
Acciari Comes With Playoff Pedigree
He's been a part of six playoff runs — three with the Bruins and three with the Florida Panthers. In fact, when you talk about how he was a thorn in the side of the Maple Leafs, that included playoff pushes that knocked the Maple Leafs out of contention during his Bruins' days.
Overall, Acciari has 54 games of playoff experience over six years. His seven points are notable  — with four goals and three assists — but it's his 203 hits and 47 blocked shots that might be the most noteworthy stats when we're talking about playoff hockey.
Related: Maple Leafs' 3 Up, 3 Down – O'Reilly, Muzzin, Murray & Acciari
Over that span, he was also a defensive zone specialist with 72.6 percent of his zone starts coming in his own end at five-on-five. While his possession metrics might not look appealing come playoff time, his experience alone can help a team that hasn't been outside the first round in more than a decade.
His size won't dictate his style of play and that might be one of the most appealing parts of Acciari's game. Listed under six feet, his game is built for playoff style hockey and Dubas' ability to acquire him in the O'Reilly deal should be talked about more. He's ninth in hits this season in the NHL and that alone should get Maple Leafs fans hyped for what they can expect from this guy moving forward — especially because the Bruins will likely stand in their way if the Maple Leafs want to go on a playoff run.
You may also like: