When Toronto Maple Leafs general manager Kyle Dubas acquired Ryan O'Reilly from the St. Louis Blues, it was a signal that he was going all-in in hopes of overcoming the hurdle of finally finding playoff success. 
It was an extremely big price to pay as he gave up four picks in the process, including his 2023 first-round pick. However, there was a silver lining to it as he didn't move any of his top prospects within the system. There was the possibility that Matthew Knies could've been a piece on the move if a deal happened, but in the end, he remains a Maple Leaf. Dubas would rather move a pick with a lot of hypotheticals than a name that has developed very well. 

"I would've much rather dealt the picks than deal from our reserve of prospects, mostly because we know the prospects and what they're about," Dubas said according to The Hockey News' Mike Stephens. "We're with them every day." 
The fact that Knies and other names remain in the system, shows that Dubas is impressed and has hope for the future with the way some names have developed with their progression. As great as Knies has been, here are a few other names Dubas mentioned that proves the prospect cupboard is still full of talent that can make an impact in the future.  
Fraser Minten
The 38th overall pick in the 2022 draft, Minten continues to take major steps with his overall play as a potential middle-six centreman that can score and play with an edge. He's already closing in on last season's total of 55 points, as he has 50 in 43 games in 2022-23.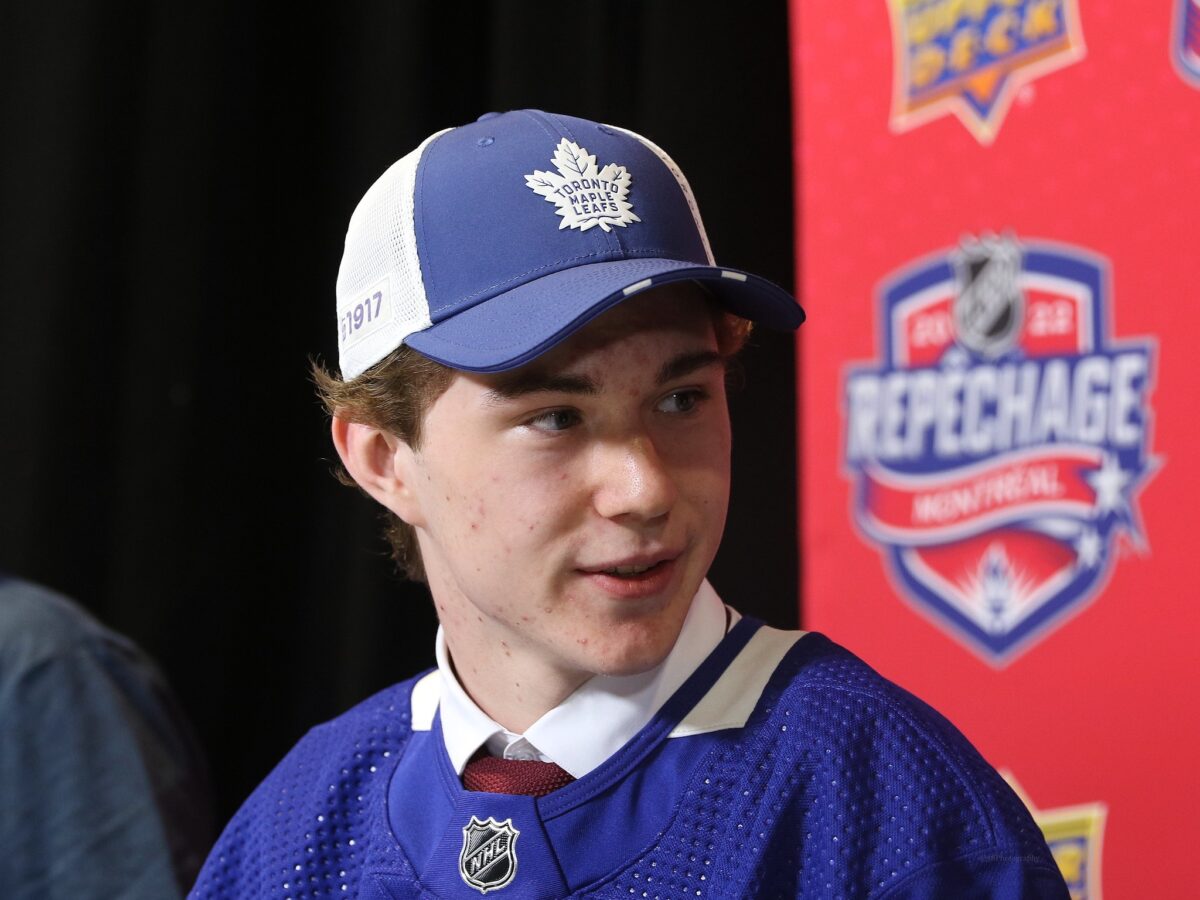 This season, he's had a lot of success on the power play, as 15 of his 25 goals and 28 points have come on the man advantage. While his production at five-on-five play may have taken a dip, he's still effective in creating and getting involved with the play as he's aggressive on the forecheck. For Minten, having a 1.16 point per game average is very impressive as the Kamloops Blazers are eyeing a potential Championship run in the Western Hockey League. Like the 2022 post season, he's poised to play an important role.
Minten play a very responsible and very detailed oriented game, as he possesses great smarts and awareness in all three zones. Along with his release and accurate shot, he controls and maintains possession very well when in the offensive zone. He describes himself as a player with high energy and is difficult to play against. He has great anticipation to break up plays and apply pressure on the opposition. 
Related: Maple Leafs Must Move On From Defenseman Justin Holl
---
Latest News & Highlights
---
While his offensive production may be average at the next level, to have the kind of smarts and work ethic that Minten shows on a consistent basis is something that will benefit the Maple Leafs in the future. A very reliable and goal scoring centreman is definitely a great asset to have.
Nikita Grebyonkin
While Dubas was naming off some of the top names in the system, there was one player that stood out as he continues to turn heads with his impressive development. Seeing Grebyonkin be among the list of mentions is a great sign as he's a player that was flying under the radar. Now, he's starting to emerge as a top name in the system. 
An overager in the 2022 draft, the Maple Leafs selected Grebyonkin in the fifth round, 135th overall. He put up an impressive 64 points in 58 games last season in the MHL with Stalnye Lisy Magnitogorsk. It's always difficult for a rookie to jump into the KHL and earn meaningful minutes. Though, he has found his way to earning that ice time as he's averaged 16:33 per game and 18.37 even strength shifts. Grebyonkin has now found some consistency to his game as it's a big positive and step forward for his growth. While Amur Khabarovsk is low in the standings, he ranks fourth in team scoring with 25 points. In addition, he has the second-best P/G average with 0.58. 
Grebyonkin is a very skilled playmaker that combines a great combination of skating, agility and strong hands to make crisp passes and smooth dekes. Every time he's on the ice, he's playing with a high level of intensity to track down and hunt loose pucks and displays a strong work ethic with his positioning and awareness. He does a great job to separate the puck from the player and has an active stick to disrupt plays. 
The Maple Leafs have done a respectable job finding and evaluating talent in the later rounds of the draft. Grebyonkin could be one with a lot of upside.
Topi Niemelä
Even though he hasn't reached last season's production where he was on a torrid pace, Niemelä is having a quiet season. Though this shouldn't be a cause for concern as he continues to develop as a potential defender for the future. 
Related: Maple Leafs Tried to Get One More Player in O'Reilly, Acciari Trade
Niemelä is still showcasing what he's capable of as a mobile, two-way defender. With 16 points in 51 games, he's still in the top-10 in points on Kärpät as a 20-year-old. Despite the drop in production, there's still a lot to like with his game in regards to his hockey IQ and ability to drive the play. He's always confident and shows great poise when leading a rush in transition. His head is always scanning the ice looking to make the safe, yet smart play with his passing.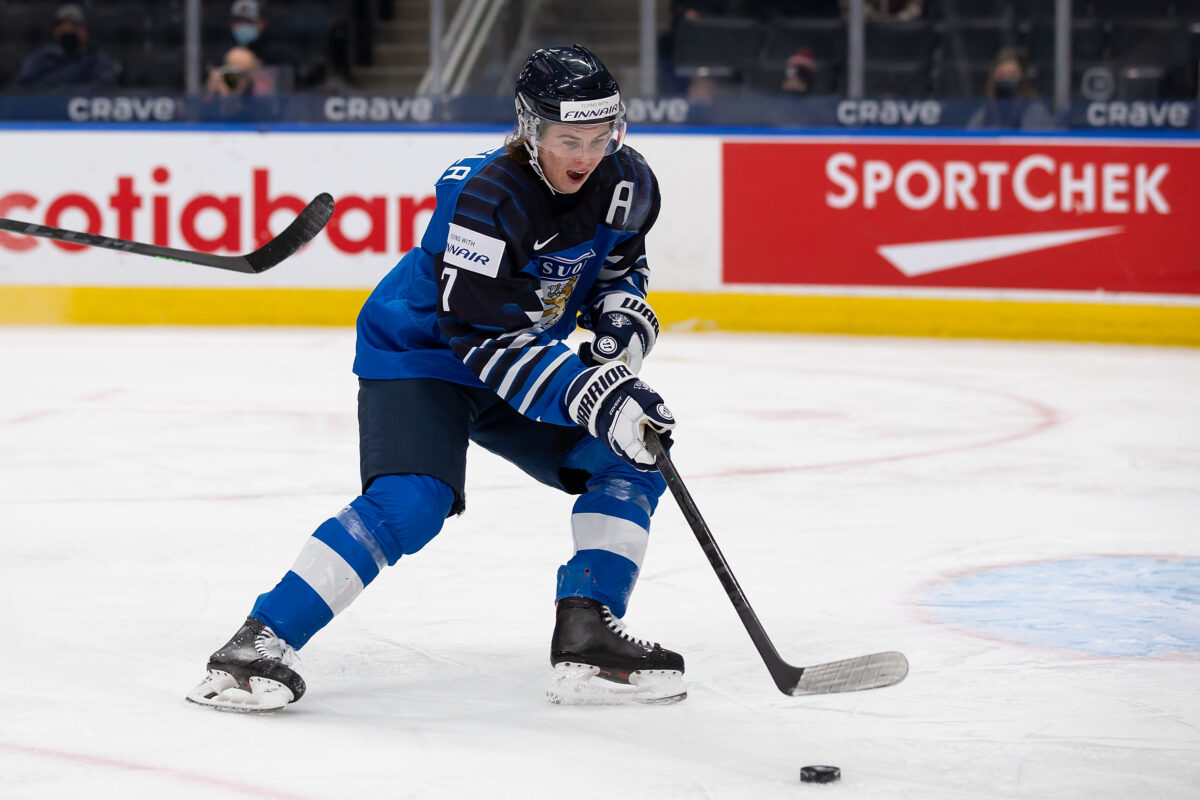 Niemelä has looked very comfortable as a young defender in the top Finnish league playing amongst men. Now that he signed his entry-level contract, it won't be long before he joins the Maple Leafs in North America and continue his progression as a top prospect with the Toronto Marlies in the American Hockey League. To have his two-way game continuing to develop is going to pay off in a big way.
With the experience that he's had so far, Niemelä could very well find success sooner than later once he's playing within the organization. His hockey sense and patience alone are going to be a big reason why he'll have a successful career. Not to mention, they could use help on the right side of their blue line. 
You may also like:
When you acquire a big-name trade target without giving up a top prospect in your system, that in itself is a big win for Dubas. Yes, the draft picks are nice, but players like Minten, Grebyonkin and Niemelä have all taken strides to potentially provide an impact down the line. 
Dubas highlighted these names for a reason. With their consistent level of play and the way they have been developing, there's the hope that they can be key pieces for the future.