The Ryan O'Reilly era has gotten off to a sizzling start. After the Toronto Maple Leafs swung a deal for the former St. Louis Blues forward and his teammate, grinder Noel Acciari, on Friday, Feb. 17, the two players made an effort to get to Toronto as fast as possible. They jumped right into the fire, making their debuts less than 24 hours after the trade was announced, and suited up for two games in the next three days after that. 
Related: Maple Leafs Tried to Get One More Player in O'Reilly, Acciari Trade
---
Latest News & Highlights
---
O'Reilly stole the show on Tuesday night, tallying a hat trick against the Buffalo Sabres, his old team, and Acciari has delivered exactly what he was advertised to bring, with one goal and 13 hits in his first three games with the team. I can't recall a deal in the Kyle Dubas era that's united fans quite like this one has so far. Regardless of where you think the Maple Leafs needed upgrades, O'Reilly is a former Conn Smythe winner, given to the postseason's most valuable player, and Acciari is a hard-working bottom six forward who hits everything in sight, which I can't imagine anybody is complaining about. 
As there always is though, the deal did have its critics. And one of the biggest concerns some people seem to have is that it will age in line with that of the one for Nick Foligno in 2020-21, who injured his back only five games into his Maple Leafs tenure and didn't look the same upon his return. And, if you're one of these people, I'm here to debunk those concerns, because there's virtually nothing to compare between the two.
O'Reilly vs Foligno – Why the Comparisons? 
What I've been able to gather from reading social media forums and listening to people talk about the trade is that both players are in their early 30s and had an injury concern at the time of the acquisition. That, and both are rentals. In Foligno's case, it was the aforementioned back injury that flared up five games after the trade. It also flared up following Game 1 against the Montreal Canadiens and kept him out until Game 5 of that series. In O'Reilly's case, the concern stems from a broken foot sustained on Dec. 31 after blocking a shot.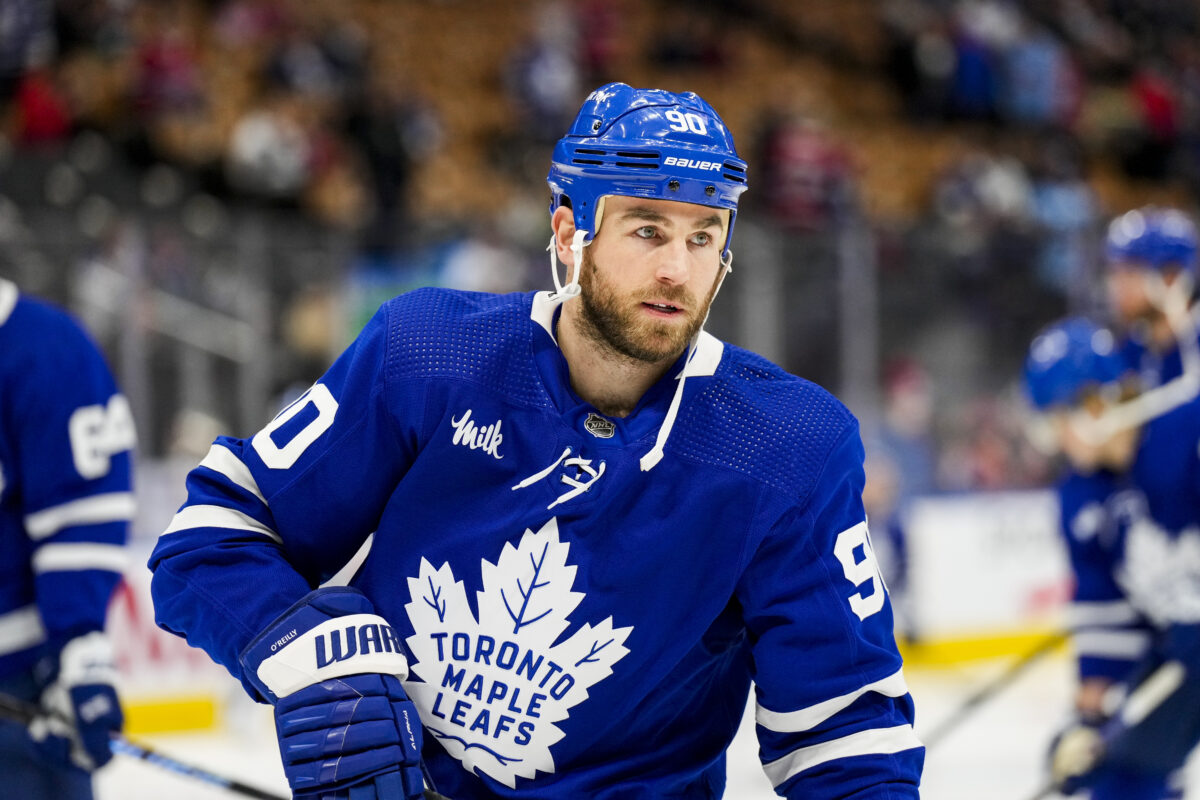 The only other similarity I can think of is the fact that both players were captains of their respective teams at the time of the trade, Foligno with the Columbus Blue Jackets and O'Reilly of course with the Blues. In fact, it's the third year in a row that the Maple Leafs have traded for another team's captain, with the acquisition of Mark Giordano in 2021-22 from the Seattle Kraken, but I guess he doesn't draw the same comparisons since he's a defenseman. These are two fair, valid similarities. But should they warrant the same concern? No. And here's why. 
O'Reilly is a Better Player Than Foligno 
We'll start off with the most obvious difference between the two players here. With all due respect to Foligno, who's a great veteran and leader alike to have on your team, he's not the same type of player O'Reilly is. Over the course of the former's career, his career high in points came in 2014-15 with 73 points in 76 games. His next best season offensively was in 2016-17 when he tallied 51 points in 79 games. Since then, the 35-year-old hasn't had more than 35 points in a season. 
Another area of concern with the O'Reilly trade was that he was having a bad season by his standards at the time, with only 19 points in 40 games. But, that's more of a reflection of the Blues' struggles in 2022-23 rather than his own abilities. Over the course of his career, he's averaged close to 60 points per season, and his career high in a season was 77 with the Blues in 2018-19. He's consistently produced at a much higher clip than Foligno over the course of his career, and even has a Selke Trophy to his name, a nod to his defensive abilities. Oh…and he won the Conn Smythe in 2018-19 when the Blues won the Cup. Did I mention that? 
O'Reilly Doesn't Have a Worrisome Injury History 
There seems to be a bit of a misconception that O'Reilly has a history of injury issues, and the concerns probably stem from his broken foot this season. But, a quick glance at his injury history and season-by-season game log will tell you that isn't true. In fact, this season is the first time in his career that he's missed more than 15 games due to an on-ice injury. Everything else has either been due to illness or some other sort of injury that didn't keep him sidelined for more than a few games. 
You may also like:
If you don't want to look for yourself, let's do a little recap. Before this broken foot, the last time O'Reilly missed time was when he got sick with COVID-19 in 2021-22. His last "injury" before that was in 2016-17 when he missed six games due to an appendectomy. Earlier that season, he missed five games due to an oblique injury, and the year before that in 2015-16, he missed 11 games with a lower-body injury. 
You can't prevent an injury like a broken foot (unless you go out of your way not to block shots, which I can't imagine anybody would want), and if you're worried that his appendicitis is somehow going to make a comeback, then I don't know what to tell you.
Maple Leafs' Foligno Trade Didn't Have an Acciari Type
We always refer to it as the Foligno trade, but the Maple Leafs also acquired forward Stefan Noesen from the San Jose Sharks in the three-team deal. He had virtually no impact on the trade, suiting up for a grand total of one game with the Maple Leafs and three games with the American Hockey League (AHL)'s Toronto Marlies. Noesen's lack of an impact with the Maple Leafs is another reason these two trades aren't remotely comparable.
The Maple Leafs clearly didn't plan on using Noesen as a regular in their 2020-21 lineup, given the number of games he played with the team. Rather, he was added as a potential depth forward option should there have been a need due to any potential injuries. Acciari on the other hand is expected to be an integral boost of life to the current team's bottom six. He's currently ninth in the league in hits and has added even more of that element to their fourth line. He also has 11 goals on the year, which will be a help for a bottom six that went dry in last year's playoffs. 
It may not seem like it now, but Acciari is going to be almost if not equally as important to the Maple Leafs' come playoff time. His grittiness and defensive ability will come in handy against the Tampa Bay Lightning, their likely first round opponent, and when you think of the 2017-18 and 2018-19 Boston Bruins teams that eliminated the Maple Leafs, he and other depth pieces like Sean Kuraly were instrumental for their team. This deal was for two players, whereas the Foligno trade centered exclusively around him. 
O'Reilly, Acciari Will be Instrumental Come Playoffs
As head coach Sheldon Keefe noted in his press conference following the trade, O'Reilly is a rare case of a player who has a higher point-per-game average in the playoffs than he does in the regular season. This is something that I'm certain the Maple Leafs will enjoy having on their side, given that in the last three win-or-go-home games they've scored a combined two goals. The added defensive abilities from both players will help as well.
You May Also Like
Make no mistake, this trade is the biggest of Dubas' tenure and very well could save his job if the Maple Leafs can manage to turn it into a shred of playoff success. The comparisons to the Foligno trade are understandable, given how horribly it ended up playing out, but when you do a deep dive, they really aren't all that similar. And if the rest of the season goes as these first few games have for O'Reilly and Acciari, they're going to be just fine.