Now that Toronto Maple Leafs general manager (GM) Kyle Dubas has made the blockbuster trade with the St. Louis Blues that addressed his forward needs, his attention will turn to the blue line. The organization has depth on the backend, but they lack physicality, which is required for the playoffs. They are in the market for a defenseman who can play physically and shut down the opposition. However, with limited cap space and assets, it makes acquiring that player a challenge. Toronto can't afford a top-tier defender. Instead, they will try to find a second or third-tier defenseman, whom they can get at a cheaper cost.
There are a few players that come to mind. Most of them play for teams with little to no chance of making the playoffs and could move their rental ahead of the 2023 NHL Trade Deadline. Here's a look at three options for the Maple Leafs to consider for their blue line.

Dmitry Kulikov
Dmitry Kulikov of the Anaheim Ducks is on the trade block and could be a viable option for the Maple Leafs. He is a left-hand shot and in the final year of a two-year deal that pays him an average annual value (AAV) of $2.25 million. He also has a modified no-trade clause, which includes eight teams. Kulikov is a stay-at-home defenseman who doesn't produce a lot of points but can be relied upon to defend both the slot and the crease. One of the biggest concerns for the Maple Leafs is they don't defend the home plate area as well as they should, and that is a by-product of the state of their blue line.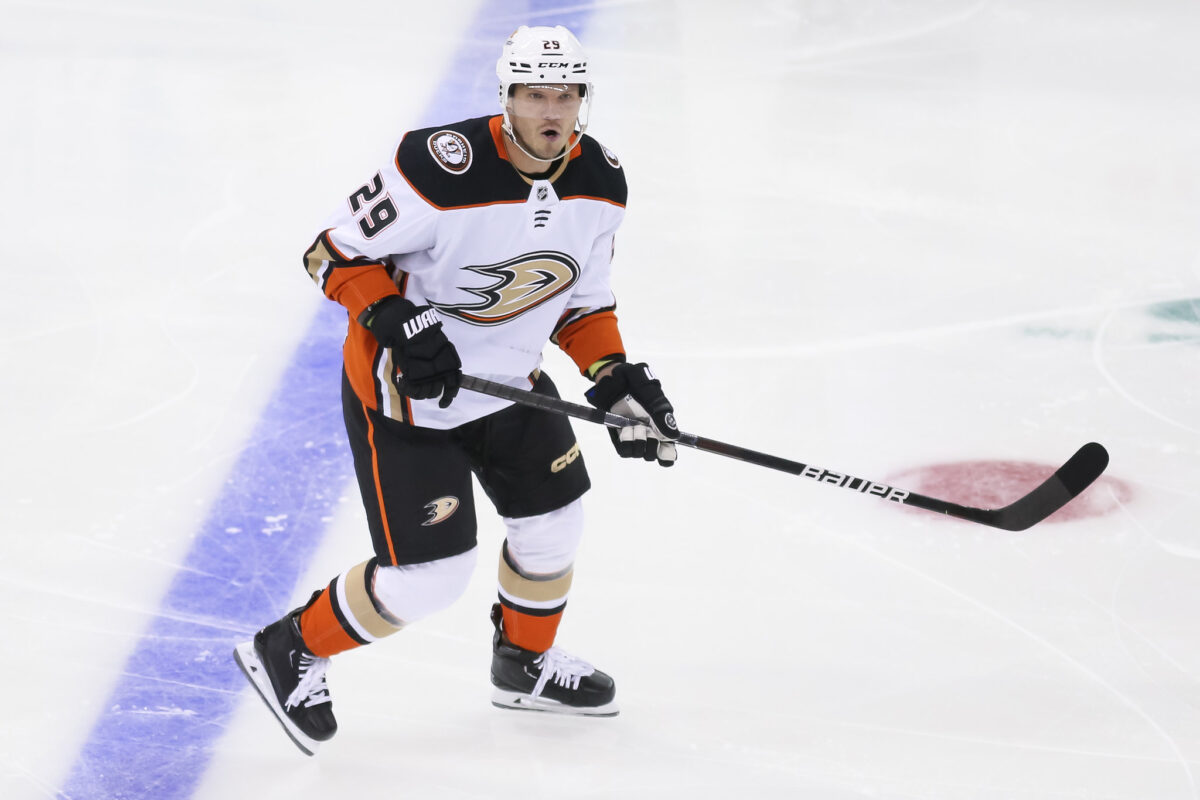 Kulikov does have that skillset, although, this season, things have been hard for him and the Ducks, so his numbers don't truly reflect that. Ultimately, Toronto doesn't have the assets to go out and make another splash, as they did in acquiring Ryan O'Reilly and Noel Acciari. As a result, they need to look at a player like Kulikov, who can give them something they lack for a cheap cost, even if he isn't a household name.
The Maple Leafs also need to hit more, and he has that in his tool bag, admittedly, not as much as Leafs Nation might want, but he still does it. This season, he has 82 hits and will end the year with around 100-120, which would put him in the top five on the team. The cost to acquire him from the Ducks could be around the Maple Leafs' 2024 fourth-rounder and an active roster player like Zach Ashton-Reese, who is familiar with Anaheim's organization.
Scott Mayfield
Scott Mayfield of the New York Islanders is another option and perhaps the most unique target on this list. At 6-foot-5, 223 pounds, the right-handed defenseman is exactly what Toronto needs. Although he doesn't throw a ton of hits, he still is a defensive-minded defenseman who would be an upgrade over Justin Holl.
Mayfield is on an expiring contract with an AAV of $1.45 million. With that, he may not require any type of salary retention to make a deal happen. The asking price shouldn't be too high for him, either, and would likely be something that the Maple Leafs can make work, even with their depleted asset pool.
The offer I would propose to the Islanders is Toronto's 2024 fourth and seventh-rounder. As mentioned, he would be an upgrade over Holl, which is something the team needs, as he is often relied on and tends to struggle with that responsibility. The addition of Mayfield would allow head coach Sheldon Keefe to give him some of the defensive zone and penalty-killing tasks, as he has proven to be a responsible defenseman that coaches can rely on.
Related: Maple Leafs Must Move On From Defenseman Justin Holl
---
Latest News & Highlights
---
Mayfield is a prototypical defensive defenseman, which is the type of player that Stanley Cup contenders need on their blue line. Similar to Kulikov, he can clear the crease and tie up the opposition in the slot. He can also use his size to box out his man and keep opponents to the outside during a rush. Unfortunately, this is something that Toronto has been missing since Jake Muzzin's injury. They have TJ Brodie, who can break up plays and seems to excel when he is caught in an odd-man rush. However, they don't have someone who can bring what Muzzin did on a nightly basis, and Mayfield can do that. Additionally, he plays the right side. The team has Brodie (who is left-handed), Holl, Timothy Liljegren and Conor Timmins, so adding another defender on the right would give Keefe more options for his lineup.
Luke Schenn
A reunion between the Maple Leafs and Luke Schenn could happen ahead of the NHL trade deadline on March 3. He embodies everything that the Maple Leafs need on their blue line; however, he also embodies the same thing for almost all of the playoff teams, which is why he is built for the postseason.
Now, can Toronto afford him? That is tough to say. Unless the Vancouver Canucks are willing to sell him for a cheap return, it may take an active roster player to pry him from them, like Alex Kerfoot, who is also on an expiring deal and carries an AAV of $3.5 million. Furthermore, with the recent addition of O'Reilly and Acciari, Dubas may be more willing to part with a bottom-six forward, but knowing how he operates, he will probably try to move a higher-end pick, such as their third-round selection in 2025.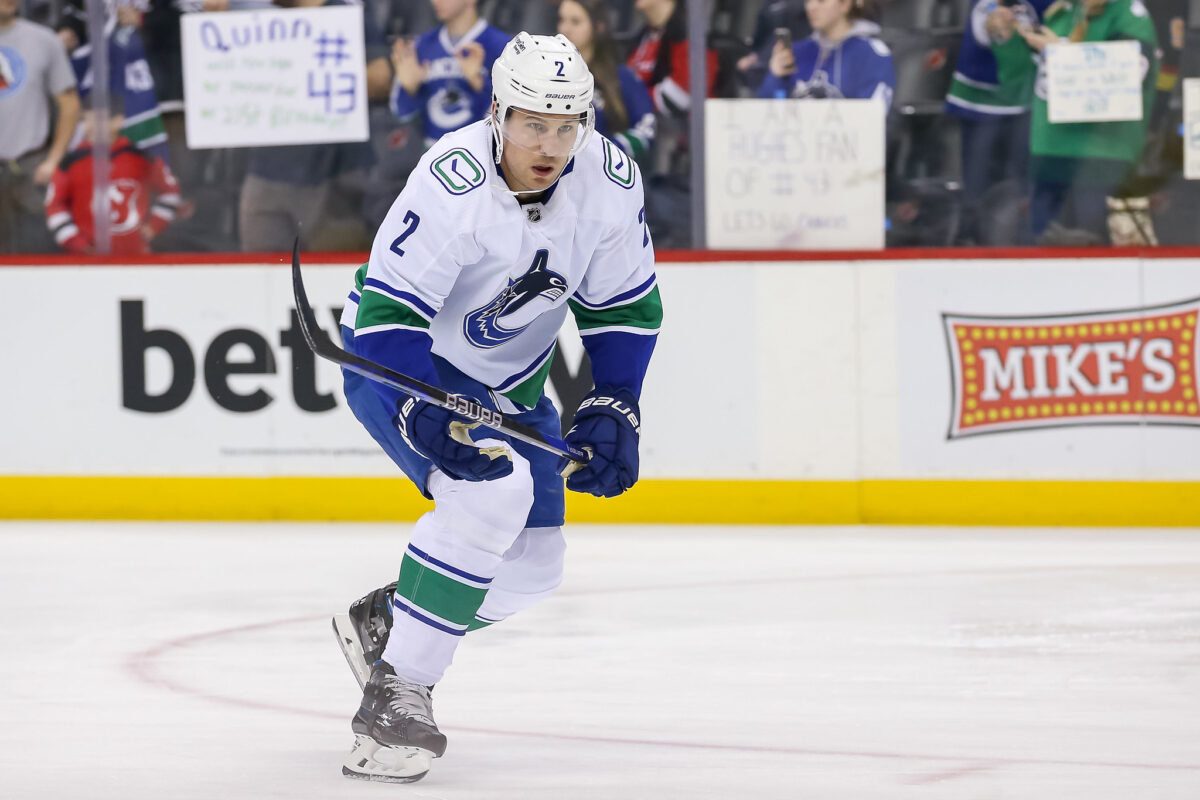 If there is one player on this list that Dubas needs to prioritize, it's Schenn. The 33-year-old is also on an expiring deal, with an AAV of $850,000, which will fit perfectly into the team's salary cap. He also is a right-handed shot who loves to throw his weight around. So far this season, he has 258 hits, with the chance to have over 300 by the end of the campaign. Toronto's leader is Zach Aston-Reese with 120, and their leader on the blue line is Rasmus Sandin with 113.
Another benefit to acquiring Schenn is that he has won two Stanley Cups with the Tampa Bay Lightning, and that tends to have a positive impact on a locker room. As we all know and have since the turn of the calendar, the Maple Leafs and the Lightning are on a crash course to face each other in the first round of the playoffs, much like last season.
Related: Even if Maple Leafs' "Dubas Isn't Done," What Can He Trade Now?
Muzzin left the team without a hard-hitting defenceman when he went down with an injury early this season. That is why the Maple Leafs brass need to find a way to bring Schenn back. He is exactly what they need to help get past the first round and compete for the Cup. Similar to Mayfield, he adds another right-hander into the mix to help the weaker side of the team's blue line.
There are other options out there for the Maple Leafs, such as Radko Gudas, but the Florida Panthers are still battling for a playoff spot. Regardless of who it is, Toronto needs another defenseman. They went out and made a splash with the Blues to add depth to the forward group, so from now until March 3, their focus needs to shift to improving their backend.
No Maple Leafs fan wants to see the team trade for O'Reilly only to see their season end in another disappointing first-round exit, and that should be indication enough that Dubas must make a few more changes to the roster. One of those changes has to be the acquisition of a rough-and-tumble, blue-collar defenseman who can help stabilize their blue line.
You may also like: