We know the New Jersey Devils want to add some goal-scoring. That much is clear, given the links to wingers like Timo Meier, Brock Boeser, etc. But if they don't land a top-tier scorer such as Meier, what about some fallback options? In Elliotte Friedman's latest 32 Thoughts blog, he mentioned it has to be someone with size and skill since the thought is the Devils are too small up front. With that, Friedman brought up Nashville Predators winger Nino Niederreiter in his section about the team: 
"New Jersey wants Meier with an extension (or close to it). The Devils are viewed as smallish up front, but, even if they added size, it's got to be size with skill. Does Nino Niederreiter make any sense?" 
Friedman was speculating more than anything else, but Niederreiter is also a pretty specific name to throw out there. He has size at 6-foot-2, 218 pounds, and would add a different style of play to the Devils up front. But does he have enough scoring upside to give New Jersey the lift they seek? 
Niederreiter as Consistent as They Come
A former top-5 pick in the 2010 draft, Niederreiter has become a model of consistency for a middle-six scorer after a slow start to his career with the New York Islanders. In his six seasons with the Minnesota Wild, he averaged 21 goals and 43 points per 82 games and was one of the most underrated possession players in the league at five-on-five. 
Related: Oilers Heavily Scouting Devils: Who Are They Watching?
---
Latest News & Highlights
---
After the Wild dealt him to the Carolina Hurricanes, that consistency continued in his three-and-a-half years in Carolina. He averaged 24 goals and 48 points per 82 games and was again a force at five-on-five, namely because of his forechecking ability, which fit perfectly with how the Hurricanes play under coach Rod Brind'Amour. 
In his three full seasons with the Hurricanes (2019-22), Niederreiter averaged 1.79 points per 60 minutes at five-on-five, a rate you like to see from a middle-six winger. Carolina controlled play when he was on the ice, totaling a 56.98 expected goals percentage (xG%) in his five-on-five minutes. That ranked second to current Devils defenseman Dougie Hamilton over those three years in Canes Country.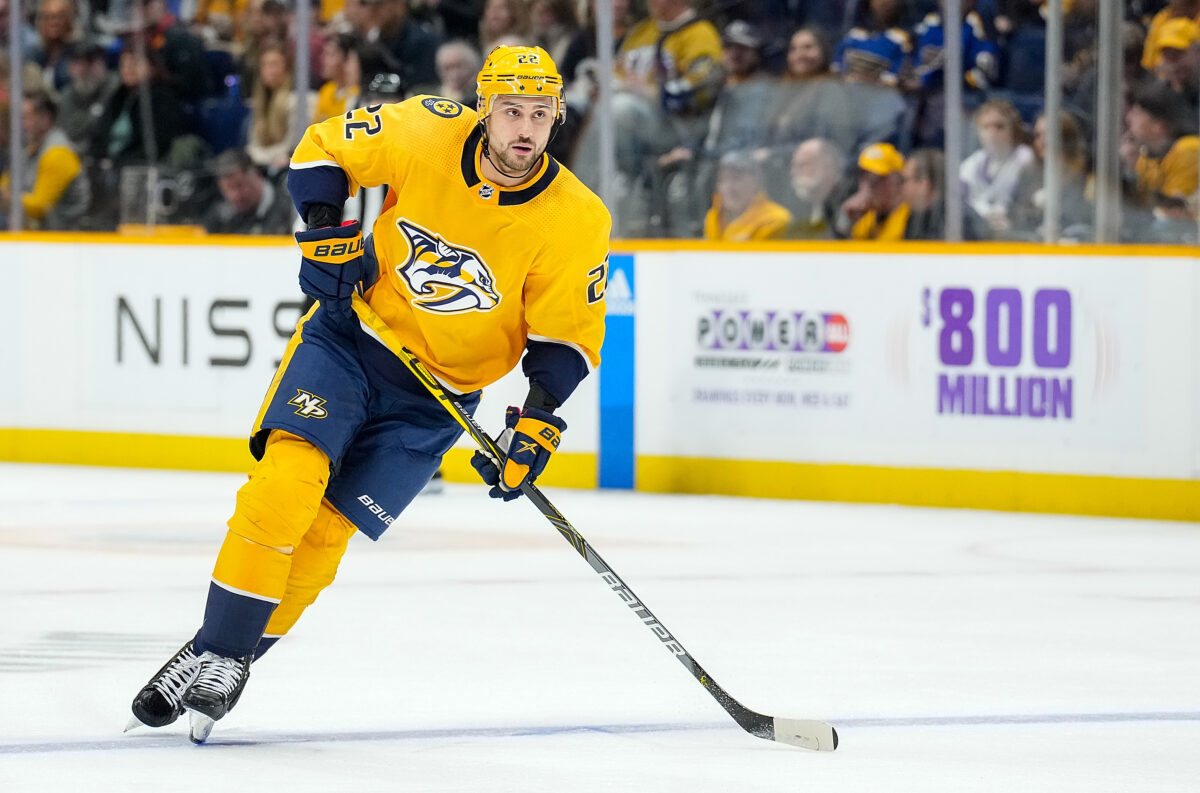 Though Niederreiter is on a worse team in the Predators, his numbers look similar to his previous seasons. His 16 goals in 55 games come out to a 23-goal pace over 82 games. His 52.55 xG% ranks fourth among Predators skaters, and his average of 1.70 points per 60 is nearly identical to his time in Carolina. The only difference is his defensive impacts have slipped a bit, but that could also be the product of playing on a worse defensive team in Nashville. 
Overall, there's a lot to like about Niederreiter's makeup. He's an above-average middle-six winger who's strong on the forecheck and can create space for his linemates because of his forechecking ability, something the Devils could use more of up front. But does he move the needle as much as the Devils seek? And what would it cost to acquire him? 
Niederreiter Checks Off Some Needs
Though the Devils need a top-six scorer, there's the long game to consider. General manager Tom Fitzgerald won't give up his best trade chips (Alexander Holtz, the Devils' 2023 first-round pick, Shakir Mukhamadullin) for a rental. Someone like Ivan Barbashev would make sense as a rental since he shouldn't cost those types of trade chips, but that's where Fitzgerald likely draws the line. 
If he gives up those assets, it'll be for someone like Meier. But say the Devils miss out on Meier and want to upgrade their depth, that's where Niederreiter makes sense. He's a consistent 20-goal scorer, adds size, and brings some needed forechecking ability to the team's lineup. It's easy to see him fitting on the right wing of either the second or third line. 
It also helps that Niederreiter wouldn't be a rental. The Predators signed him as a free agent this summer to a deal that runs through the 2023-24 season. It comes at a cap hit of $4 million, which might seem pricey. But per Dom Luszczyszyn and Shayna Goldman's model at The Athletic, Niederreiter's market value is $4.9 million, meaning he has $900,000 in surplus value: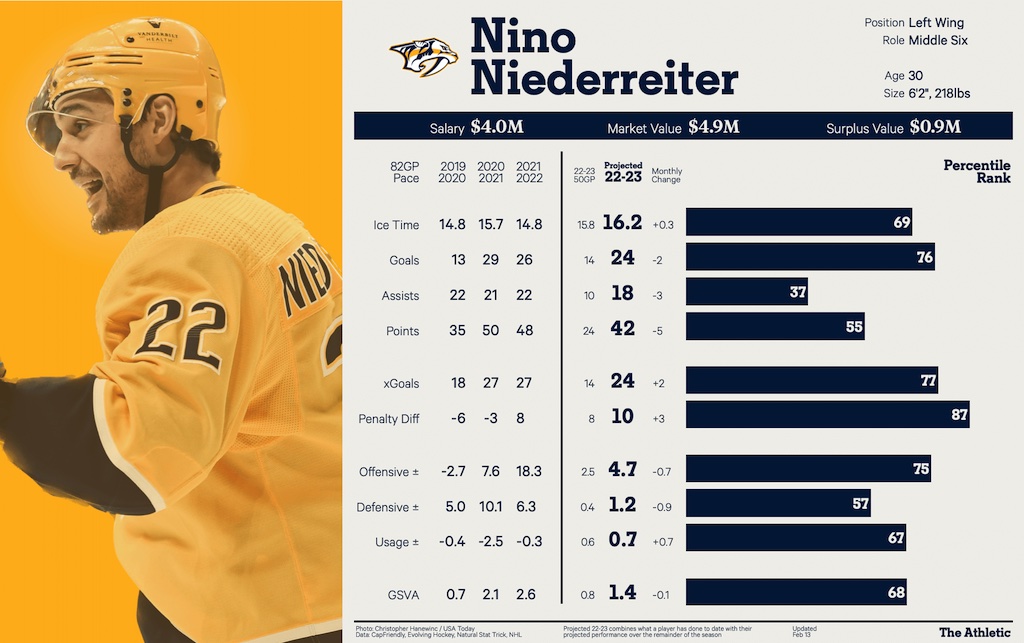 Though Niederreiter has some term remaining on his contract, players like him don't usually cost blue-chip assets in a trade. One example would be Artturi Lehkonen, a restricted free agent last summer, going from the Montreal Canadiens to the Colorado Avalanche at the 2022 deadline. The Canadiens received a 2024 second-round pick and Justin Barron from the Avalanche. 
Another comparable could be the Calgary Flames acquiring Calle Järnkrok from the Seattle Kraken at last season's deadline for 2022 second, 2023 third and 2024 seventh-round picks. At the time of the trade, Järnkrok had 12 goals and 26 points in 49 games — a 20-goal, 43-point pace over 82 games. That's similar production to Niederreiter, though the difference is Järnkrok was a pending unrestricted free agent at the time. 
Related: NHL Trade Bait List for the 2023 NHL Trade Deadline
Using those trades as comparables, what would the Devils have to give up for Niederreiter? New Jersey has quite a few defense prospects to offer that are not named Luke Hughes or Šimon Nemec; Topias Vilén, Nikita Okhotiuk, Reilly Walsh and Kevin Bahl are potential trade chips. If the Predators seek a forward, Nolan Foote and Graeme Clarke are a couple of prospects to consider. 
A trade for Niederreiter should cost somewhere around second and third-round picks and a prospect. His $4 million cap hit shouldn't pose many long-term problems since the Devils have just above $36.6 million in space this summer, with plenty coming off the books. So trying to re-sign a key restricted free agent like Jesper Bratt shouldn't be an issue. However, they would have to clear a bit of space to fit him in for the rest of the season, whether that's moving out money or having Nashville retain a small portion of Niederreiter's deal. 
Niederreiter a Sound Plan B
Ultimately, Fitzgerald would be wise to keep tabs on Niederreiter and the Predators' situation. Does he move the needle? If the goal is to add a top-six scorer, then likely not. But for a team that's had inconsistent play from its middle- and bottom-six forwards, Niederreiter very much improves that group. He would provide scoring depth in the middle-six and gives the Devils a different element up front without mortgaging the future. He's a viable fallback option, but only if Meier ends up elsewhere. 
* * *
Advanced stats from Natural Stat Trick