In today's NHL rumors rundown, there is a potential trade being worked on between the Minnesota Wild and Vancouver Canucks. Are the Vegas Golden Knights clearing space for a big move this season or did they trade Shea Weber's contract to help with offseason issues?
---
---
The Washington Capitals might be ready to trade Dmitry Orlov. Finally, have the Edmonton Oilers made a right-shot UFA defenseman their top priority over the next few days?
Wild and Canucks Close on a Deal for Boeser?
Brock Boeser's agent, Ben Hankinson, appeared on a recent edition of The Athletic Hockey Show and suggested there was a deal being worked on between the Minnesota Wild and Vancouver Canucks. Hankinson said Vancouver gave him permission to speak to Wild GM Bill Guerin directly about making a trade work, and "they're trying to move some things around, potentially," to make the acquisition happen.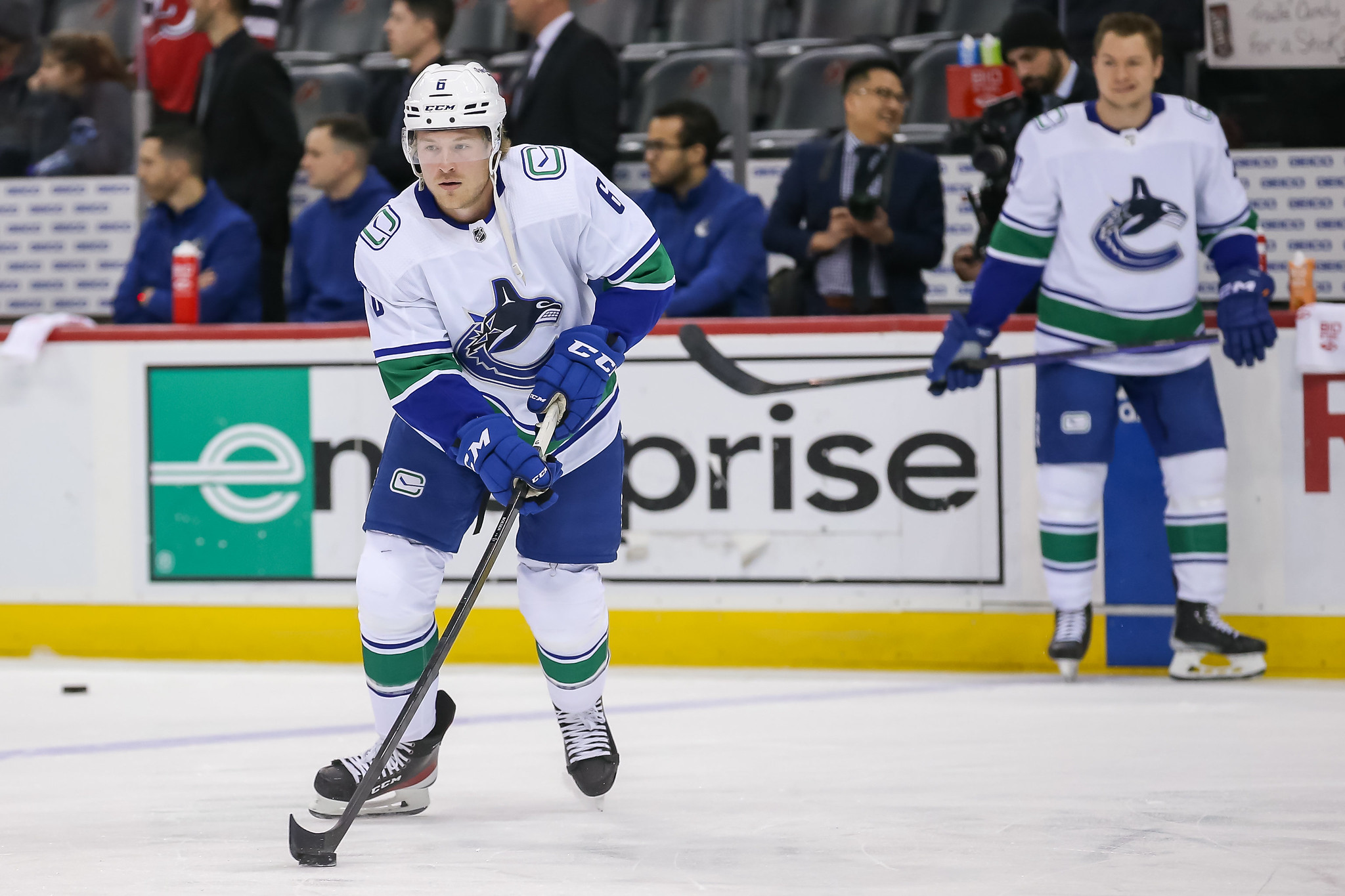 He suggested Boeser would be a good fit for the Wild and explained:
"I think he fits in perfectly (as) a top-six scoring wing, probably playing with (Matt) Boldy. But there are other pieces in play. There are rumors that (Jordan) Greenway could be going. Obviously the whole (Matt) Dumba rumors. (Calen) Addison has been scratched a little bit, too. There's a ton at play." He added, "There'd have to be a lot of salary retained by Vancouver, and I don't think that's something they're too excited to do, because they just signed Brock Boeser."

source – 'Wild trade tracker: Brock Boeser's agent working to facilitate a homecoming' – Michael Russo and Joe Smith – The Athletic – 02/22/2023
Boeser's $6.65 million cap hit through 2025 could be tough to swallow for the Wild with the Ryan Suter and Zach Parise buyouts kicking in starting next season. Still, the Wild might try to make it work if Vancouver is willing to play ball. They might not be. Chris Johnston writes in a recent column:
Boeser's stock has been on the rise since Rick Tocchet took over as head coach, getting reunited on a line with Elias Pettersson and putting up nearly a point per game across the last 20. That should help boost his trade value. Should the Canucks be willing to retain salary in a deal it could get things across the finish line. Potential fits include Minnesota, New Jersey and Calgary.
Vegas Needed to Clear Cap Space for this Offseason
Wednesday's trade between the Vegas Golden Knights and Arizona Coyotes helps solved a real issue for Vegas this summer. As multiple insiders are reporting, the Golden Knights needed to address their offseason cap issues and this trade relieves them of some serious concerns.
Pierre LeBrun writes, "VGK clearing up cap space for the next few years, Weber's contract has a $7.857M cap hit through 2025-26 although his actual salary is $1M per year starting next season. So a low cash transaction for Arizona. But Vegas can now look at acquiring not just now but beyond this season." Elliotte Friedman writes, "Wrote today how off-season cap could be a problem for Vegas if they wanted to add a big salary with term. This eases that concern."
The trade provides no net cap benefit for Vegas this season. That said, it does provide benefits for future seasons, as teams have a limited amount of tagging room (the amount next year's cap can be exceeded) and LTIR is not factored in. For the Coyotes, this deal helps them get to the cap floor. As per Puck Pedia, next year's floor is likely $62-$63 million, and even with Weber, they're still just at $52.8 million with 16 players.
Washington Capitals Are Listening to Offers on Orlov
Chris Johnston on Insider Trading says Dmitry Orlov's name is coming up in trade chatter, and because the Capitals are starting to lose ground in the standings and contract talks aren't progressing, he could be moved ahead of the trade deadline. Teams are calling GM Brian MacLellan to see what he's going to do with his UFAs.
---
Latest News & Highlights
---
Johnston writes in the Toronto Star:
This is a new name on the board and it's a whopper given that Orlov is an established first-pair defenceman logging nearly 23 minutes per night. While the Capitals continue to discuss an extension with Orlov's camp, the progress on those negotiations is said to be "nowhere." That could still change with one conversation and one seismic shift in bargaining position. If it doesn't, Washington's front office will have no choice but to explore the market in a season where an incredibly banged-up roster appears to be fading. Orlov has limited control of where he can be dealt with a five-team no-trade list.

source – 'Chris Johnston's NHL Trade Board: Timo Meier, Patrick Kane and a couple of former Maple Leafs remain top targets' – Chris Johnston – Toronto Star – 02/22/2023
Oilers Prioritizing UFA Right-Shot Defenseman
TSN's Tom Gazzola said during a recent episode of The Oil Stream that the Oilers might make a right-shot UFA defenseman a priority, especially with Evan Bouchard's struggles this season. He said, "If that's your third-pairing guy and you can't trust him, you know in a week or two they're going to need to make a decision."
The Oilers have been linked to some big names, but it's possible they do something smaller and a depth right-shot d-man makes some sense.