The Wilkes-Barre/Scranton Penguins are in the Calder Cup Playoffs for the 12th straight season, which is tied for the longest active streak in the AHL. However, in all of those years, they have not yet found their first championship.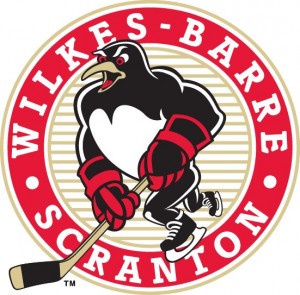 Can they finally break through the ghosts of playoff pasts and take it one step further than last year's Eastern Conference finals exit?
Before the Pens dream of championships, though, they must get past the Binghamton Senators. WBS knocked out the Senators in last year's conference quarterfinals, and Binghamton hopes its narrow victory for the East Division title will give it an edge over the Penguins.
While it may seem easy to pick the Senators as the winner of this series, the higher seed does not always perform better once the puck drops.
Here is a look at how the two rivals stack up, along with analysis and a series prediction.
Eastern Conference Quarterfinals Schedule
Friday, April 25 at Binghamton: 7:05 p.m.
Saturday, April 26 at Binghamton: 7:05 p.m.
Wednesday, April 30 at Wilkes-Barre/Scranton: 7:05 p.m.
*Friday, May 2 at Wilkes-Barre/Scranton: 7:05 p.m.
*Monday, May 5 at Binghamton: 7:05 p.m.
*=if necessary
Regular Season Series and Records

Wilkes-Barre/Scranton: 42-26-3-5 (second in East Division, sixth in Eastern Conference)
Binghamton: 44-24-3-5 (first in East Division, third in Eastern Conference
Binghamton won regular season series five games to three
Offense
This category has a pretty clear-cut winner.
Binghamton had one of the highest goals per game total in the AHL this year with an average of 3.6. Mike Hoffman led the team with 67 points and shared the goal scoring lead with rookie Matt Puempel at 30 apiece. However, Hoffman was recalled to the Ottawa Senators and will not be on the AHL playoff roster. Regardless, the Sens still boast four scorers with at least 50 points, while five others eclipsed the 40-point mark.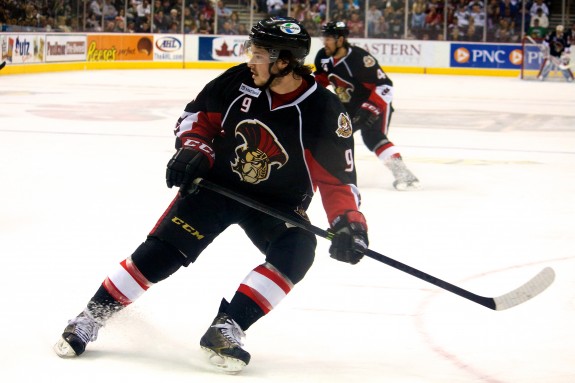 For the Penguins, team captain Tom Kostopoulos has the lead in both goals (29) and points (47). Spencer Machacek, who was acquired from the Springfield Falcons in February, totaled 19 goals on the season. Still, the Pens are averaging just 2.7 goals per game and have only three players with at least 40 points.
Edge: Binghamton
Defense
The Senators allowed about three goals per game this season, but Chris Wideman led the blueline with 51 points and was one of two defensemen among the top 10 scorers in Binghamton.
The other? Former Penguin Alex Grant, who tallied 32 points.
The Penguins played tighter defense, which led to them giving up just 2.4 goals per game. Their defense is led by Brendan Mikkelson, who had 38 points on the year. Scott Harrington (24 points) and Simon Despres (22 points) also played key roles on the blueline.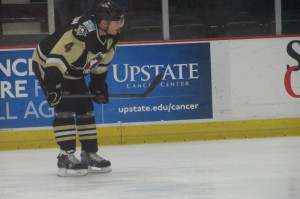 Other key categories include plus/minus, and Fredrik Claesson leads Binghamton with a plus-37, while Philip Samuelsson has a plus-19 for Wilkes-Barre/Scranton. In addition, the Senators are 22-10-1-2 when they are outshot, while the Penguins are 17-5-0-3, which suggests they outshoot their opponent more often.
Edge: Draw
Goaltending
Rookie netminder Andrew Hammond took much of the reins for the Senators this year and excelled, posting a 25-19-3 record in 48 games to go with a 2.81 GAA and .910 save percentage. He was ninth in the AHL in wins and one of three rookie goalies in the top 10 in that category.
He is backed up by Nathan Lawson, who has been a mostly average goalie throughout his AHL career. Lawson was 15-8-1 with the Senators, but had a 3.05 GAA and .908 save percentage.
Wilkes-Barre has a bit more stability in goal even with veteran Jeff Deslauriers out with an injury. Hammond's fellow rookie, Eric Hartzell, went 10-8-1 in 25 games and posted three shutouts. He also had a 2.48 GAA and a .902 save percentage.
Although Hartzell shows promise, the Penguins will likely turn to Peter Mannino. Mannino struggled to start the year and went to the Wheeling Nailers of the ECHL for a couple months, but has been on fire with a 10-3 record since his return. Overall, he's posted four shutouts and an 11-4-1 record to go with a 1.56 GAA and a .932 save percentage.
https://www.youtube.com/watch?v=U-0CLjUjiI4
If either starting goalie falters this series, WBS has the better backup option.
Edge: Wilkes-Barre/Scranton
Special Teams
The Penguins' power play seems to be average to poor no matter who is on the ice, as they were ranked 28th overall this year with a 13.7 percent success rate. Kostopoulos, however, scored 13 power-play goals to tie for fifth in the league. The unit is 21st on the road (14.4 percent) and 28th at home (13.2 percent).
WBS has a better outlook on the penalty kill, as it is 12th in the AHL at 83.1 percent. However, it might struggle in Binghamton, as it kills just over 79 percent of penalties on the road (79.2 percent; 25th in the AHL). Dominik Uher is one of several AHL players with three shorthanded goals, which was tied with Brian Gibbons before Gibbons was recalled to Pittsburgh.
Binghamton has one of the best power plays in the league, as it is ranked fifth overall with a 20.7 percent conversion rate. The Sens are also in the top 10 in both their home (21.7 percent, seventh) and away man advantages (19.8 percent, ninth). Puempel has 15 power-play goals, which is tied for third in the AHL.
Like the Penguins, the Sens struggle on their opposite special teams unit, as they are 23rd in the league with an 80.6 percent penalty kill rate. That includes an 81.9 conversation rate at home, good for just 20th overall. Cole Schneider, Jean-Gabriel Pageau and Derek Grant each have three shorthanded goals.
Edge: Draw
Coaching
The Senators are led by second-year head coach Luke Richardson, who guided them to a 44-24-4-7 record and fourth-place finish in the East last year. However, their playoff run was short-lived, as they fell to the Pens in the first round. Now, the Sens are division champions and could be legitimate favorites to go to the Calder Cup Finals. Richardson is arguably one of the up-and-coming coaches in the league.
John Hynes, meanwhile, has been plenty successful for the Penguins. The team has won at least 40 games every year he's been in charge, and he holds his players accountable for bad games. Furthermore, he has never failed to get the Pens to at least the second round, but has suffered some bad losses along the way.
However, in the playoffs, coaching experience and adjustments tend to win out.
Edge: Wilkes-Barre/Scranton
Final Thoughts and Prediction
Again, it may seem too easy to grant the Senators the series win. Everyone always wants to gravitate toward the top seed as the trendy pick and write off the lower seed.
But in this series, neither team can be counted out too easy. This is especially true when both finish the year cold. WBS lost its last three games, and Binghamton went 4-6, including two overtime losses and a shootout loss, in its last 10.
However, many of the Senators players are young and their coach has not yet led a team to playoff dominance. The Penguins have what it takes to make a deep run if they don't struggle per usual in the postseason, and they will use their defense and goaltending to get past Binghamton once again.
Penguins in 4