For the last four years, the Wilkes-Barre/Scranton Penguins players and coaches have enjoyed a day away from the rink to interact with fans on a personal level and raise money for charity. It sounds like any normal community appearance for a minor league hockey team, but on Sunday, the Penguins will trade sticks for bowling balls and pucks for pins at the fourth annual Pens and Pins fundraiser.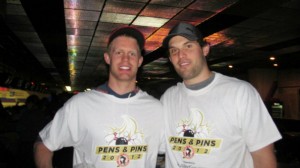 The event began in 2010 as a way to raise money for Allied Services, the official rehabilitation provider of the Penguins. The two parties work together throughout the year to inform the community about sports injury prevention, rehabilitation and concussion awareness. They decided to choose bowling because there is widespread interest in the sport and it satisfies "fan interest to interact more intimately with their players," explained Jim Brogna, the Assistant Vice President for the Allied Services Foundation.
Jillian Heller, the Penguins' sponsorship services manager, weighed in further in an e-mail.
"We wanted to do an event that is focused on something off the ice, so we decided to try a different type of activity. The first year, it was extremely popular amongst the fanbase so we wanted to carry on the tradition and make it an annual event that is fun for everyone."
Fans can sign up to participate as individuals or in teams of five, and Heller said that this year's event has over 70 participants so far, but about 100 fans end up joining in the fun when walk-ups are factored in.
The cost of registration includes two games of bowling, food and drink and a t-shirt. During the event, there are door prizes such as a team-signed jersey and stick. All of the money raised goes back to Allied, and in the last three years, about $10,000 has been donated.
In the lead up to Pens and Pins, employees at Allied participate in a contest where they answer the question, "why you love the Penguins." This is a more general employee raffle, and there is always a team present that is made up of staff from the developmental disabilities division and the clients they treat who enjoy bowling.
"The event is a special opportunity for both our staff as well as some of the clients who enjoy the recreation," Brogna said via e-mail.
Although the day is always something fans look forward to, the Penguins players get just as much enjoyment from helping a valuable organization in the Northeast Pennsylvania area.
"Our players look forward to the event because it's something different as opposed to autograph sessions or meet and greet," Heller said. "It's a more personal experience for our fans and gives them a chance to interact with the players while contributing to a good cause and having fun."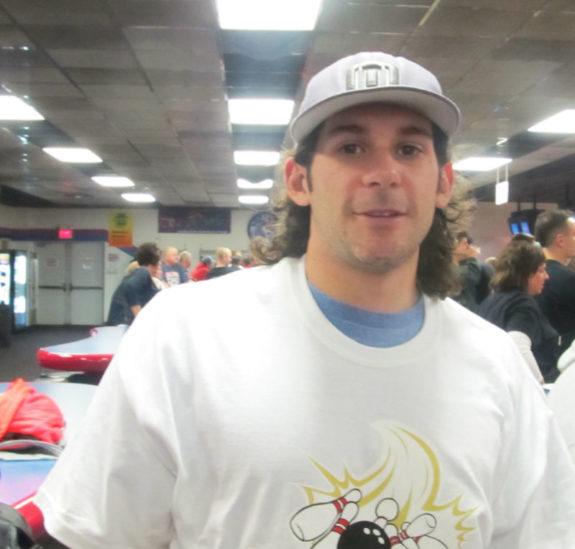 Brogna agreed, adding, "The Penguins players, coaches and support staff are so welcoming during the Pens and Pins event. They talk with fans and take photos, plus share hockey experiences and autographs. It is a great day for all supporters!"
Pens and Pins is not the only time Allied and the Penguins work together during the season. In April, the Penguins will hold the third annual Autism Day, and representatives from Allied will be present to raise awareness about the condition and provide information on their services for children affected. There are also mystery pucks for sale for $10. Each is autographed by a WBS player.
But for now, Pens and Pins will be a great day for anyone who loves bowling or just wants to give it a try to raise money for charity. It's an informal way to get to know the team away from the ice and gives Penguins fans something to look forward to every December.
Alison is currently covering the Wilkes-Barre/Scranton Penguins of the AHL for The Hockey Writers after writing about the NHL's New Jersey Devils from 2011-2012. She is currently employed for the fast growing sports website Bleacher Report as a quality editor and hopes to one day have a media relations career with a professional hockey team. Follow her on Twitter @AlisonM_110.