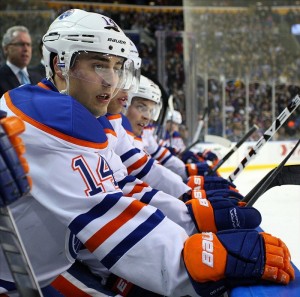 The Oilers are bad. It's been well documented this season more than ever before. Fans are calling for the dismissal of President of Hockey Operations Kevin Lowe. Media is criticizing Dallas Eakins' coaching style. Management is scrambling to try and solidify the goaltending. Meanwhile, the team is in last place in the Western Conference and everyone is out of answers.
What will it take the fix the Oilers? Many people in the hockey world believe they need a stud defenseman and perhaps a higher end character guy such as a Andrew Ladd (or two or three) plus a legitimate goalie of course. But the biggest question is how they are going to get that defenseman. Is it going to be Aaron Ekblad who is draft eligible this season? Or do the Oilers need to hit the trade market and acquire a proven horse on the blueline. One thing is certain, many folks have made good money betting against the Oilers this season and a shakeup is needed. If you're the wagering type be sure to check out superbetting.com and use the Bet365 bonus code.
There was a large contingent in Edmonton who believed Justin Schultz was going to take over as "the guy" on the backend. He could still be that guy, but he isn't yet. And continually waiting for guys to develop has proven to be a seemingly never-ending process.
Schultz might end up becoming that top two defenseman the team hopes he will be, but why not go out and get someone who actually is that player? Because you have to give to get, and the Oilers may have to part with one of their prized forwards in order to improve the team. So which one is it going to be? According to the panel on TSN, it is none other than Jordan Eberle.
"Trade Jordan Eberle. To get value you have to give up value. This guy has the most substance in his game. If you want a headliner goalie or that stud defenceman, you have to give up something significant". (Aaron Ward)

"Trade Eberle. I think you have to maybe even trade more players. I think it's one of those situations where you have to look at the foundation and say, 'that group doesn't work together'. It might work individually somewhere else, but get as much as you can for him. "(Martin Biron) [Edmonton Journal]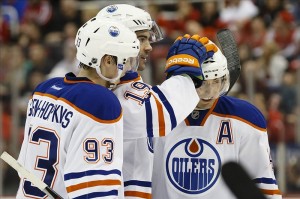 Nail Yakupov had been the more popular name in term of trade bait, but it seems as though Eberle, because he is slightly (albeit very slightly) more proven, would fetch a better return. He's still young, just 23 years old. He's the kind of guy a team can build around, and he's also a great piece to help a team who's looking to take another step forward. He might be too expensive to send to a contending team, but he isn't a rental, which might make him even more desirable.
Now, GM Craig MacTavish has already dismissed the rumors, and owner Daryl Katz said in a letter to the fans that they aren't trading any young pieces. But anything can happen in the hockey world. Young players get locked up to big contracts and then get traded shortly after. It isn't an impossible scenario.
But maybe the question isn't will Eberle be traded, but rather should he be traded? Back in December, an article on this very subject surfaced, and the writer provided his reasons why trading Eberle isn't the best idea. Here are some of his points:
"If the Oilers have too many small forwards — and they do — why not move the ones who aren't performing at a high level first, such as Sam Gagner, then see how you do? Or move Ales Hemsky. Or  move both Gagner and Hemsky. Why move one of your very best smaller players? Why not move a lesser one?

To get a top defenceman you don't always have to give up a star forward. What did Toronto give up to get Dion Phaneuf, St. Louis to get Jay Bouwmeester or the Oilers to get Chris Pronger? If you have cap space, and enough smaller pieces, you can get a top-pairing d-man. You don't have to trade away one of your two or three best players.

Trading Eberle would be an act of panic, making a bad situation worse. You simply do not give up on excellent two-way hockey players." [Edmonton Journal]
Crafting a trade, and getting what you want without giving up too much value isn't easy in today's NHL. The Oilers may have decided they don't want to trade anyone and that's that. But don't think for a second if a team comes calling about Eberle and offers something the Oilers desperately need that they won't be listening. Judging by the state of the team, they have to at least listen.